10 Dec 2019
Behind the Scenes: An Interview with Paper Mirchi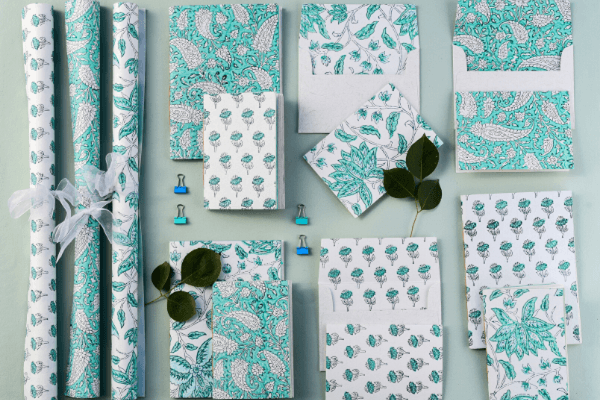 Paper Mirchi, a greetings wholesale brand, was established when founder Rani Moochhala found a gap in the market for handmade cotton paper wrappings and notebooks. We sat down with Rani to find out more about how they began and how they've grown over the last few years.
The greetings brand began in the summer of 2017 after Rani came off maternity leave and was looking for her next project. Rani said, "I have always been involved with textiles and fabric and I wanted to do something that was different because I find that the garment and jewellery market is quite saturated. I have always loved wrapping with different papers and I saw that there was nothing on the market from a commercially viable standpoint like my handmade wrappings."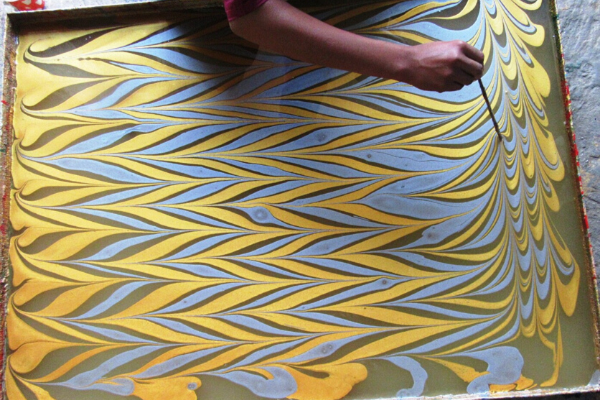 Paper Mirchi's primary product is papers mainly intended for gift wrap, but because of their durability they are also suitable for anything from book binding and crafts to lampshades and home décor. Rani said, "There is even a company in the US that use my papers to wrap their chocolate bars because every sheet is different it reflects the artisan quality of their chocolates. Our wrappings are completely handcrafted, it is not a digital print, so no two sheets are the same."
Last year, Paper Mirchi expanded into a range of notepads and notebooks and they are thinking of expanding into greetings cards, "The card will complement the wrapping. I am still playing around with the idea, nothing is set in stone, but I think it will be a blank card that allows the consumer to write their own message."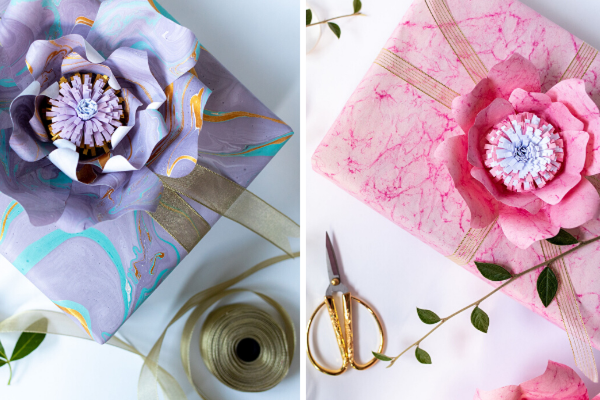 Paper Mirchi's only makes sustainable products. Rani said, "Our products are made out of 100% recycled cotton rags, it is a completely tree free paper making process. We are also keeping ancient skills from India alive. Cotton rags and textile scraps are chopped, pulped and dyed and spread over a mesh screen. The cellulose rich fibres then bind together to form the paper. Excess water is squeezed out and each sheet is hung out to dry. The sheets are then pressed in a calendaring machine to smooth out the creases."
Even though Paper Mirchi uses ancient techniques, they use modern designs and trend driven colour palettes to make it suitable for the current market. Rani explained how she finds the upcoming trends, "Home and interiors is usually where the trends are headed. My range fits in better with lifestyle brands than gift brands, so I follow home decor trends to know what sort of colours are coming in. On the whole, the colours have a very understated look. They aren't glossy and glitzy. Even within the brightness of the neon's we have, it doesn't hit you in the face."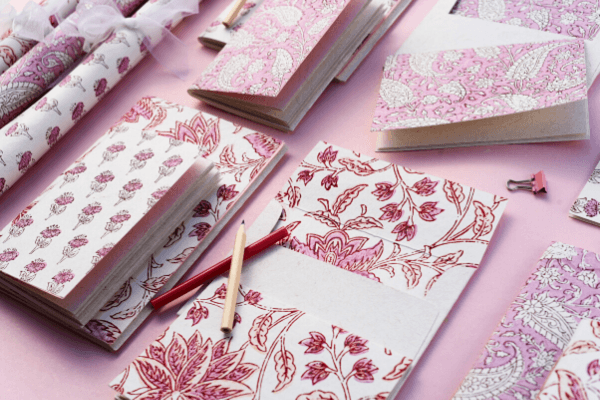 Rani has been visiting Spring Fair for years looking for inspiration, but it wasn't until last year that she decided it was time to exhibit at the show. Rani said, "It was very good, there was a lot of interest. I have found that a lot of the leads that I took at Spring Fair didn't generate sales straight away but throughout the year a lot of them have turned into orders. This was brilliant, it just showed how great the exposure is and it gave me a steady flow of customers throughout the year.
Looking to meet Paper Mirchi to see their sustainable wholesale greetings products in person? Visit Spring Fair this February, they will be in Hall 2 on Stand 2C21.