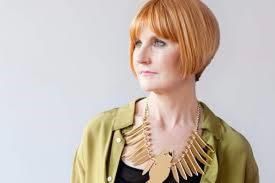 Mary Portas
Broadcaster, Author
,
Retail Consultant
Widely recognized as the UK's foremost authority on retail and brand communication, Mary Portas has a multitude of expertise; business woman, advertising executive, retail expert, Government adviser, broadcaster and consumer champion. The British media crowned her "Queen of Shops".

Beginning her retail career in John Lewis, Harrods and Topshop, she joined Harvey Nichols, progressing to the Board as Creative Director in 1989. She was credited with leading its transformation into a world renowned fashion store. In 1997 she launched her own agency, Yellowdoor (now called Portas) which has made its mark in the creative advertising landscape, producing category challenging campaigns and championing brand development for clients including Clarks, Louis Vuitton, Oasis, Swarovski, Dunhill, Boden, Thomas Pink, Patek Philippe and Westfield.
In January 2013 she re-launched her agency as Portas with a new offer reflecting today's retail landscape, and how consumers behave today.
Alongside her work with the agency, Mary has embarked on a number of personal projects. She has published three books, Windows: The Art of Retail Display, and How to Shop. In February 2015 she released Shopgirl, a memoir of her early years.
Inspired by her weekly 'Shop!' column in the Telegraph Magazine, Mary began her television career in 2007 when her efforts to rescue failing independent boutiques were documented by the BBC2 series Mary Queen of Shops. The show was nominated for two Royal Television Society Awards and a BAFTA.
Mary became Global Retail Ambassador for Save the Children when she transformed the Charity's worst performing shop – Orpington – into its best. Mary created a new charity shop format with her Living and Giving stores. The concept is now being rolled out across the country providing a human, ethical and community shopping experience. To date they have generated in excess of £10 million for Save the Children. Again, her journey was documented by the BBC for Mary Queen of Charity Shops.
In January 2011, Channel 4 aired Mary Portas: Secret Shopper. This new format saw Mary championing the often "underserviced" customer on the British high street, giving a voice to disgruntled consumers. With two more series being commissioned in 2015.
Through Mary's personal experiences, and those of her growing consumer database, Mary identified a 'lost generation' of older women who were not being served by the British High Street. She decided that they needed clothes, shoes and accessories made for them and went on to create her own shop within House of Fraser, aimed at "women not girls". This received huge commercial and critical acclaim and was followed by the documentary, Mary Queen of Frocks.
Her next project was an attempt to revitalize the UK's manufacturing industry; Mary's Bottom Line. Mary reopened a factory in Manchester and staffed it with handpicked apprentices. The product was "Kinky Knickers" which have been stocked by top UK retailers Liberty, Boots and ASOS.com.
Mary's continued advocacy of our High Streets led to her receiving a commission from the British Government to lead an independent review. She delivered her report on the future of our High Streets to the Prime Minister, in December 2011. The Portas Review outlined 28 recommendations to rescue failing High Streets. The Government, retailers and the public supported her plan, and Mary's work has been a catalyst for community regeneration, and the re-visioning of high streets across the country. The Government committed funds in excess of £10million to support the findings of her Review. The TV show Mary Queen of the High Streets followed Mary's journey in trying to help revive Britain's failing high streets, by putting local people at the heart of the solution.
Mary continues to present Channel 4's annual December documentary, What Britain Bought in which she offers an eye-opening look into the shopping trends of the year.
Mary was awarded a Doctorate of Letters in recognition of her contribution to the advancement of marketing and brand communication within the retail sector. She continues to write regularly for key media including the Telegraph and Financial Times, is invited as key note speaker for leading world brands and is a judge on the Telegraph's Best Shops in Britain awards.