10 Dec 2020
Walking in a Winter Windowland with Rhianna from the Spring Fair Team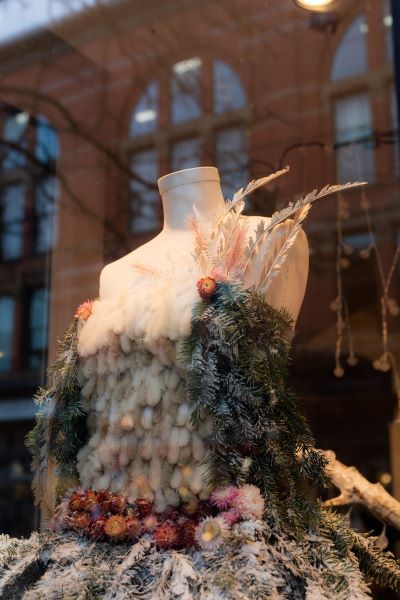 Retail may have taken a bit of a hit this year, but it does have one area we can be confident in; Christmas window displays. Offering a glimpse into just how important experience is in retail, Christmas windows are so much more than a simple product showcase. Year after year, the most festive among us head to the streets to see the wonders of Christmas through the windows of our most loved stores.
Our travels begin on the unusually quiet Carnaby Street in London. Whilst not a window, Carnaby Street is one of the capital's most important shopping streets, and the bright and brilliant Christmas lights are just the attraction to pull shoppers into store for a post-lockdown spree.
Liberty of London
World famous luxury department store Liberty is one of London's most treasured sites. Every year, they unveil a festive masterpiece; rooted in British heritage and always well thought out with a key message. The theme for this year is: Peace, Love and Liberty with pieces hand painted by the Liberty Design Team. The story and creative behind the windows are inspired by a series of Liberty's own hand painted scarves designed during isolation.
---
Harvey Nichols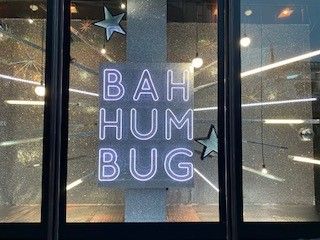 Let's continue our stroll through central London, heading west until we reach Knightsbridge, where Harvey Nichols has taken a more humorous approach to this year's unusual Christmas.
Neon lights, sparkle, and some uplifting messaging… What more could you need! Whilst the focal point may not be the products, you can't deny that this display is full of fun and encourages us all to get involved (by heading in store, of course).
---
Fortnum & Mason
This year, Christmas at Fortnum & Mason is rather nostalgic, with all eight of their windows revealing a different year in the retailer's 313-year history. Starting in 1930, we are taken on a merry ride through to the 1950's 60's, early 2000's right up to a very special 2020. Each window features the original brochure cover alongside a larger-than-life, sparkling, dancing recreation.
If that wasn't enough, they even transformed the street facing side of the building into a giant advent calendar!
Christmas windows around the world
Using my phone as a digital window, I scrolled past the shop windows of retailers outside of the UK. Here are some of my favourites!
TSUM Shopping Mall, Ukraine

Galaries Lafayette, France

Stella Mae, Vermont
"Stella Mae is a boutique located in Burlington, Vermont, curating a selection of women's clothes, shoes, and accessories specializing in heritage brands and artisan pieces. We take pride in our Holiday Window displays. The concept and design was done in-house by our team. We partnered with Vermont Flower Collective who decked our mannequins in dried florals." Elisabeth Waller, Photographer and Social Media Coordinator, Stella Mae
As ever, retail has proven its defiance and optimism when the going gets tough. Retailers big and small have adapted to the challenges this year has brought, and at the end of it all, still managed to uplift our streets with some Christmas magic.
Are your Christmas windows dressed? Send or tag us in your pictures we would love to see them.
If you liked this article, you might also enjoy:
Featured Image Credits: Elisabeth Waller
Article Image Credits: Elisabeth Waller
You can check out more here:
https://www.elisabethwaller.com/