28 Oct 2020
6 ways to make the most out of Black Friday 2020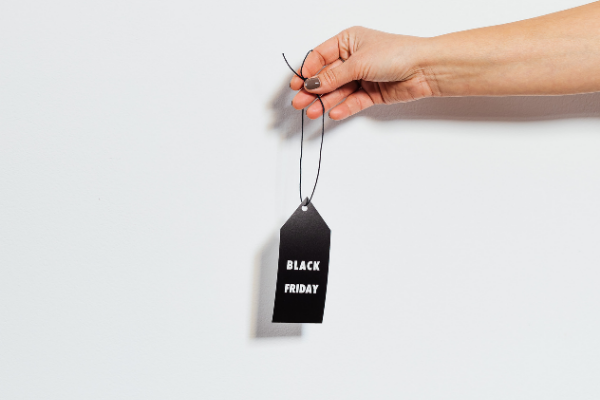 Love it or loathe it, Black Friday is coming up fast. Arguably one of the biggest shopping events of the year, the American institution has hopped across the pond to UK retailers as well. But, with a global pandemic changing the way consumers shop, and regions of the UK in different tiers of lockdown, the way you go about Black Friday might have changed. If you are planning to mark the occasion, here are a few top tips to make sure you maximise on your promotions.
Add a personal touch
When it comes to success in retail, the human touch is everything; whether it's Black Friday or any other day of the year. Above all, remember that your promotions and your marketing should be authentic, on brand and true to your customers' wants and needs. As we continue along an uncertain path, customers will remember the brands they were able to form a real connection with during this time, and Black Friday deal or not, they'll stay loyal to those businesses too.
Remember your online channels
It's no secret that everyone's shopping online more in 2020. With that in mind, a successful Black Friday campaign absolutely has to be omni-channel. In other words, it's essential that whatever you're doing in store, you're matching online to create a seamless experience.
When it comes to communicating your Black Friday offers online, try to make your customers feel special; your customers know how much data you have about them and they expect you to use it. Consider sending personalised emails to audience segments based on the products and interests you know they have and use social media to create an immediate connection with your customers as well as an urgency around your limited time offers.
Start now
Many retailers will have started their Black Friday prep already, but if you're reading this, chances are, you haven't just yet. They key to any good promotional campaign is preparation, so there's no time like the present to get going. As a starting point, take a look at what's been selling well over the past few months. This year's successful Black Friday campaigns will be those that respond to the changing needs of consumers over the lockdown, so tap into what your customers have been buying and asking about.
You'll also want to start planting the seed that deals are coming in your marketing campaigns. Again, use social media and emails to really get the message out there in a way that your customers will respond to. The more you can build a connection with them now, the more they'll want to buy from you come Black Friday.
Keep it going
It might be called Black Friday, but that doesn't mean it has to stop after just one day. Of course, you will need to assess the costs for your own business, but most retailers now extend Black Friday deals to last around a week. If you can do this, it will draw in more of those deal-driven customers and bump up your average purchase value.
Get merchandising
Merchandising is so key for retail; it can set you apart in terms of credibility and desirability as well as help to hammer home any promotional messaging. Consider a tailored Black Friday window display, showcasing some of your best products as well as the actual deals you have on offer. Again, this will hook in those deal-driven passers by as well as any lapsed customers who haven't visited in a while.
As we said before, make sure that whatever you're doing in store, you're doing online as well. If you do decide to dress your windows and shop interior, emulate this on your website and social media channels. For example, if you have any branded signage advertising your offers, make sure the same creative is live online as well to keep yourself consistent and front of mind.
Consider local collaborations
Many local high streets have thrived during the lockdown, with a revival of community spirit and shopping local driving growth. Harness this sense of community and consider collaborating with other local businesses for mutual benefit. For example, a purchase in your store could qualify a customer for a discount elsewhere and vice versa. You could also invite a local coffee shop or café to host a pop up in your shop (if you have space). This will drive footfall and give customers an in-store experience to remember.
If you are planning a Black Friday promotion, remember to stay Covid-safe. You can read our handy guide to keeping you shop safe here.
---
f you enjoyed this article, you might also like: