19 Jan 2021
Editor's Picks: The best of Spring Fair at Christmas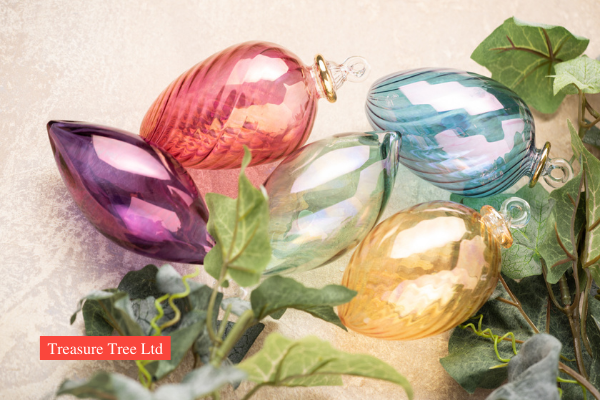 Ahead of Festive Focus Day on 21st January, our editor takes a look at some of the most exciting Christmas ranges our exhibitors have to offer.
Treasure Tree Ltd

Treasure Tree is an artisan, family business that specializes in designing and hand-making premium glass Christmas decorations.
Customers adore their Christmas ornaments as much as their family photo albums. For this reason and caring about the environment, they want beautiful decorations that will last "forever", always prompting special Christmas memories.
Customers appreciate our superb craftsmanship and buy Treasure Tree decorations as their own "special ones for this year" and as perfect gifts for friends.
Treasure Tree delights in knowing and serving all of our stockists personally. We continually strive to supply the best Christmas decorations with the best customer service.
Penny Kennedy

Penny Kennedy are proud and delighted to present our brand-new designs from each of our licences with a stunning collection, perfect for both the winter season and the new year.
New for Christmas 2021 is a brand-new Penny Kennedy Design collection which includes cute and colourful designs from our Jack & Lily children's gift wrapping collection.
Working with William Morris' iconic original artworks we have created two collections using strong winter and Christmas colours.
Sara Miller London brings the essence of Christmas spirit with three new collections using on trend colourways and designs; so easily recognisable as Sara Miller.
Emma Bridgewater has designed a truly joyful range of classically festive and cheerful designs which work beautifully together.
Louise Tiler has created a contemporary and elegant collection of designs, offering beautiful floral illustrations, festive wreaths and delightful winter scenes.
Penny Kennedy has also made some significant changes towards sustainability and protecting the environment. We've removed all acetate from our Christmas Crackers and each cracker will contain a plastic free multi-use gift. Our tissue packs will also now be presented in paper packaging, removing plastic whilst retaining the quality finish of packaging expected by our Penny Kennedy customers.
Gisela Graham

Gisela Graham has 2,000+ new products to lift spirits in 2021:
23 gift collections including 'Lost Garden' for indoors and outdoors.
For Christmas she has 15 newly designed, including:

Scandinavian-inspired "Nordic Noel";
Frosty 'Winter Dreams' enlivened with crocus fairies.
Golden "Noble Creatures" stalk the jungle;
'Starlight' trails mystery in blue, white, gold and silver.
Coach House

Coach House Christmas 2021, after the year we have had we have gone bigger and madder than ever before! There is the classics of silvers and traditional as usual, along with old favourites and best sellers. We have put more into naturals, with browns, beiges, and creams, all very Scandinavian. We have also done a delft collection. But a new look we have gone for is Cinderella, with colourways of soft sage, pinks, and champagnes - it is a beautiful collection with carriages, pumpkins, mice, and fairy godmothers; all very opulent, all very eccentric. It is Coach House after all!
The English Soap Company

Presenting a latest addition to our Christmas collection, fun and festive soap bars that are guaranteed to bring a smile to anyone's face. These sumptuous vegan soap bars are full of yuletide fragrance, in all new, beautifully illustrated Christmas packaging.
Designed by our talented in-house illustrator and product designer, Michelle, she has captured heart-warming and quintessential scenes of the festive season. Beautiful gold foiling embellishes the collection, making these soaps not just a bathroom essential, but a special gift for friends and family.
Boasting a variety of festive fragrances, these soap bars evoke nostalgic memories of what Christmas means to each and every one of us. These soaps are scented with Mulled Wine, Christmas Fir, Cinnamon & Orange, Winter Flowers, Christmas Greenery and Frankincense & Myrrh, all scents that unmistakably revive fun and festive memories of this wonderful season.
Gallery Direct

Gallery Direct offer the complete solution to home interiors, with their extensive catalogue featuring: accessories, including Christmas; lighting; soft furnishings; wall décor; and furniture, including made-to-order upholstery.
Their Christmas range is designed to add a touch of charm and class to the festive season with a lovely selection of decorations. The collection features delicate wreaths and timeless baubles, cosy cushions and rustic garlands, snowy trees and warming candle holders. A wonderful range of new products will be added to the catalogue in February.
Kaemingk

Kaemingk is your one-stop-shop for Christmas. With our 80 years of experience, local showrooms and digital advantages, we are making sure Christmas will always happen!
In our collection you will find life-like Christmas trees, lighting for in- and outdoor use, baubles in every shape and size, lit villages and floristry items. You'll be able to put together a complete selection by exploring over 12.500 home deco and gift items in line with the latest trends.
Come by and get inspired! You are welcome in one our local or digital showrooms, where we have taken all measures to ensure you a safe visit. Please make an appointment.
Register for Festive Focus Day on 21st January 2021 to discover the upcoming festive trends and some top tips on how to make your stock fly off the shelves this December.