05 Feb 2021
Awesome ideas to keep the kids entertained!
Founded in 1997, Great Gizmos was set up by Judith and Ian Dayus. With two young children, they were frustrated at the lack of quality educational toys that were fun to play with. They decided to do something about it and, as they say, the rest is history! Their focus is still very much around this category with awesome ideas to keep the kids entertained. During lockdown parents have re-discovered how much fun they can have playing games and doing science kits and craft activities.
Great Gizmos have a huge range of educational kits that focus particularly around the STEAM category – Science, Technology, Engineering, Art and Maths. We have seen a huge increase in sales across our science and craft ranges this year, as parents are at home more and are looking for things to do with their children.
Our science range continues to be very popular with the classics selling really well such as Robotic Hand, Crystal Science and Kitchen Science. Within the craft category, our Mould & Paint range goes from strength to strength with Unicorns and Dinosaurs being the favourites!

We are launching a brand new Disney range that combines popular characters with educational kits which we are sure will be very popular! We are already seeing great sales across the range with Mould & Paint Toy Story, Frozen Crystal Terrarium and Avengers Robotic Hand being the favourites so far, but it's still very early days! We expect the educational category to continue growing in 2021, particularly as it's gaining a lot of press coverage.

KidzLabs is a whole lot of scientific hands-on learning through play. We combine basic science, thoughtful design, and a touch of technology to create toys with excellent playability. Understanding the science behind metal detectors, spy tools, or even magic is enlightening and inspires curiosity and confidence in children as they develop socially and intellectually. Through play, young minds are presented with scientific wonders that most of us take for granted every day. The fascinating physical world is wide open for exploration.
This popular range is expanding again with some fantastic new titles. Discover the magnetic power of the earth with the Giant Magnetic Compass. Amaze friends with this giant compass, which is 30cm wide when assembled. Perfect for science projects in school or at home! Children can make their own working traffic light system with Traffic Control Light with red, amber and green lights and auto/manual switch function. Catch intruders entering your room with the Magnetic Intruder Alarm. This magnetic alarm beeps when the door is opened to warn of intruders. Mousetrap Racer is an amazing construction that's powered by a mousetrap spring. Children will be amazed by Octopus Robotic Claw - this soft bionic robotic claw is flexible and able to pick up different shaped objects.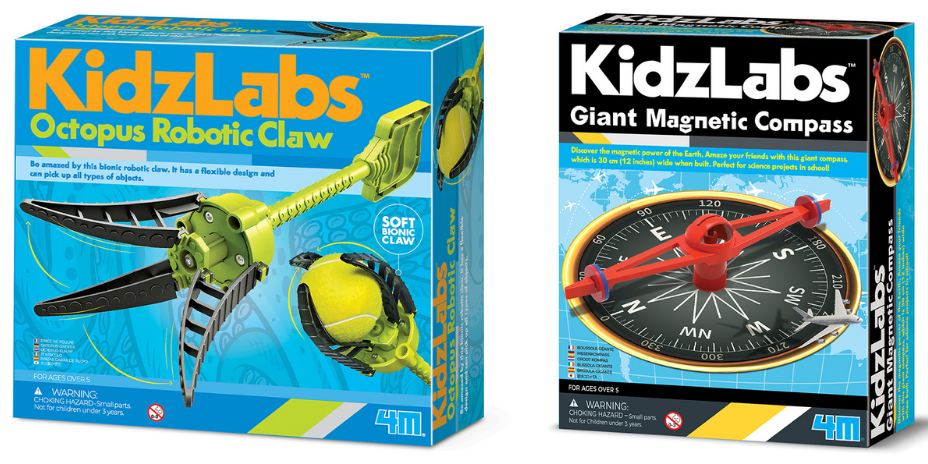 There are also two new games coming to the range; Dinoworld Paint & Play: bring your game pieces to life using the paints included and guide them safely through the dangerous dino park by rolling the dice and making moves. Electrobuzz Pirate Treasure Hunt: Spin the wheel of fortune to discover what treasure you are destined for. Move quickly and carefully across the board to collect the treasure without triggering the buzz wire!
The Green Science range has had a colourful makeover making it really stand out on the shelves and it fits in with the current awareness of looking after our environment. The green conversation is everywhere and green technology is the industry of the future. There are new additions to this range such as Paper Making and Techcraft Pneumatic Arm. The Green Science range teaches the principles of renewable solar, hydro, magnetic, gravity and wind power, and children can build cool, clean machines that really work!

The popular Kids Robotix range is expanding with new additions such as Wacky Robot which moves in a comical way and Snail Robot that glides over any surface. The range goes beyond simple mechanics to explore the variety and creativity of mechanical engineering. Kids can choose to follow the instructions or create their own boundless adaptions. Robotics is now an important part of the national curriculum and essential for children's learning and development.
A range of best-selling kits have been selected by the Science Museum and the Natural History Museum. Featuring amazing Science Kits and Dig Kits, these are both fun and educational, the perfect gift for anyone who loves the natural world!
We have some exciting new additions to our Crystal Range. Grow your own stunning, sparkling crystals and learn chemistry with hands-on crystal growing experiments. Kids can make an awesome dinosaur terrarium with the Dinosaur Crystal Terrarium. Kids can create their own magical and colourful unicorn wonderland with Unicorn Crystal Terrarium. Crystal Imaginations includes three colours which can be mixed to create different and unique crystals. Each kit comes with a display box to display the masterpieces in.

Our design team is always surprising us with their ingenuity and innovation, and the huge variety of clever crafty toys that they create. From a flower art press, to origami string lights, to a tooth fairy box, simple painting and designing engages children for hours using their imagination. Starting from scratch, kids imagine the outcome and then apply themselves in order to achieve it, resulting in smiles all round!
There are some creative new additions this year. Mould & Paint 3D Unicorn has everything included to make and decorate two impressive unicorn figures. Create amazingly detailed fridge magnets and badges with Mould & Paint Wild Animals. Children will love adding the string of LED lights to the KidzMaker Fairy Light Bulb or creating a giant glittery light up Unicorn Origami Room Light.

The Thinking Kits range features a variety of themed puzzles and activities designed to teach young children, from the age of four, the basic concepts of science, technology, arts & creativity, and also mathematics. Amazing Spiral Art - Use a flower spiral art spinner to draw as it spins to complete the activity booklet. Create colourful patterns with a spin and keep all the paint splashes contained with the cleverly designed Tornado Spin Art. Children will have hours of fun with the Light n Sound Art Pad. The art book is jam packed with pictures to colour in and it cleverly sits on top of a board with googly eyes and sound effects. The range helps children develop their understating of proportion, coordination, and mathematical symmetry while making something beautiful of which they can be proud. They can learn the basics of practical skills with hands-on crafts.

This is a taster of some of the new things Great Gizmos have to offer in 2021!
To download our brochures please go to: www.ggtrade.co.uk
For more information please contact Judith Dayus:
---
Discover Great Gizmos at Spring Fair @ Home in the Play & Tech Showcase on Wednesday 10th December at 1pm and in the Spring Fair @Home Virtual Showroom.
Register for Spring Fair @Home