15 Dec 2020
At home with… Karl McKeever, Visual Thinking
We're delighted to be launching Spring Fair @ Home for February 2021. Featuring an exclusive line up of brands and collections, as well as exciting content, our virtual forum will be a digital destination for retailers and buyers around the world.
It is a privilege to welcome Karl McKeever onto our speaker roster. As the founder of visual merchandising agency, Visual Thinking, as well as a prominent media presence, Karl has become a renowned name in the industry, and his insights on where retail is headed post-Covid will likely prove essential as we rebuild following the pandemic.
We sat down with Karl to get to know him a bit better ahead of his session on Tuesday 9th February at Spring Fair @ Home.
You have come to be a well-recognised figure within the retail industry. Can you tell us a bit more about your career journey?
With over 36 years in the retail industry, I feel a great sense of pride and achievement from the career I have built.
I started my retail career at Next, initially on the Graduate Management Training Scheme. Within six months, I transferred to the marketing department which is where I discovered I had a flair for visual merchandising. As part of Next's then small visual merchandising team, I was responsible for developing brand presentation and retail execution for each new Next concept which included: the (then revolutionary) Next for Men, Next Interior, Next Children, Next Accessories, Next Cosmetics and Next Jewellery.
From Next, I was head hunted to run Visual Merchandising for the South at Principles for Women, which was then part of the Burton Group (now Arcadia). This was a role that was more about execution, where my role at Next had been one of creative development. Whilst it was not the side of visual merchandising I most enjoyed, it taught me so much about how important training is for store teams when it comes to bringing an in-store experience to life and driving sales performance.
I then landed a great opportunity as Visual Merchandising Manager at Paperchase. Following their acquisition by WH Smith, my role was to develop a new "look and feel" for Paperchase stores from store presentation to marketing. For Paperchase, I developed a new approach to visual merchandising; one that created reasons to buy outside of the traditional calendar seasons for stationery.
It is a culmination of all this experience and learning that led to the development of Visual Thinking and its growth into the company that it is today.
Tell us a bit more about Visual Thinking and what you do…
Put simply, we help retail brands to perfect instore presentation to maximise their commercial opportunities.
Long before the term customer experience was used, Visual Thinking was pioneering significant change activities for major retail brands in this arena. We are not store designers or shop fitters, we are not prop makers or mannequin suppliers. We are business consultants, expert in developing bespoke visual merchandising solutions to support companywide brand change and retail transformation programs.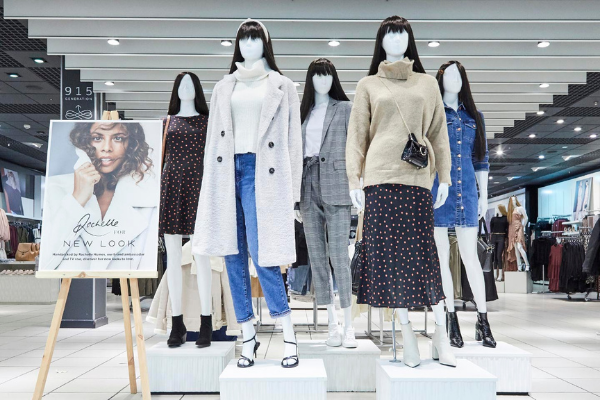 We offer consultancy-based, bespoke projects, provided on a contracted basis from initial brief to final KPI measurement. These include initial brand insight activities to support change in the direction or execution of the retail brand proposition through to development of practical visual merchandising policies to change the look, feel and standards of product presentation in-store. Some clients use us for practical work, others purely for online tech projects.
One of areas where we have gained an enviable reputation for success is in developing visual merchandising capability for both store and retail field teams with the understanding and new skills to deliver more effective, productive and consistently executed visual merchandising instore, and companywide. In this area, Visual Thinking remain pioneers in our approach and results.
What have been your particular career highlights so far?
Good question! I have been very lucky in my career to have been aided by people along the way who recognised my potential and encouraged me to progress down this path. Since setting up Visual Thinking, I have also been privileged to work with some great team members, and together we've had fun, and created our own success.
I have also been able to work with some amazing retail brands from all over the world and a big career highlight is the extent to which I have travelled and worked internationally; some of my favourite destinations include Hong Kong, Melbourne, Santiago and New York. The opportunity to work in these incredible cities, and with different cultures, develops you as a person. It tests your ability and resourcefulness. When working for clients in a new location, with unfamiliar people who are looking to you to drive the solutions, you have to "know your onions" and be able to think on your feet.
Another highlight has been my media work. As well as being a regular contributor for news features commenting on store presentation and customer experience and how these influence both retail success and failure, I have also appeared in a range UK lifestyle TV programmes. Through these appearances I have provided visual merchandising and retail advice, business transformations, and have been part of the action in popular TV series such as The Fixer and the BBC's The Apprentice (series 8). These opportunities have allowed me to introduce both the science and power of visual merchandising to a wider, often non-retail audience and, most importantly it's been really fun!
In 2019 I was awarded with an Honorary Fellowship to the British Display Society (BDS) in recognition to my contribution to visual merchandising throughout my career. This was a high point, and so gratifying. The BDS are the industry champions for visual merchandising and support the work of practitioners across the UK. As someone who is self-taught and self-accredited to be recognised by this highly respected, professional trade organisation is something I am very proud of indeed.
And do you have any favourite Visual Thinking projects?
I would say working with Big W in Australia was one of my all-time favourite client relationships. Over 18 months, we delivered one of our most comprehensive brand relaunch and visual merchandising training programmes for Big W. We relaunched their clothing brands with new presentation standards (on existing fixtures), introduced a brand-wide retail standards program and worked behind the scenes with product and marketing teams in every category to update and reboot store presentation and the marketing strategy and retail execution standards for Big W. It was a lot of work, but the results were amazing and shoppers loved what we had done; the category sales increases said it all!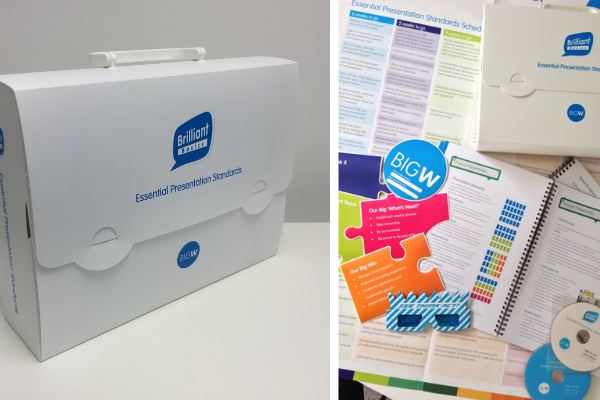 It's the people working within each company who work with us that make our projects such a success. The entire Big W team were truly amazing; enthusiastic, committed and open to change. They confirmed how successful partnership and close collaboration make the big difference to success.
Overall, our Big W contract was an amazing opportunity for the company, we developed and implemented great work in an amazing place and alongside people who were welcoming, positive and embracing of everything we could offer. Their enthusiasm for success was infectious and work hard, play hard approach ever present. And when you're really so far from home, that really matters…
Visual Thinking has been in business for over 25 years, which is quite an achievement! What do you think has been the key to your longevity and success?
You'll have heard of the 3 "R's"; we have 4, and they are the driving force behind everything we do.
The first is relevance. For retailers and the various agencies who support them, having relevance is more important than ever with the pace of change and increasing adoption of technology. Longevity and relevance are not the same thing. Some may think a long-standing business lags behind whereas others will see a firmly established history and experience as proof of your success and the results you can achieve. Whatever the view, in business, if you want to remain successful it does mean adapting to stay relevant. This entails listening, learning, updating and reimagining everything you do to make sure you're at the top of your game.
The second is resources. In the case of Visual Thinking, that's our team. Over the years, I have worked to build a strong team of 'Visual Thinkers'. Not just our talented and experienced consultants who partner with clients to advise, develop, manage, and deliver their projects, but project team members, our suppliers and third-party contractors who to support them. Not forgetting our own dedicated office staff. Everyone working together to deliver their very best work and to make our clients happy.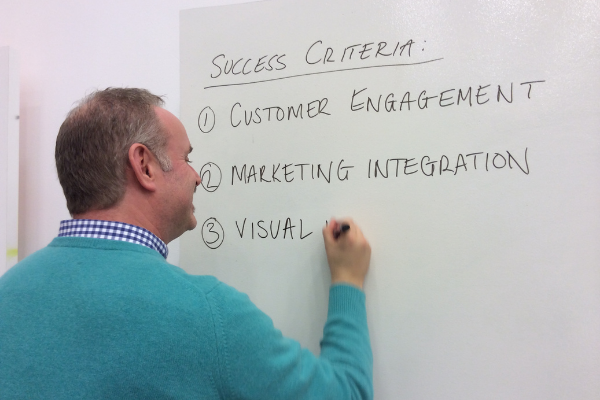 The third "R" stands for results. When starting Visual Thinking all those years ago, I was determined that visual merchandising would be taken seriously within retail. For us, that meant straight talking about numbers and speaking to the merchants and operators in their own language to prove the case for increased investment in visual merchandising as an essential tool to drive retail performance. Now when we work with clients, we set out to impact the numbers: higher footfall, increased sales, higher conversion, greater productivity, less waste, increased customer satisfaction and brand appeal etc. Such metrics are how we measure the impact of visual merchandising. Agreeing upfront with clients how we will measure success is key, and results and data confirm where and how we add value.
The fourth and final "R" stands for reputation. Ultimately, nothing can help you more than a positive reputation. Today, Visual Thinking still works with some of the original client names that we did 25 years ago. As UK pioneers in visual merchandising we have introduced this principle to thousands of people working in UK retail and worldwide. We have helped to develop and foster an industry, build understanding and the application of visual merchandising to benefit shoppers, retail teams and brands in every sector. Over the years, countless people in all kinds of retailers have been exposed to visual merchandising by Visual Thinking and I am very proud of that. Our ongoing work only builds and solidifies our reputation with old friends, new faces, enthusiasts and sceptics alike.
Finally, do you have any words of positivity to share with our readers?
Simply to try to remain as positive, and optimistic as possible; there are always opportunities to win.
It's easier to solve problems without the weight of the world on your shoulders (as hard as it can be). I'm a believer in sharing my worries and inviting others in to help. This year has made face to face communication much more difficult, but options to meet and speak online or by phone work too. I generally find that others can often shed new light or fresh thinking to quickly solve your problems.
Also, to be flexible about your future plans. Agility in your thinking is important to be as reactive to new trading opportunities and changing circumstances. If a plan has to change, change it and make it work differently, but still try to achieve most the outcomes you want.
Above all, be kind to yourself. We're all managing our world differently at this time, so don't beat yourself up about things. Take some time out, to a place where you can find success and let your hair down. I'm lucky to live near to the coast and I love taking our dogs to the beach. It's a great place to breathe, take a long view, clear your head and make a fresh start on whatever's coming next...
Find out more about Spring Fair @ Home and register here.