Success Story: Jackie Brazil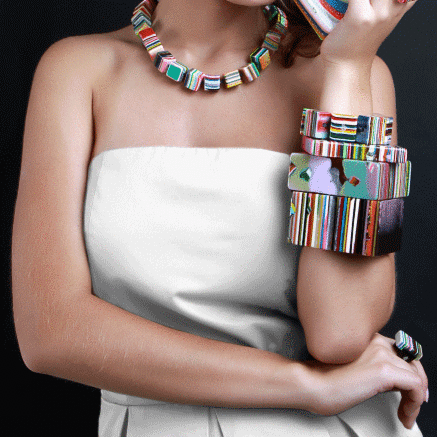 "Spring Fair is a premier show and being seen there sends the right signal to our customers. I know that sales would drop if we weren't part of Spring Fair."
Gus Pretel, Founder and Director at Jackie Brazil
---
FOCUS AND CHALLENGES
The Jackie Brazil vision started in 2012. The aim was to create a new look, more adventurous in its use of vibrant colours and designs. The company creates handmade resin jewellery in Rio de Janeiro with each piece being 'wearable art' – lightweight with a fresh look that reflects the colour and happiness of Brazil's lifestyle and attitudes. All the jewellery is made under Fair Trade conditions and the resin has particular properties that make it easy to clean and long lasting.
The company sells in North America, Asia and Europe. Jackie Brazil has attended Spring Fair since 2005 and in the early years enjoyed a rapid growth in its UK profile, in particular through being featured in high fashion magazines including Tatler and Vogue. During the financial crisis, the company consolidated its position and then took advantage of improving market conditions in 2013.
OBJECTIVE: Re-launch the Jackie Brazil brand into the UK market and accelerate sales
---
THE SPRING FAIR SOLUTION
In 2013, Jackie Brazil identified that the UK market was recovering with clients ready to pay more for jewellery that is diff erent, unique and special. The Spring Fair team proposed using the show as a platform to re-launch the brand in the UK and reconnect with the many diff erent types of retailer that love the Jackie Brazil brand and products.
The Spring Fair team have assisted Jackie Brazil every year with stand location, design and promotional activity to build awareness of the company's presence at the show. Spring Fair is featured on the Jackie Brazil website and in emails sent to its growing customer and prospect list. In 2016, the company brought all its new designs and colours to Spring Fair and used a combination of the stand and catwalk to highlight the quality and energy in its exciting product off ering. In addition, it enables Gus Pretel and his team to advise clients who visit the stand on the colours and designs that are most popular and that will generate sales.
---
BENEFITS
Spring Fair has been at the heart of the successful re-launch of Jackie Brazil in the UK and positive client response to the new designs is acting as a foundation for future growth.
Re-launch the brand
Educate the market that the company is stronger than ever.
Showcase the new, innovative designs and colours.
Reinforce relationships
Being present every year re-builds contacts and reassures clients that they are a reliable partner.
Remind all types of retailers why Jackie Brazil is a great addition to their store offering.
Build emotional engagement
Enabling customers to touch and feel the products encourages orders on the stand.
Emotional engagement with the people and brand builds long term partnerships and loyalty.
---
RESULTS
50% increase in turnover at the show vs Spring Fair 2015
Signed 15 new premium retailers
Strong brand re-launch
Eff ective brand and sales development
---
"Spring Fair is a premier show and being seen there sends the right signal to our customers. I know that sales would drop if we weren't part of Spring Fair."
Gus Pretel, Founder and Director at Jackie Brazil