12 Oct 2021
World Mental Health Day with The Retail Trust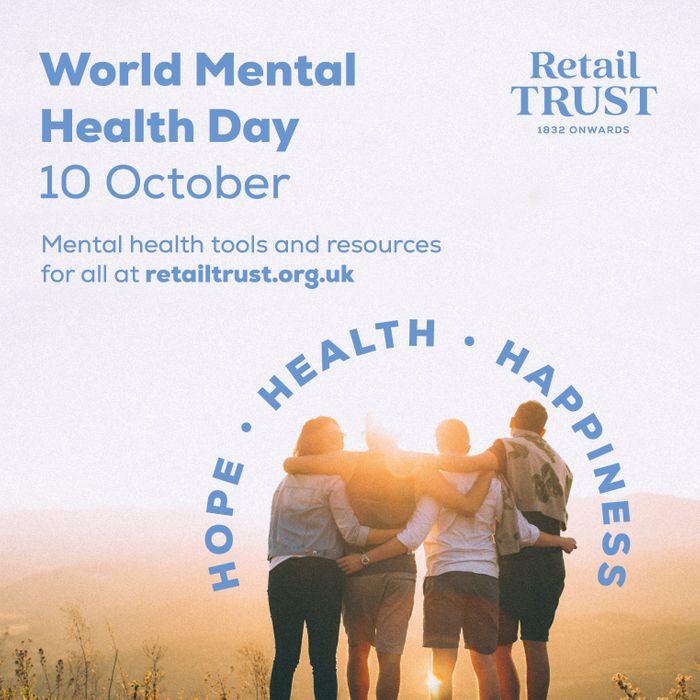 On Sunday 10th October, World Mental Health Day was celebrated across the globe. Recognised by The WHO, the theme set by the World Federation for Mental Health for this year was 'mental health for all'. The Retail industry is no exception, so we caught up with The Retail Trust to see how they are caring for the lives of those in retail, this day and every other.
It was World Mental Health Day on 10th October. What did The Retail Trust get up to celebrate?
We shared relevant content with our supporters and colleagues.
There is an extricable link between physical activity and mental health. Some of our team at the Trust and our supporters even got involved with the Royal Parks Half Marathon which took place on the same day including our very own CEO, Chris Brook-Carter.
What other things throughout the year are The Retail Trust doing to promote happier and healthier workplaces?
The health of our colleagues is the foundation they need to flourish in both work and life.
Internally we have a calendar of events for our own teams to get involved with including National Inclusion Week, Black History Month etc.
We're also running hero campaigns each month with our retail partners to enable their colleagues to live happier and healthier lives – we are focusing on World Menopause Day this month and November's focus is personal safety.
We also have a series of events, our first leaders' summit is on 9 November and sessions include the menopause and how it is everyone's business, what an effective mental health support system looks like in the workplace, alongside sessions on flexible working, talent retention, and diversity and inclusion.
And looking at innovative ways to enhance our wellbeing services including our new virtual GP offering giving colleagues 24-hour access to a remote GP.
How can we maintain positive mental wellbeing when faced with uncertainty?
It is vital to know who to contact in times of need which is where the Retail Trust really comes in. Our wellbeing helpline is available 24 hours a day, and colleagues can also a wide range of articles, quizzes, videos and advice on everything from mental health and wellbeing to their career and lifestyle on our website. Through this preventative digital support, they can take charge of their wellbeing and what's important to them, before any issues escalate.
What are some of the barriers that prevent people accessing mental health resources?
COVID-19 has amplified how important it is to look after our mental health and wellbeing and we've been inundated with requests from people accessing counselling and financial aid. Since the first lockdown we've provided over 11,000 counselling session and provided more than £1.2 million in financial aid.
We have just launched our emergency appeal to enable us to keep protecting and improving the lives of our retail colleagues especially those facing barriers to access support. We're encouraging every colleague to get involved and walk, run, cycle or swim 4 miles, donate a minimum of £4 and nominate £4 people.
How important is collaboration across the sector for improving mental health for all?
As torch bearers we have a moral obligation to lead the way, set standards and celebrate retail. By working with business and leaders across the sector, we can improve mental health for all and ultimately, empower our colleagues to lead happier lives.
For more info: Here is an article from The Retail Trust on strategies to stay well in times of stress.