28 Jan 2019
What will your customer be wearing in S/S 2020?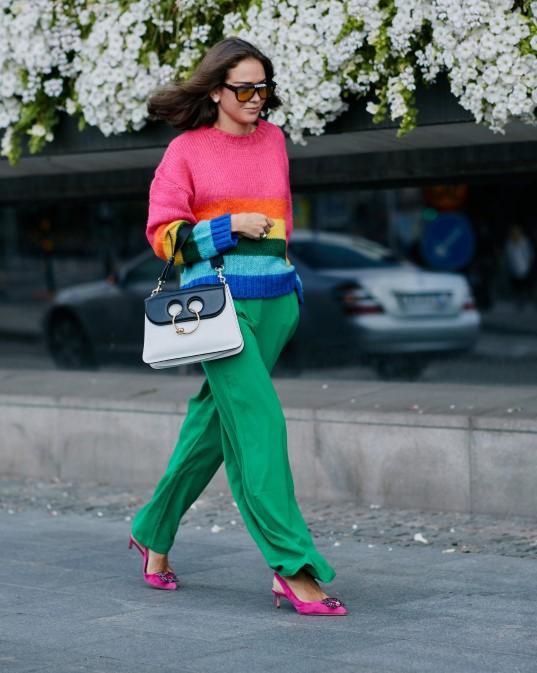 In response to a world in a state of flux, our S/S 20 Macro Trend Forecast explores the bigger picture developments across culture, lifestyle, art, technology and retail, offering insight into future consumer behaviours.
Here we break down what impact our four macro trends – Honest, Limitless, Ritual and Brave - will have in terms of fashion, highlighting directions for styling, colour, fabric and texture, with an added focus on footwear & accessories.
1. HONEST
The wonders of nature inspire a raw luxe aesthetic that blends contemporary craft and imperfect beauty. Design and technology utilises natural resources and re-thinks wasteful processes to make sustainability the ultimate luxury.
Basic items are elevated through the use of simplified volume, clean lines and practical performance.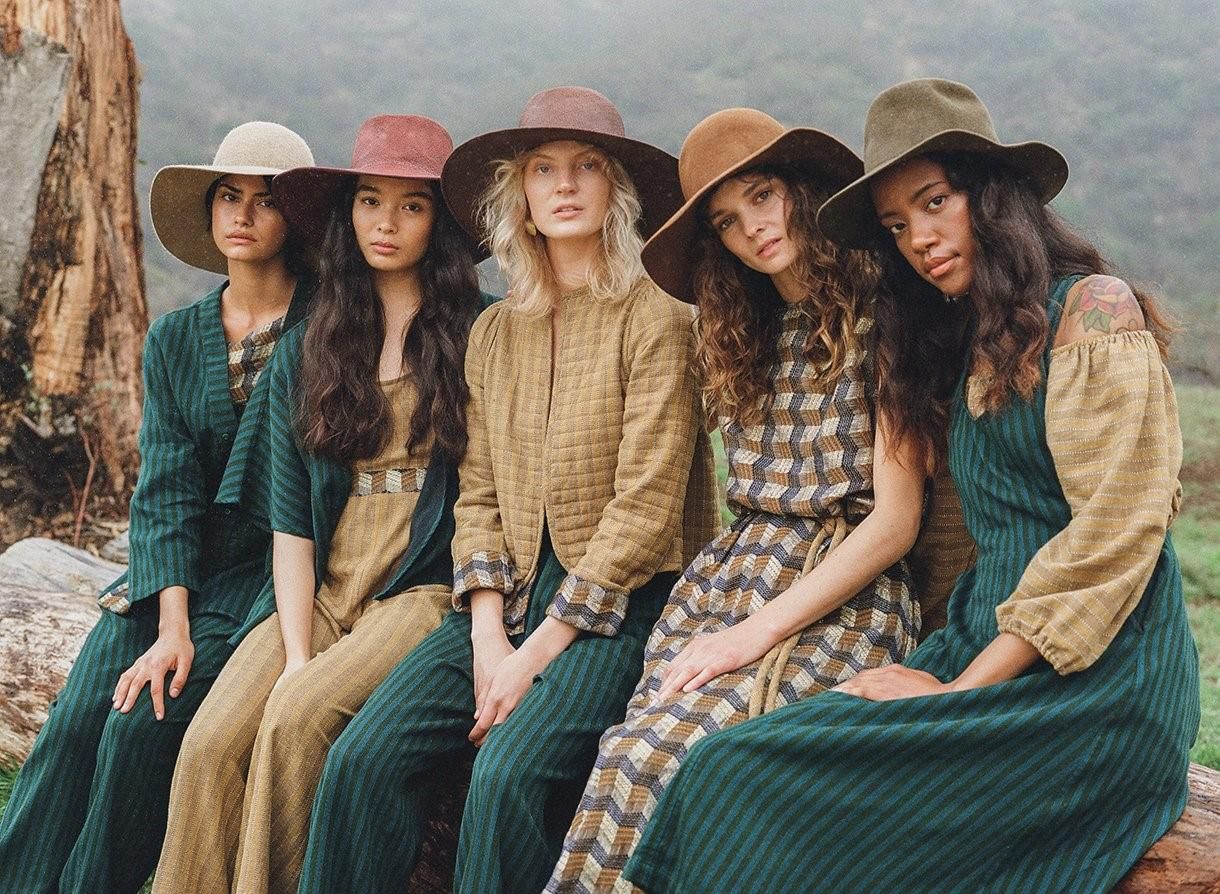 Colour is inspired by the landscape, balancing raw, untreated neutrals with rich browns and greens. Oceanic blues are vibrant, shimmering and hyper-real, adding unexpected highlights and dynamism to the palette.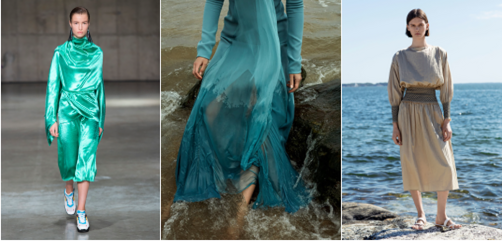 Diffused, broken, bleached and aged textures created a natural camouflage, contrasting with aquatic shine. Fabrics use natural fibres and are upcycled, washed and worn, as performance knits combine with waxed cotton and sustainable denim.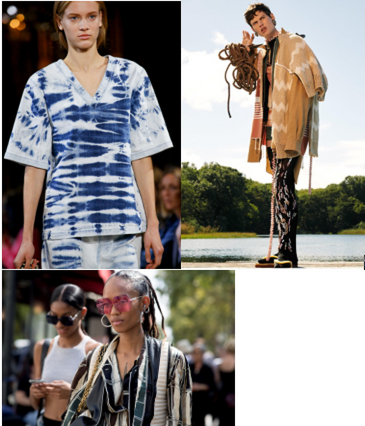 For accessories, basket weaves add a sense of craft to sandals and oversized holdalls, using natural raffia or recycled plastic fibres. Hiking boots, bold chunky soles and fisherman-style hats channel practicality and outside living, while patchworked leathers add a hand-spun touch to luxe, structured handbags.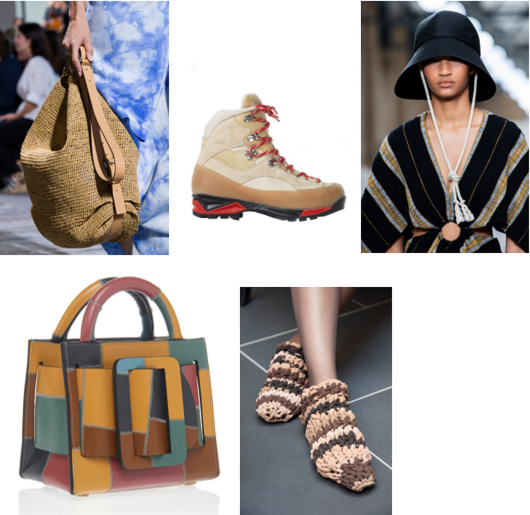 2. LIMITLESS
Pushing creative boundaries encourages a brave approach in an increasingly fragile world. Unexpected combinations contrast uber feminine frills and girly silhouettes with tech sports details. A rebellious attitude and brave approach to style clashing is key, redefining glamour and what it means to be a modern woman.
Inspired by an amplified version of femininity, a palette of fragile pales and tinted pastels are met with shocking neon twists, creating a dual mood that is sweetly sinister.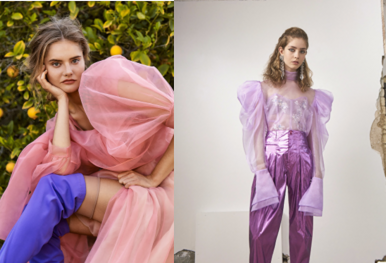 Surface and texture blends sheer tulles and silks with wet look PVC, high shine coated leathers, rubber and iridescent foils. 3D embellishments include shimmering sequins, beading, rhinestones and ostrich feathers.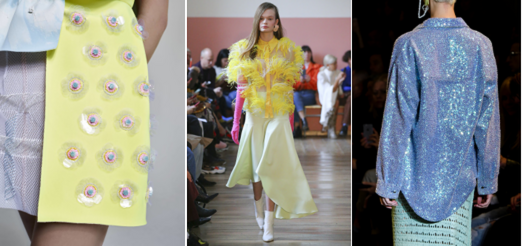 Accessories play with the idea of ugly meets pretty, questioning ideas of taste. Kitsch mules, kitten heels and feminine strappy sandals are given a sporty twist. Chunky soled trainers meet pastel power in soft pink suede, as holographic eyewear clashes with diamanté jewellery.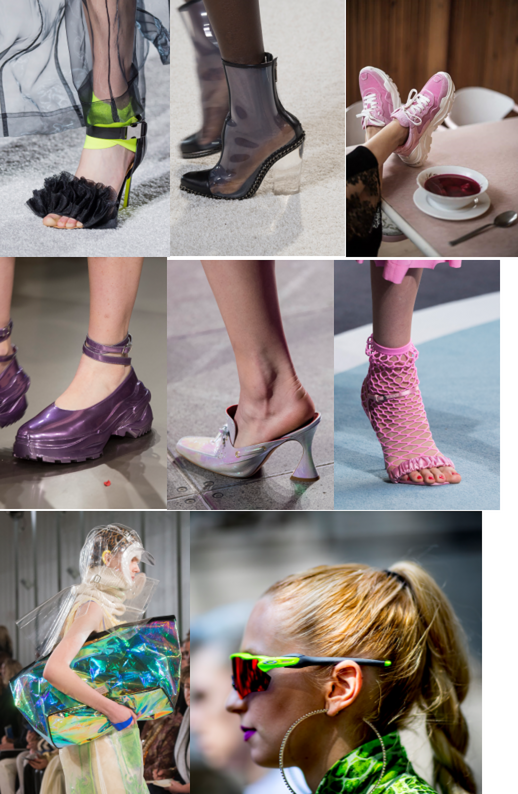 3. RITUAL
Seeking serenity and meaningful experiences sees a return to ancient ritual and a renewed connection to nature. Modern mysticism inspires an otherworldly mood of soft tailoring and floaty layers, mixed with contemporary Western touches, prairie dresses and unexpected proportions.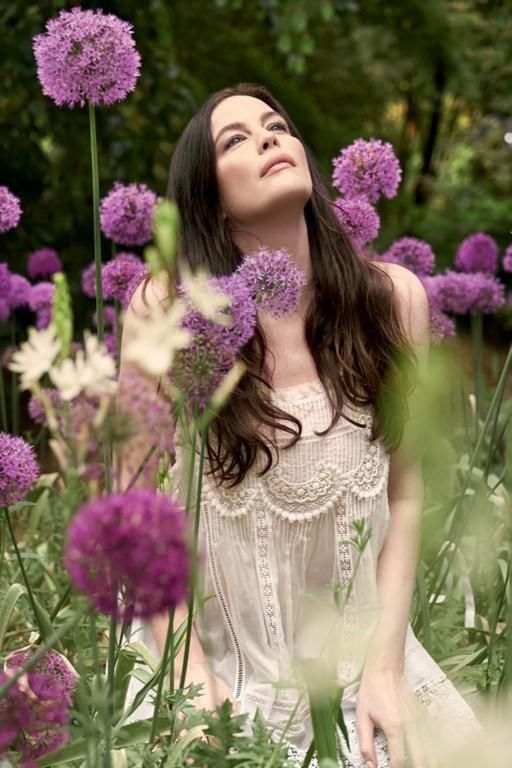 Soft sun-kissed hues sit alongside spacious neutrals and powdered blues. Touches of burnished and emotive earth tones are warm blooded and centring.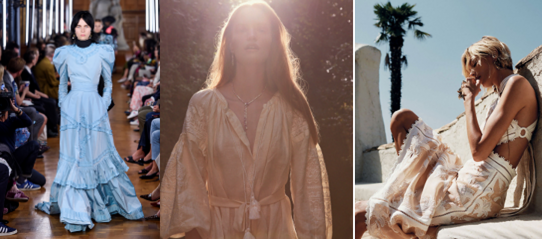 Folk inspired prints and stylised flora & fauna combine with patchworked scarf foulards and faded checks. Metallic foils add summer shimmer, alongside crafted sheers, natural cottons and embroidered linens.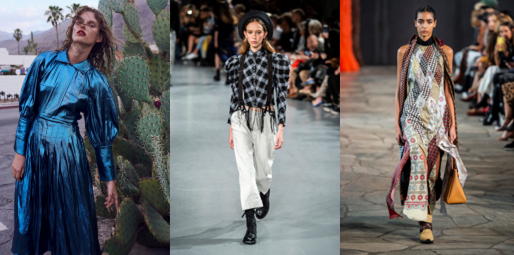 Contemporary western detailing updates footwear and accessories, and embellished sandals are a key item, worn with or without socks. Symbolic imagery and subtle ritualistic charms appear as embroidered details or on pendants and anklets, alongside shells. Leather is embossed for totes and holdalls, while jewellery mixes worn gold finishes with semi-precious stones.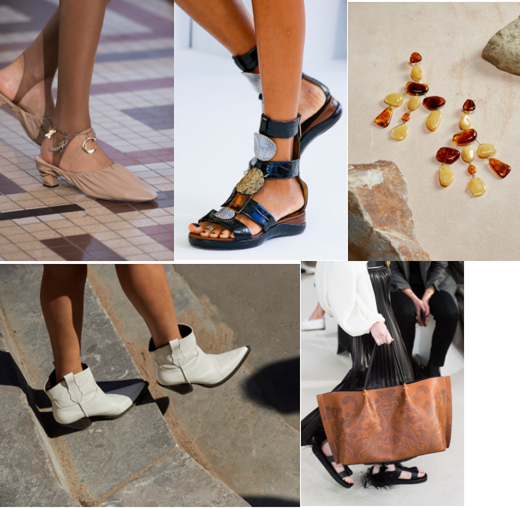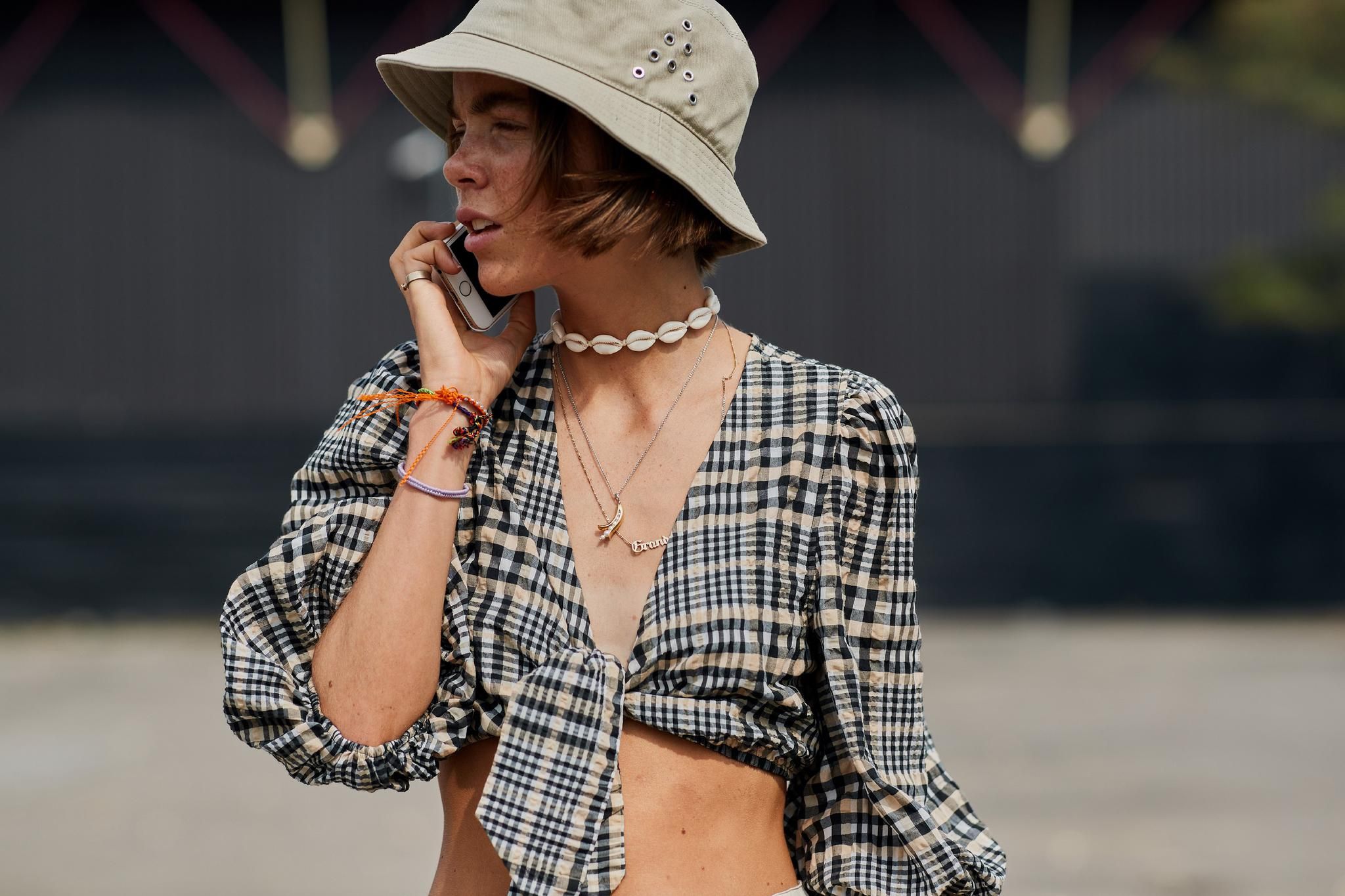 4. BRAVE
Hybrid combinations and unexpected collaborations continue to be important, as a new breed of gently rebellious consumers seek to be their own authentic selves. Creative, individual and fiercely feminine, bold colour and sportswear styling drives a new era of glamour and fresh take on contemporary power dressing.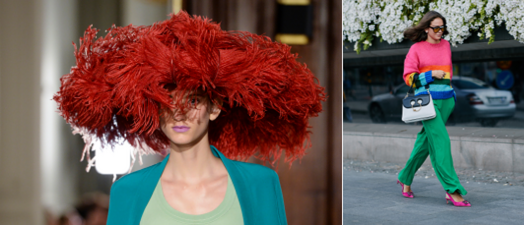 Primary colour combinations are lively and powerful, as hot pinks and reds are illuminated by golden yellow and acid green. Surprise violets and cobalt blues remind us to expect the unexpected.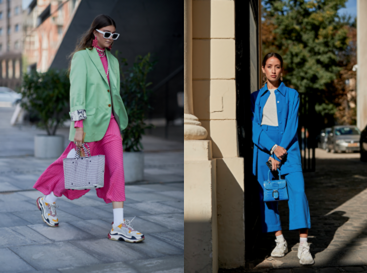 Sportswear influences the use of bold engineered stripes and graphic logos, clashing with leopard and snake. Texture is slick, with liquid satins, neoprenes, proofed technicals and head to toe sequins.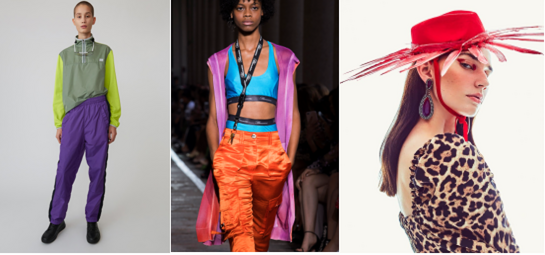 Accessories have a sense of fun, adding playful touches like faux fur to update classic shapes. 80s influences play out in oversized earrings, statement branding, luxe bum bags, building block sneakers, high low heels and sock boots.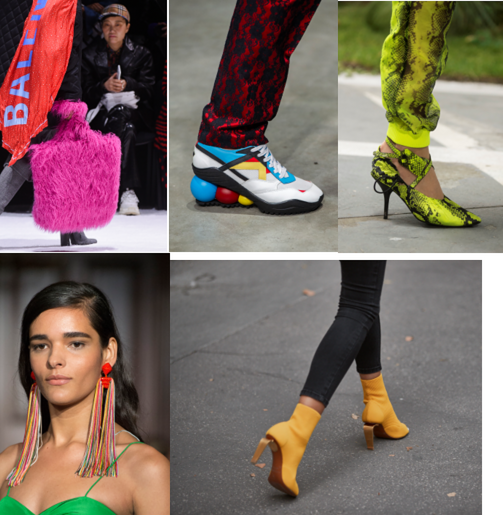 Find out more about S/S trends at The Studio at Spring Far. Register for your free ticket.