11 Jan 2022
SPRING FAIR EXTENDS DEADLINE FOR ITS COVETED LITTLE BLACK BOOK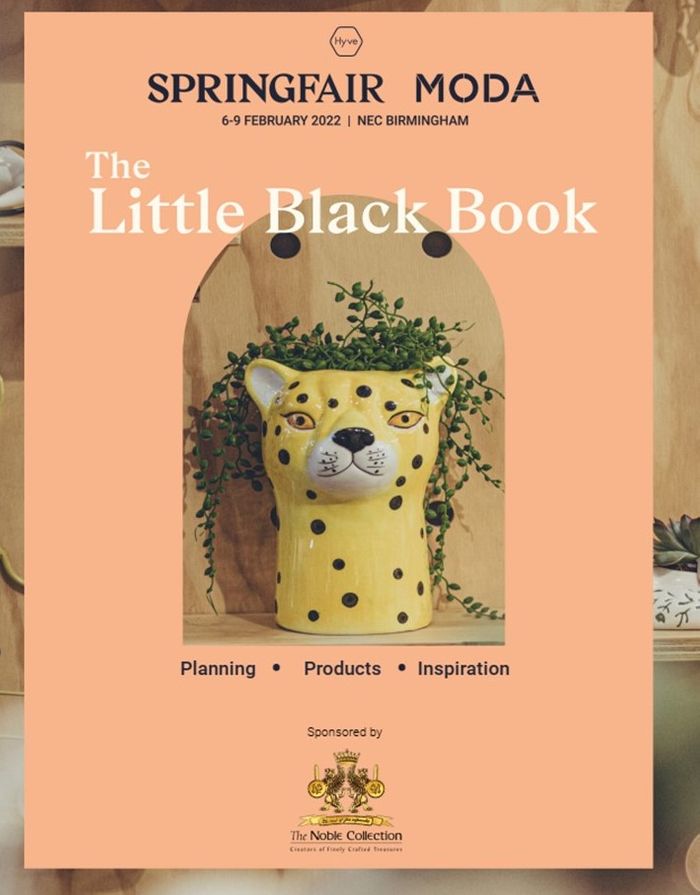 Spring Fair, the UK's most diverse, vibrant, and exciting wholesale marketplace for home, gift, and fashion taking place from 6th – 9th February 2022 in Halls 1-8 NEC Birmingham, has extended the deadline for its sought-after Little Black Book packed full of information and the 1000's of exhibitors set to showcase new products. Register by end of the day on Tuesday 11th January to be in with a chance to receive one of the limited printed copies of this essential show guide, delivered straight to your door.
The Little Black Book features a handy map at the front of book giving a bird's eye view of the show's layout, an A-Z listing of all the showcasing brands, and all the new additions for 2022. Get to know where your favourite product sectors are, feature areas including the Moda Catwalk, The Club lounge and Curated Meetings, the Inspiring Retail Stage, the heads up on the new Power of One pledges, and the Sustainability, Made in Britain, and Garden Gift & Home Product Trails. To get started on creating your buying wish list of suppliers, the A-Z Exhibitor list has a colour-coded key to differentiate each sector.
Digital copies will also be sent to everyone who registers. Join the host of retailers who have already registered to visit Spring Fair including John Lewis, Applause Store Merchandise, Denby Retail, Paper Tiger, Riley's Garden Centre, Bedding Heave, Burton Blake, By Nina, Draycott & Charles Interiors, Evie&me Interiors, Farm & Garden Supplies, Four Seasons Trading Four Sisters, Fragonito, Frankly, Fy!, Freitaslaf Net LTD, Geek Retreat Newcastle, Kings Road Company, Luxury Gift in a Box, M.E.G. Cards and Gifts, Midcounties Coop Food, Mix.co.uk, SapproUK Limited, Silverstone Interactive Museum, Vh Cosmetics, Yorkshire Willow, Wallaces Homevalue & Garden Centre, and many more.
To register for Spring Fair and be in with a chance to receive a copy of the Little Black Book visit https://www.springfair.com/visitor-registration
For the latest Safe & Secure Guidelines please visit: https://www.springfair.com/visit/safe-secure
For further press information or images contact Philippa Suitters at Good Results. Email: PhilippaS@goodresults.co.uk. Tel: 07866362980
About Spring Fair
Spring Fair is the UK's most vibrant marketplace for wholesale home, gift and fashion. As the definitive "shop for shops", it supports the retail industry like no other.
Spring Fair is where bestsellers are found, relationships are forged, and curiosity is piqued. Imagine a treasure trove of new ideas and new trends just waiting to be discovered and displayed in your shop or showroom. If you want to touch, feel and experience what's new and innovative across the home, gift and fashion retail industry - Spring Fair is the marketplace for you.
The depth of product and trend inspiration available at the show provides the opportunity to make unexpected discoveries. New brands, new launches, new products. The power in diversification is something that can only be explored at Spring Fair, helping to offer customers something different, and stand out from the crowd. Spring Fair doesn't just showcase the newest products on the market, it curates an unmissable event where inspiration, creativity and insights are always on tap.
Located in the centre of the UK at the NEC in Birmingham, Spring Fair is easily accessible for UK and International retailers (be it independent, multiple or online, designers, contractors and suppliers) to meet every February, at the very start of the buying season. Together with a comprehensive line up of exciting exhibitors you want to see, expect a vibrant hub where not only ideas flourish but community, connection and collaboration thrives.