31 Jan 2020
Speaker Spotlight: Alex Allday's Life as a Ceramics and Surface Pattern Designer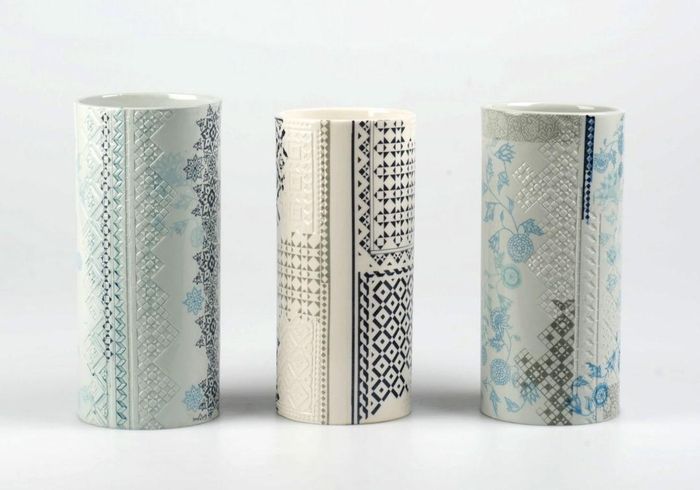 If you've ever had the chance to visit Stoke on Trent, you more than likely will have encountered many of its potteries and ceramic wonders. Stoke is intimately bound up with ceramics industry and to many is known as the Potteries. In fact, the global ceramics market is expected to reach $286 billion by 2022 and The Staffordshire Potteries hopes to contribute significantly to this, reasserting itself as a global centre for ceramics, based around design-led production. The Spring Fair team spoke with Alex Allday, Ceramic and Surface Pattern Designer who works in the heart of this industry, to find out what life is like producing decorative ceramic wares ahead of her panel discussion at Spring Fair.
"I always knew before [university] that I would want to do ceramics but didn't know which area I wanted to go into" says Alex, who studied 3D design at Loughborough University. "I didn't feel as though I had enough of a portfolio, so I did a masters in Ceramic Design." It was her masters that confirmed her love for ceramics and gave her the business skills she needed to set up her own company – Alex Allday.
"Once I started my business, I knew I needed to have a business mind, so I did research into creating a more varied product range with different price points and gathered information from markets and fairs as to what people were buying. I've learnt as I've gone along with how to combine what I enjoyed making during my MA along with what I know will sell, to create commercial products."
Interestingly, Alex's work doesn't necessarily follow trends with a signature complimentary colour scheme and designs inspired by architecture and traditional patterns. She works with tones of blue and grey which add a contemporary feel to what are perhaps considered quite dated patterns and describes her style as being very set "[stemming] from very detailed pattern work, that doesn't follow a trend." She goes on to say, "I find details in buildings, traditional floor tiles, books based on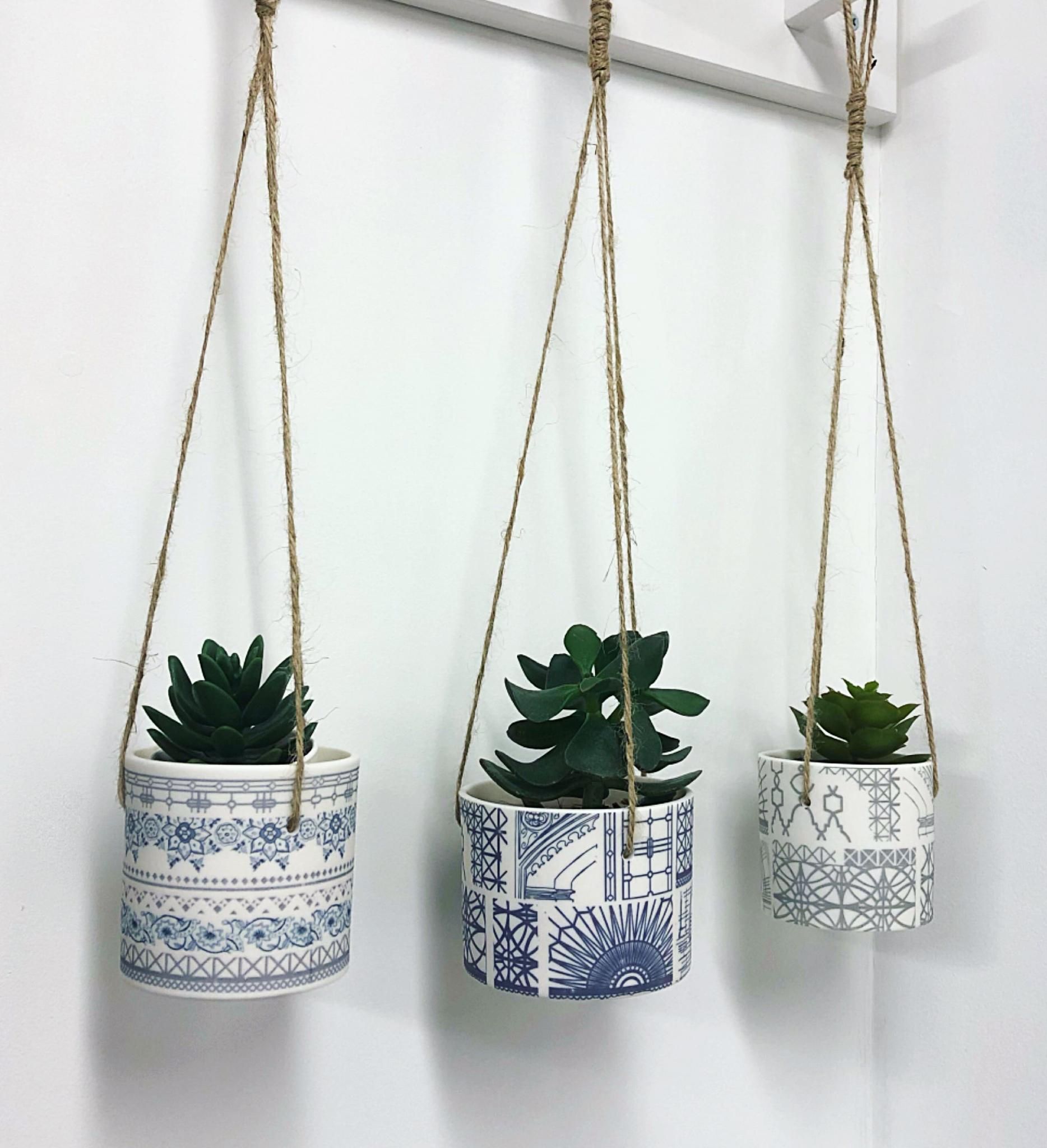 old textile patterns and floral elements. Trends inform my decisions more so in terms of actual products rather than colour and design." For example, we've seen a boom in the demand for planters whilst tea lights seem to be going out of trend. This is reflected in Alex's work, with a selection of hanging planters based on various flowers, points of architectural interest and Victorian tiles.
All of Alex's decorative wares are produced in a range of high-quality ceramic bodies including Porcelain, Earthenware and Parian. The process for each varies but combines the use of traditional handcrafted and digitally produced techniques. Alex simplifies the process for us.
"To make the ceramics I use a plaster mould and pour liquid clay into it which is left in for around 10 minuets. I then pour out the excess whilst the rest has taken the shape of the mould forming the piece. It's then fired and glazed followed by adding the pattern designs."
The hanging planter pockets are all hand built and the process is slightly different.
"I roll the clay into different templates and fold into shape. It's then left to dry and cleaned up before being fired and put in the kiln. It has to be a really high temperature, around 1200 degrees to make the porcelain non-absorbent and water tight."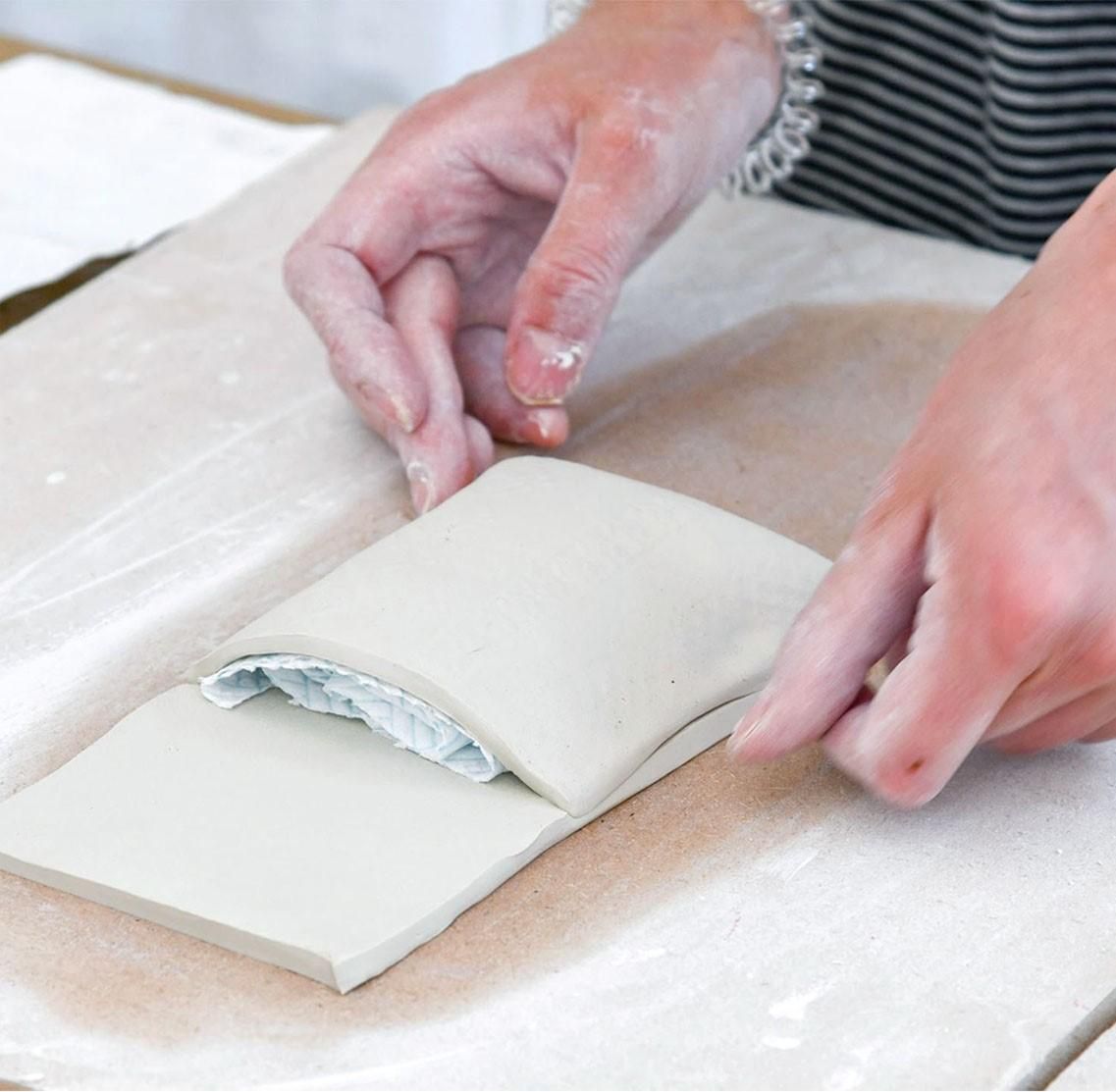 The next stage is applying all the designs. They are all hand drawings scanned digitally to be printed onto specialist A3 ceramic transfer sheets. The patterns for each piece are then cut out and applied to the piece individually. Alex points out that "using this method of transferring hand drawn imagery onto ceramics is how we can commercialise such products. It wouldn't be cost effective to hand draw onto every item."
This process that produces a batch of 30-40 products per week allows Alex to create a range of products more quickly and cost effective. She explains that aside from increasing efficiency it is also important to be constantly looking out for new pieces she can add to her collection, as well as taking on board customer feedback. "I've started to look at jewellery and broaches, wearable pieces and different ways to expand my range. Customer feedback is key and is the reason some pieces have been discontinued so I can focus on more popular pieces. A big part of my practice is trial and error but also continuing to be unique and distinctive."
Alex will be sharing more about running her business on the panel titled: How can we commercialise 'Non-Traditional' designs? at Spring Fair 2020
Wednesday 5th February (14:00 -14:40), Inspiring Retail Stage.