19 Jan 2023
The rise of the micro apartment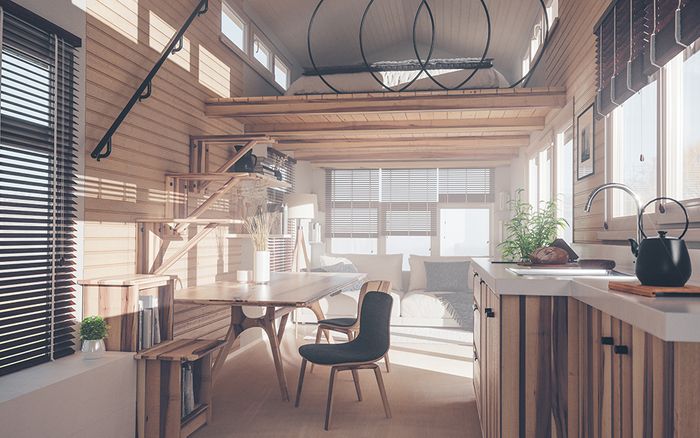 Many luxury brands have now micro bags that are popular amongst celebrities and attract a lot of attention on social media. This trend is also extending to home and interiors with the rise of micro apartments in urban areas.
House & Garden has recently published an interesting article about why "micro apartments are the best thing to happen to the planet", featuring influencers who deliberately choose to live in reduced square metres to save money or spend it on lifestyle experiences instead, such as traveling or a gym membership.
One of these micro apartments went viral on social media, with over 45 million views on TikTok, even if small living "is often met with mixed reviews". Sustainability also plays a big role when deciding to live in a small place, that obviously use fewer materials and require much less energy.
If we look into Japan's architecture, micro apartments go back a long way, but micro apartments can be seen as claustrophobic in the West, that's why interior design becomes crucial. Minimal décor is a must, so it's important to maximise the use of space with built-in ample storage.
Clean spaces always feel bigger, and mirrors are also a known trick to achieve this. Brands and retailers can add products to their range specifically conceived for tight spaces, with a strong focus on comfort and customised features.
You're most welcome to visit our Home, Living & Décor sector to discover stylish and on-trend furniture, textiles and decorative interior accessories. You can find classic styles and contemporary pieces that can attract consumers who need to customise their living spaces, whether big or small.
Other Digital Content
In collaboration with some of the leading voices across the industry, Hyve has released a timely whitepaper report highlighting the key insights within the UK retail market.

In this SAF TV episode, we dive into the world of sustainability with a special focus on a remarkable company: The Seed Card Company. We had the privilege of sitting down with Kay Patel, the director ...