22 Oct 2020
Meet the Gift of the Year winners: Kelly Smith, Billy's Beach Hut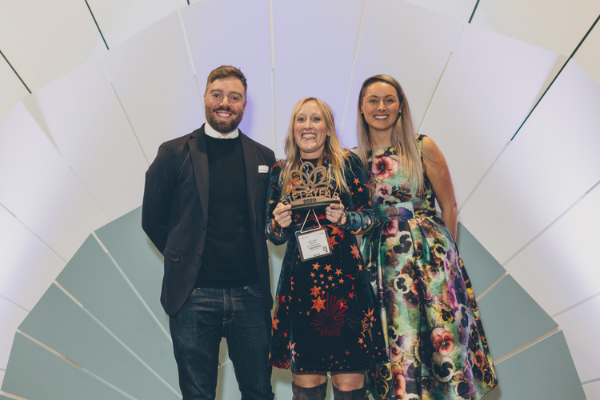 Ahead of the 2021 Gift of the Year Awards, we've been catching up with some of last year's winners...
Tell us a bit more about your business' story…
The brand Billy's Beach Hut started back in 2014 while I was racking my brain on what to make my children's teachers at Christmas. I wanted something unisex, heartfelt and Christmassy to show how much I appreciate them taking good care of my little ones. I set to work making some candles and advertised the remaining ones on my local Facebook selling page and so Billy's Beach Hut was born.
The name Billy's Beach Hut derived from my son Billy's play house beach hut I made him in the garden.
I opened a small pop up shop to sell my range of handmade home fragrance products in my local village of Seaford and during this time I was looking for an 18th birthday present. I wanted something sterling silver, unique, gift-boxed with the words I would have spoken to my 18 year old self. I couldn't find exactly what I was looking for and so I decided to create it. I submerged myself into designing a full collection, this time named after my daughter Isla, to include powerful, uplifting quotes promoting self-love, confidence, positivity and belief.
What did winning the Gift of the Year Award mean to you?
As I never intended to create my own business and brands, along with having no previous design or business qualifications, it has always been an uphill battle for me with my confidence. Winning Gift of the Year has given me some much needed validation and credit and this has helped me greatly when selling business to business. I don't think I will ever fully feel confident but hopefully this is what makes us authentic and keeps us grounded!
What's next for your business?
With the wholesale side of the business growing steadily it would be amazing to continue to grow and offer my products to a wider audience to enjoy. I love the idea of ISLA eventually being worn all over the world to encourage people to believe in their dreams, that without rain there wouldn't be rainbows and the true meaning of beauty, to be kind always! Little secret, I am currently curating a new collection with crystals to add another dimension to soothe and lift the soul!
How have you coped during the lockdown?
Lockdown has been a mix of emotions! For the first 3 weeks I closed completely, I wanted to be part of the cure not the cause. During this time I made up boxes of goodies with my children to be delivered to the amazing staff at our local hospital in Brighton. I also joined the NHS volunteers check and chat service, calling our vulnerable to make sure they were okay.
It occurred to me maybe I could help; people were venturing out unnecessarily to the supermarket to purchase gifts for loved ones, so I opened up online with a gift wrapping and message service for gifts to be delivered straight to their loved ones' doors. I also created our Limited Edition Rainbow Collection with 10% of all sales donated to NHS Charities together and The Trussell Trust.
Do you have any words of positivity to share with our readers?
What has completely blown me away over this time is the selfless, random acts of kindness that I think we've all possibly witnessed within our communities. I think we can all draw some strength and hope from that and when this is all over - and it will be over - imagine how blindingly bright and beautiful the rainbow is going to be!
Find out more about Billy's Beach Hut and ISLA Jewellery here.