23 Nov 2022
Makeover for the UK's ultimate fashion destination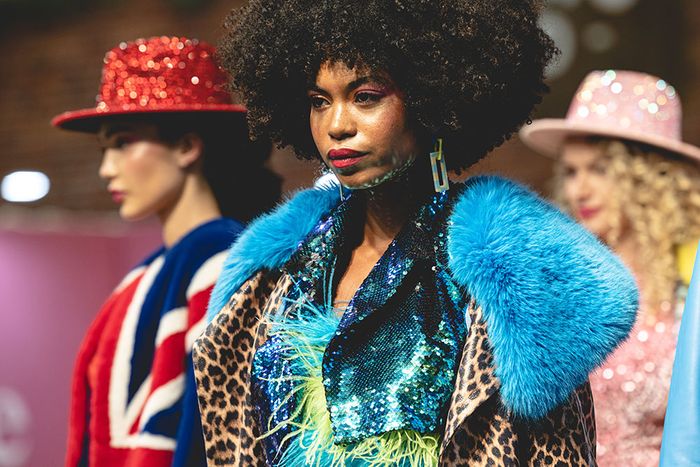 The UK's longest standing fashion trade show, Moda has become an integral fashion destination at Spring Fair, with the next edition taking place from 5th – 8th February 2023 at NEC Birmingham. With a treasure trove of fashion, Moda expands over two halls and presents a fresh edit with four clearly defined sectors: Womenswear, Footwear, Fashion Accessories and Jewellery & Watch. Carefully curated to inspire and help retailers with their sourcing for the new season, buyers will be able to preview the latest collections from over 300 UK and international leading brands as well as a host of new names.
With live trend-led Fashion Shows and inspiring seminars, Moda is an essential hub for creativity, collaboration and buying. In addition to offering the best in fashion, visitors will also benefit from access to Spring Fair, the UK's largest and most accessible "shop for shops". A new vision for discovery and innovation puts the spotlight on the most sought-after products, bright new finds, and industry-leading creative thinkers, all under one roof giving retailers unparalleled cross-buying opportunities with seasonal and lifestyle top up edits across home accessories, gifts, stationery, candles, floral, Christmas, and beauty and wellbeing.
Alejandra Campos, Event Director, Moda says, "It is a very exciting time in Moda's history. The consolidation of the integration of Moda into Spring Fair has created a compelling, accessible, and unmissable opportunity for buyers to access the latest ranges, trends and innovations not just in fashion but across the entire lifestyle spectrum. The success of this is clear as the fashion offer expands across the NEC halls. We know that buyers are short for time, so we are providing them with a unique opportunity to find inspiration and source all their products for the new season. From fashion accessories and womenswear to greetings cards, candles and home accessories, here they can find everything they need to create a unique edit for their shop, all under one roof."
WOMENSWEAR
Renowned for its stunning array of collections, visitors to Moda will discover many of the leading womenswear labels. Look out for the bold brights from Jayley, a collection of sought-after Godske brands including Robell, Tia, Noen, and Fransen, creative and original new designs from One Hundred Stars, and the new season collections from Saloos, an internationally recognised brand committed to quality, style and comfort since 1995.
With decades of fashion experience, the founder of new label Fika has created a slow-process fashion brand working to do better by blending sustainability, community and consciousness. Lighthouse Clothing, the Belfast based coastal leisurewear brand, returns with their style led waterproof clothing for the whole family.
Leading Irish fashion brand Jessica Graaf, offers elegant and timeless womenswear created using the finest fabrics and craftsmanship. Renowned for its playful, yet elegant designs and light-hearted prints and high-quality fabrics, Danish brand Soyaconcept will showcase their latest colourful and feminine collections. From the US, visitors will also discover UbU Clothing's fashionable, fun and versatile travel wear that is reversible, lightweight, packable, and blissfully wrinkle free, thanks to intricate hand pleating and fabric texturing.
British brand Cottonreal shows for the first time its extensive range of nightwear and loungewear made from luxury high quality cotton and silk, as well as a new 100% vegan collection. Using only the finest cotton lawns and trimmings has ensured that Cottonreal pyjamas, nightdresses, wraps and robes are stocked in some of the finest department stores and boutiques throughout the world.
FOOTWEAR
As the leading destination for footwear in the UK, Moda welcomes back the industry's most sought-after brands including Fly London, XTI, Refresh, Carmela, Chatham, Mustang, Alpe, Thomas Blunt, Lunar, Laurence Llewelyn-Bowen, Anne Michelle, Top Staka, Lazy Dogz, and many more.
Fly London returns to delight buyers with its brilliantly varied range of footwear that adheres to their ethos of 'always progressive never conventional. Now well-established on the fashion scene and a must-have in every woman's wardrobe, Alpe's boots and sneakers are functional and yet versatile with design, quality, innovation and sustainability the key factors in the production of its footwear. With over 400 new models each season, backed up with a UK 'in-stock' single pair repeat order service, Lunar shoes can be found in leading department stores, boutiques, mail order catalogues & independent retail stores across the UK & Europe. Its shoes offer unique seasonal designs, incorporating the best trims and materials in the latest colours at an affordable price.
FASHION ACCESSORIES
The latest handbags, purses, luggage, hair accessories, scarves, hats, and statement pieces from coveted brands in Fashion Accessories including Ashwood Leather, Powder, My Doris, Miss Shorthair, Miss Milly, Zelly, Colvin International, Eyelevel Sunglasses, LuggageLocker, Nova Leather, POM (Peace of Mind), G H Stafford & Son Ltd, W Brown International, Henderson, Miss Sparrow, Pure Fashions, Redcuckoo, and Earth Squared.
Created in 2009, Powder has grown a reputation for creating unique accessories that women love to wear. Collections are fabulously wearable, evoking both glamour and fun and Powder's beautiful bespoke packaging makes their products perfect for either. From scarves to hairbands and socks to sunglasses, Powder also now offers kimonos and pyjamas.
My Doris is an independent jewellery, accessories and homeware brand celebrating colour, craft and creativity collaborating with artisans worldwide whose traditions, textures, and quality bring their designs to life. Alive in colour and charm, My Doris will unveil its latest collections as well as present consistent bestsellers such as the Seashell beaded earrings, hand beaded by a family of artisans in India.
JEWELLERY & WATCH
With over 100 exhibitors and perfectly timed with the international calendar and buying cycle, Jewellery & Watch (J&W) is the biggest returning jewellery showcase in the UK bringing together the best in fine jewellery, silver jewellery, fashion jewellery and jewellery designers including Breuning, Hanron Jewellery, Gecko, Sea Gems, Leslie Donn, Morrish, Isles & Stars, Eliza Gracious, Envy, Gracee Jewellery, MG Diamonds, D&X London, Herbert Marx, Pre-Owned Jewellery, London Pearl, Jackie Brazil, Kali Da Designs, Scream Pretty, Big Metal, Perfection Jewellery, and Reeves & Reeves, to mention just a few.
Founded in 1927 in Pforzheim, Breuning is one of the leading manufacturers of wedding rings in Europe and is known for fine jewellery in gold and silver. Breuning stands for innovation and quality, with precise elaboration in traditional craftmanship and high-quality manufacturing creating contemporary designs made sustainably and fairly.
Specialists in quality diamond, gold, gemstone and pearl jewellery, Herbert Marx returns to J&W offering the latest in jewellery trends and its recently launched handmade gold and silver chain collections. London Pearl is an international leader in the supply of cultured pearls and cultured pearl jewellery, only sourcing directly from the pearl farms, with every type of pearl and pearl jewellery made in the UK in both silver and 9,14 and 18 carat gold. Its ranges cover the needs of every retailer from gift shop to "Bond Street" and a bespoke service is also available.
Gecko Jewellery was founded in London in 1991 and is the UK's most comprehensive "one-stop-shop" wholesaler offering customers eight collections, each with multiple new product launches a year, covering a wide variety of looks from classic through to fashion styling. Gecko are an RJC accredited supplier, committed to quality as well as design and customer services. As winner of the Retail Jeweller 2017 'Ethical Supplier of Year' award, Gecko has an enviable reputation for consistent excellence in customer service and innovation in product and brand development.
Another award-winning British brand, Scream Pretty bring a high-octane sophisticated edge to their new-season styling at Spring Fair with their brand-new Claw Collection. Featuring Huggies, Charm Hoops, Threader Earrings, Rings and piercing-free Ear Cuffs, the collection is crafted from Recycled 925 Sterling Silver, and 18 Carat Gold plated Recycled Sterling Silver. Perfect for everyday styling the Claw Huggies have a smooth curved band and a sleek pointed end bringing a sassy take on the classic hoop; whilst the Claw Charm Hoops has a dainty 'tusk' charm that hangs delicately for subtle movement.
Aside from the latest jewellery collections, there is a dedicated area for jewellery creation where precious and semi-precious stones, jewellery components and services, can be found.
Retailers can complete their shop offering with beautiful new additions from gift, home, beauty, candle, greetings and stationery brands including Chalk, Powell Craft, Bloomingville, MyGiftsTrade, Hot Tomato, The Libra Company, Jellycat, Stone Glow Candles, Bronte by Moon, Gallery Direct, Billie Faiers Collection by Hunter Price, Coach House, Widdop & Co, Burgon & Ball, Richard Lang & Sons, Lesser & Pavey, Fantasia, Gingko, Portico Designs, Gift Republic, Sevin, The Highland Soap Co, The Art File, and The Seed Card Company.
For further information please visit www.moda-uk.co.uk and www.springfair.com
For further press information or images contact Philippa Suitters at Good Results. Email: PhilippaS@goodresults.co.uk Tel: 07866362980.
About Spring and Autumn Fair
Spring and Autumn Fair are the UK's most vibrant marketplaces for wholesale home, gift, fashion, and sourcing. As the definitive "shop for shops", they support the retail industry like no other.
Spring and Autumn Fair are where bestsellers are found, relationships are forged, and curiosity is piqued. Imagine a treasure trove of new ideas and new trends just waiting to be discovered and displayed in your shop, showroom or e-commerce site. If you want to touch, feel, and experience what's new and innovative across the home, gift, and fashion retail industry - Spring and Autumn Fair's are the marketplaces for you.
Located in the centre of the UK at the NEC in Birmingham, Spring and Autumn Fair is easily accessible for UK and International retailers (be it independent, multiple, or online, designers, contractors, and suppliers) to meet every February and September.