19 Oct 2021
Indie Inspirations: Meet the young maker weaving her way through the design world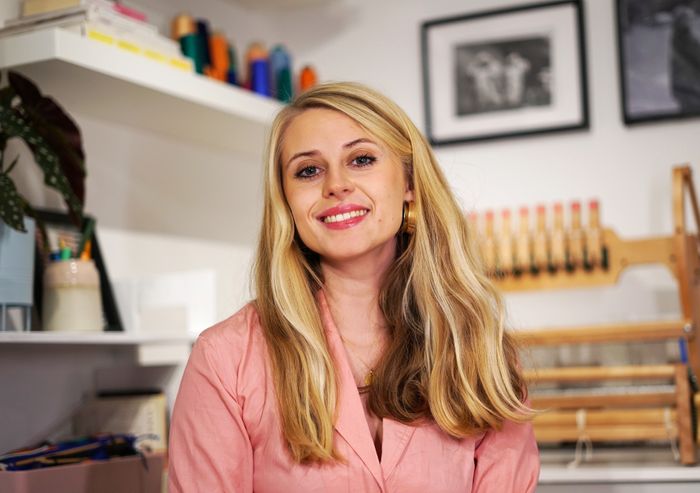 Weaving is one of the oldest crafts in the world, and some contemporary makers are bringing it back to life with innovative and sustainable designs. One of those designers is Central St Martins alumnae Millie Thomas, who is using her degree in woven textile design and passion for sustainable jewellery to push the boundaries of woven design. Here she shares with us her journey to launching Studio Mito, and the importance of keeping the craft alive.
1. Tell us a bit about how you got into weaving and how it became a business for you with Studio Mito.
After studying woven textile design at Central St Martins I wanted to explore the intersection between weaving and jewellery. My degree gave me a solid foundation of weaving techniques and using this I decided to experiment and consider usual applications of weaving. I have always loved statement Jewellery, especially cuff bracelets and hadn't seen any woven jewellery in this style before. I applied and was awarded the Clothworkers Company Award at Cockpit Arts craft studios, which gave me the perfect springboard to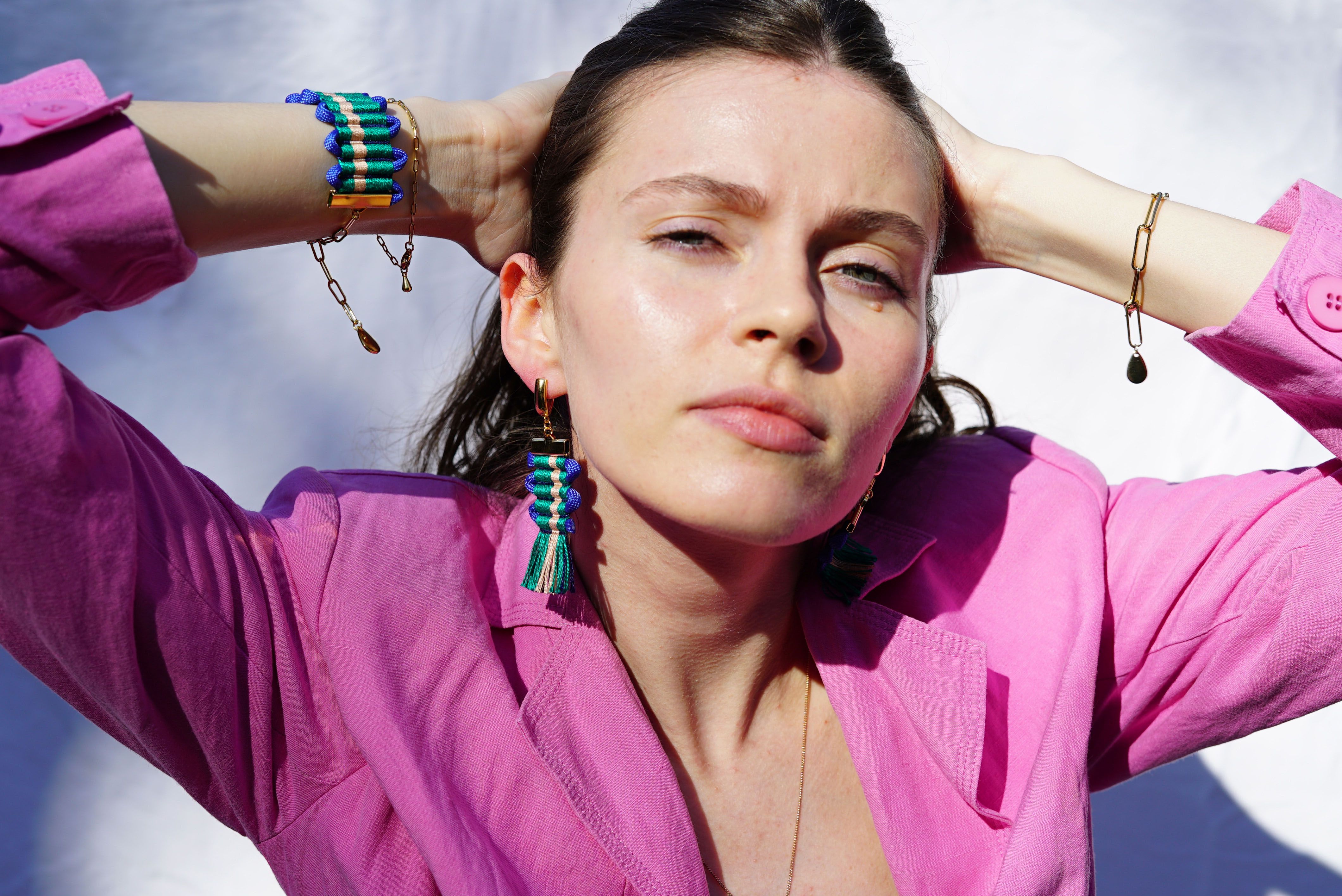 launch my business.
2. You've been busy at various shows and markets recently, including the London Design Festival, tell us about what you've been up to and how makers markets are helping you run a small business.
I have taken part in several makers markets in the last few months - in real life! I have loved having conversations with customers and clients about my journey, as well as being able to tell them a bit more about weaving and the process of making my hand woven products. My studio Cockpit Arts held a summer festival, welcoming people into our studios which was a great opportunity for people to see my loom in action - I could give demonstrations of how my jewellery is woven. The markets have enabled me to reach my customers directly and it has also been great to see what other sorts of products or colour ways they would like to see.
I really believe after the pandemic there has been a massive shift in how people shop and people are more interested in shopping small and supporting local independent makers and businesses. The Design festival was an excellent example of this and it was a great chance to be trading in such a beautiful building alongside other small brands and independent makers.
3. Where do you find inspiration for designs and names of your products?
My inspiration for the colours and structures I use comes from nature, insects specifically. I love the vibrant colours and patterns on butterfly wings and use the grooves on beetle shells as inspiration for the ridged textures within my products. I use silk yarn to make my woven jewellery as the colours are so vibrant and it gives a beautiful sheen.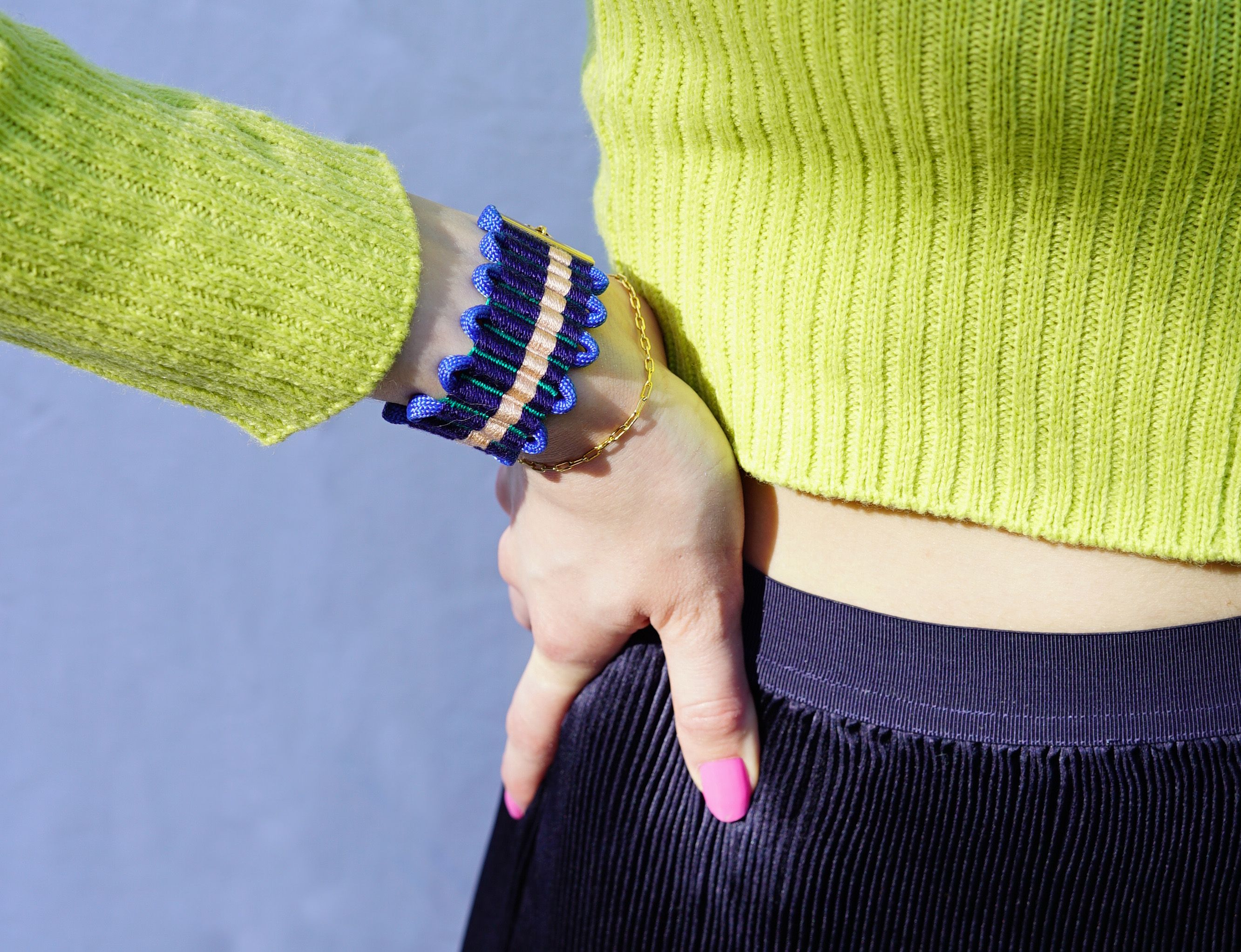 All of my products are named after places that are sentimental to me. The Como Cuff for example - which is my favourite piece - is named after Como in Italy. One of my first jobs out of university was based in Como working for an Italian mill and this was such an important part of my career and journey. It provided me with lots of knowledge of how woven designs are manufactured on a large scale and how an initial idea or concept is translated into a finished woven product. The Granary Cuff is another example of this as it is named after Granary Square where my university Central St Martins is based in Kings Cross.
4. How can designers and makers be more sustainable and lessen their impact on the environment?
I believe that as the next generation of designers it is up to us to make sure the environment is our first consideration when designing. This could be from the materials we use, our supply chain or the process of making itself all the way down to the final details like what packaging we use. I try to use recycled and sustainable materials where possible, supporting small suppliers and local businesses. Everything is handmade by me here in London.
5. What are your plans for Studio Mito, what can we look forward to seeing in the coming year?
I have just started working with a silk mill to get some of my fabric designs woven. I hope to develop a collection of fabrics and use these to expand my range of accessories and products. I would love to branch out into home wear products alongside selling fabric my the metre.
Follow Studio Mito on Instagram here to see the process behind the products!