27 Oct 2022
Interior design trends 2023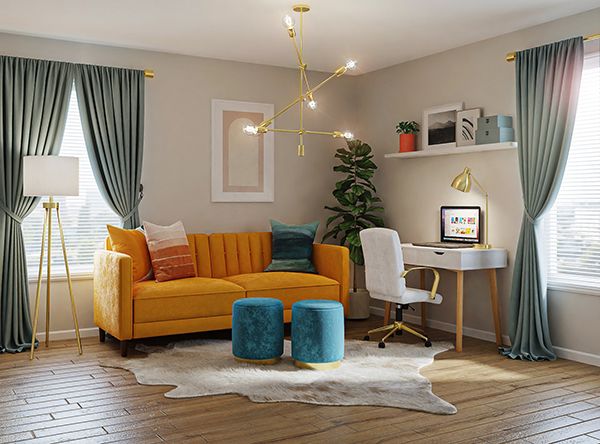 It's important to be aware of the main trends coming up in interior design for 2023 to ensure your business responds to customers' needs and expectations. We've talked with Wendy Lowe, Home & Interiors Trend Editor at TrendBible, to learn more about lifestyle changes and how they translate into sought-after products and colours in the coming year across different sectors.
What should buyers be focusing on?
Well, regarding gift, it's all about celebrating the small things. I think post pandemic there's a focus on making the most of everyday, so that might be congratulating someone on quitting a toxic job or even giving each other a little pick me up kind of gift. Things like that are really starting to emerge and will be a great opportunity for both the gifting and greetings markets, and that same sort of everyday celebratory mood continues also for home interiors.
Over the past few years, we've seen a real rise in things like tablescaping, and how to make your home feel kind of elevated through little buys. Maybe it's a candle, maybe it's some nice table mats or table napkins and linens, little purchases like that can really elevate moods.
Home became multifunctional during the pandemic. Will this style continue to resonate with customers in the future?
Absolutely. That sort of multifunctional style and products which are both functional and aesthetically stylish are very much here to stay. In fact, in our future Eden trend that functionality and multipurpose products are very key.
Even post pandemic, people are still working from home considerably more than before and that's not going anywhere. And so, our homes are still doing all those multifunctional jobs of being an office, being a playroom, being a school, being whatever they need to be. Therefore, products that can change the function of the room are really key and will carry on into 2023, and beyond as well.
How about sustainability?
In our home interiors trends, we're talking a lot about sustainability and how for 2023 it's something that consumers will expect, but it's more than that. That's something they'll demand, it's no longer an option for brands and retailers to think about doing something that's beneficial for the planet, consumers will really want to see it. We've gone beyond that kind of purely sustainable, and now it's all about how that works within the home more seamlessly.
What are the main trends in terms of colours?
We're seeing a lot of optimistic colours in both home interiors and gifting trends. We're seeing a lot of warm, sunny and almost nostalgic shades: cosy warm oranges, nice flashes of pinks and reds are really important to bring that sense of joy, and almost sense of frivolity.
On the other end of the spectrum, we're also seeing a kind of shift to slightly more sophisticated tones, this is very much linked to that kind of sustainable message and the idea of multifunctionality, so if something is cleaner in colour it's easier to work across multiple functions, room uses and areas.
There are quite of lot wooden toys, even for adults. Is this relevant for the future?
Totally. That speaks very much into the gifting sector, this kind of celebration and playfulness, naïve, almost childlike quality in design. We're seeing that particularly within our gifting trends. There's that kind of hand drawn and illustrated, kind of childlike approach which is bringing a kind of playful and light-hearted mood to products.
Technology is playing a big role in retail spaces. Is this also happening in home interiors?
That's definitely something that we talk quite a lot at TrendBible. This is another post pandemic effect, where our whole life was done through a laptop because you could speak to people on the laptop, you could work on the laptop or using other technologies. We've become more used to having things like that in our home.
There is a greater acceptance of these technologies that allow us to live our lives more simply. And I think the future of that, that we're continuing to track and talk about over at TrendBible, is how they're becoming more seamless with our homes, in terms of design is making these things look like they sit in the home rather than a weird juxtaposition.
It may be a speaker with a soft touch textile finish, so it looks like a cushion or something like that. I'm talking about lighting products that reflect or change the mood of the room, and all these things are just becoming more seamless within the design of our homes.
There are a lot of wellness tech products too. Tech is not just to facilitate work or function, but it can also help us to relax and nurture self-care: things like water fountains are a nice example of that serene atmosphere, like a calm noise in your bathroom.