07 Feb 2023
Day Two at Spring Fair & Moda Exceeds Expectations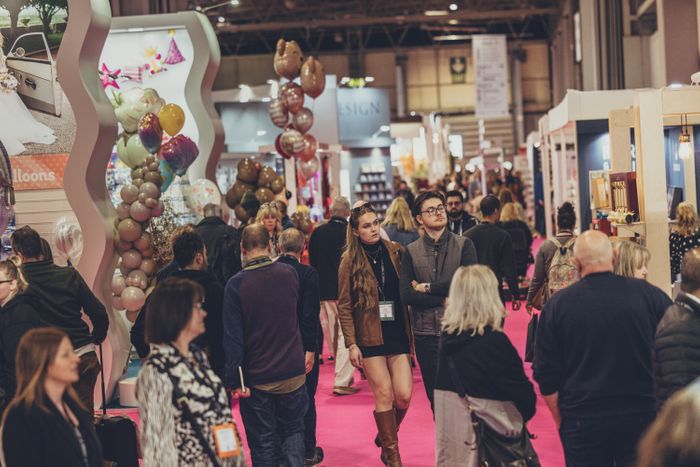 The second day of Spring Fair, the UK's leading marketplace for wholesale Home, Gift and Fashion, continued the high from day one with packed halls and busy stands with retailers including Next, Argos, Sainsbury, Tesco, Asda, Hello Fresh, Natural History Museum, TK Maxx, Funky Pigeon, John Lewis, Scribbler, Fenwick, Blue Diamond, Hallmark, Dobbies, Poundsaver, Quiz Clothing, Dunelm, Deichmann, Waterstones, WHSmith, Wowcher, Soletrader, Poundland, Paramount, HMV, Boots, QVC, V&A, Harvey Nichols, and many more independents in attendance.
The view from the show floor was upbeat and positive with many reporting their best show ever and a vibrant audience. Oliver Butts from The English Soap Company said, "We've had a fantastic show, a lot of new accounts, new orders, and existing customers coming back – it's really encouraging because people are buying so it's very positive and reassuring. We've launched new products, and they've been received really well – it's a great place to launch new products, and everyone comes to the Spring Fair. With Spring Fair, you get a gauge of how the year's going to go."
Katie Williamson from My Doris highlighted how important Spring Fair is communicating the brand's ethos and story, saying "The show has gone really well, we're very happy. A good steady stream of customers and it's been a great mix this time of existing customers coming in and placing orders, and lots of new customers so we're really pleased. This show gives us the opportunity to communicate our story to customers; we work with small-scale producers, and we're passionate about developing long-term relationships whenever we can. The show has brought us buyers interested in our story, who find importance in sustainability and want to know where the products and materials have come from."
Bruce Bell, Marketing Director, Gallery Direct adds; "Spring Fair connects us with an interesting audience – a vibrant audience. Lots of design-led ideas, retailers, national retailers, independent retailers, and interior designers are all in the room. Also, some of the contracts that we develop with people; hoteliers, people with projects, garden centres are built to rent – it's a huge market that's growing. We're excited to be growing as we are. We've been going for 50 years, and when we attend Spring Fair, we still encounter lots of new clients. It's important to establish a client base but there are lots of people that are new and enjoy what we offer. We are the solution to exteriors and interiors for every category, so everyone attending is a great fit for us."
Tom Willday from Willsow commented, "It's been an amazing show once again, Spring Fair always is the best one. Everyone engages with us because we're still a new product, running for only 3-4 years and what they're looking for is every element of our product… sustainability of our paper and planting process. They are looking for something that is more meaningful."
Nicol McGuinness, Head of Brand at Clever Pots said; "The first day has been fantastic. We have had so much interest from different retailers, ranging from garden centres to independent retailers. The quality of buyers who have come to talk to us is outstanding and like us, they are excited about Clever Pots' unique selling points and solutions for gardeners, regardless of their skillset. So far, the show has massively exceeded our expectations. We've had visitors come to find us in the Housewares hall and the people we have spoken to are genuinely interested in our products and sustainable solutions for gardeners. We have had a lot of good new business enquiries and our location in the show has been fantastic for footfall."
Across the show's two stages, the extensive seminar programme continued to offer buyers unrivalled inspiration and insight into consumer, sector, and sustainability trends, both present and ahead to 2024.
The Inspiring Retail Stage began with 'How to Sell More and Waste Less: A New Era of Conscious Consumerism and Sustainability'; led by Sara Simmonds, CEO & Chief Mentor of The Conscious Innovator. The open session covered how to engage customers whilst staying relevant in the new era of conscious consumerism.
Shifting consumer behaviours and market conditions opened several conversations throughout the seminars; balancing newness and longevity, the thirst for joyful touches and dopamine hits continue to reign as trends become less seasonal, whilst storytelling, heritage and craftsmanship mirror gentler aspirations from consumers looking to invest in more strategic purchases. Seminars on ethical and sustainability have evolved with consumer awareness, educating visitors on the need for transparency, responsibility, and communication with customers, rather than perfection.
The Inspiring Retail Stage also welcomed Wendy Lowe, Trend Editor at TrendBible to bring retailers Autumn 2023/4 and Spring/Summer 24 Home and Lifestyle Trends. Macro trends like Inherent in Nature explored the rising movement sweeping across design disciplines that aims to completely overhaul the way that we perceive, the way that we build and the way that we create. "Over the next few years we expect to see biomaterials and innovative uses of waste really dominate material innovation across the Home and Interiors industry. These vital new processes will trickle down to mass market brands and retailers, as both consumers and manufacturing standards demand approaches that go beyond just sustainability or green washing," says Wendy.
AW23/24 trends highlighted by TrendBible include Superbloom, Altered States and Ecopolis, with the latter covered in depth "Bold, slick, eco-conscious design takes a fresh holistic approach in Ecopolis; from embracing the irregular, unique aesthetic of salvaged materials derived from industrial wate to the rise of urban-grown ingredients. Conversations around creating the circular economy replaces the previous passive demand for sustainability. We're seeing a mix of undyed materials with vibrant hyper pigmented natural pops to keep the overall look fresh and optimistic."
The View from Moda
Storytelling themes got a digital input at the Moda Catwalk. Therese Oertenblad, Founder of the Small Business Collaborative and Elizabeth Stiles a Fashion & Textiles Brand Consultant took to the stage to discuss the ever-evolving digital landscape, educating retailers on the importance of short form video content to engage consumers, build narratives and reach new audiences.
"TikTok has a huge power in dictating trends. It eschews perfection and is embedded in storytelling. It isn't just for GenZ anymore, the 'For You' algorithm is one of the most powerful new free tools of reaching new customers," they explained.
"TikTok Shop is an exciting new avenue for us to explore and educate consumers on our signature curated stacking concept says Lucy Lee, founder of indie Brit jewellery brand Scream Pretty. "Our designs are thoughtful and playful, and our campaigns reflect that; our new Share The Love and Beyond His and Hers are fantastic real-life stories to share through video. It's definitely having an impact on our brand-awareness, Spring Fair has been fantastic for us so far!"
The Moda Catwalk injected a riot of colour and new season inspiration for buyers across Womenswear, Fashion Accessories, Jewellery & Watch, and Footwear. Opening and closing scenes from international fashion brand Jayley delivered an outrageously extravagant take on new season trends; textures of faux fur, feather, sequins and leather in their signature sustainable fabrics set the scene whilst rainbow hues of Lilac, Cobalt, Yellow, and Orange proved that colour is for all seasons.
"Our extra fluffy Bamboo Faux Fur coats are a huge hit, our sustainable fabrics are going really well", says Sinead Bradford, Digital Marketing Manager, "We love the show and each year we're getting bolder! Our pink and green collections have been a huge hit with buyers, we've seen a lot of interest in our sequins and people are loving the shiny metallics. Our collections are all about female empowerment, power dressing – we want people who wear our clothes to feel great. We've also had a live stream of our stand this time, so customers in America and abroad can see our new collections!"
Also taking to the stage were scenes from Lighthouse, One Hundred Stars and Saloos debuting new collections, whilst trends 'Sundial' and 'Basic Instinct' brought together a host of jewellery and footwear brands including Sobo & Co, Lunar, Eloise London and FIKA.
Chris Lewis from Chris Lewis Silver said, "This has been the best show we've ever done. Last Spring Fair the whole show was fantastic, and we've already done better than that on our first day this year – it's completely exceeded all of our expectations. We're right next to the Moda Catwalk which is great, there's a really good vibe here. For us it's been a double whammy, we've seen existing clients and taken on lots of new accounts."
Shirley Leader owner of Velvet & Rose in Hampshire says "We left Moda full of hope for SS23! It is a huge venue full of lots of different areas, however it was very well set-up. Looking forward to our next visit!"
Visitors have more to look forward to today at Spring Fair & Moda including a trend talk on interior styling from The Style Sisters, Trendbible Celebration and Gifting Trends for 2024, and a keynote interview with TV Dragon and retail entrepreneur Theo Paphitis.
For further press information or images contact Philippa Suitters at Good Results. Email: PhilippaS@goodresults.co.uk Tel: 07866362980.