06 Oct 2022
How to create an eye-catching Christmas window display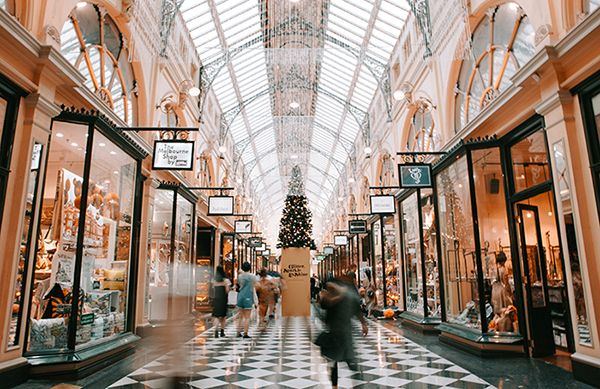 By Carrie Gilbertson, Commercial Director at Displaysense
The days are starting to get darker again, and the weather is slowly turning, which can only mean one thing. Christmas is creeping up on us. With people starting their Christmas shopping earlier every year, now is the time for retailers across the world to start roughing up plans for decorating their retail space, and the most important element of this is an eye-catching Christmas window display. We know it can be hard to get in the festive spirit before December hits, so we've put together our best tips for creating a Christmas window display that has a real wow-factor.
1. Express your brand
The one factor some shops forget when they're creating a Christmas window display is to express their brand alongside including festive imagery. Where can you sneak your branding in? And is your display reflecting your core values? If you specialise in selling local, sustainably sourced products, it wouldn't make sense to fill your window with plastic baubles and single-use tinsel. Instead, you'd maintain a better brand image by using fabric bunting and dried out foliage. As well as staying true to your brand, this will make your window display stand out.
2. Consider the area
Think about the area that your shop is located in. Are there any local landmarks or celebrities you could tie into your Christmas display? People love to see imagery that they can identify with and pulling off a local-inspired display could create a great buzz around your shop leading up to the festive period. As well as this, it shows the community around you that you really care and will leave a lasting impression on them about your brand.
3. Decorate with your products
This idea is simple, effective, and an iconic way of advertising your goods. Get creative with your retail display and think about what you could do to turn your products into Christmas fare. As an example, we've seen book shops building Christmas trees out of books, and artisan delis transforming jars of jams and chutneys into characters for a nativity scene. Have fun with it, Christmas is a time to let loose and have a good time after all!
4. Light it up (but not too much!)
It's easy to over-do it on the lights when Christmas comes about, but too many lights can stop potential customers from seeing what you actually have on display (and will run your energy bill up). Use lights conservatively and in an impactful way. Instead of illuminating the full window, use clusters of lights and LED strips to draw the eye to the finer details of your Christmas display.
5. Keep it simple
Noisy, cluttered windows are painful to look at and could put customers off coming into your shop. Stick to 2 – 3 main focal points in each window instead of trying to cram everything in there. Follow this trend with your colour scheme too. A simple, 3-colour palette will stand out on a street full of kaleidoscopic windows.
Have fun preparing for the festive season
We know that in general, prepping for Christmas and the New Year can be quite stressful when you run one or more retail shops. Try to use your window display designing as a chance for you and your employees to have fun and enjoy the festive period. Get ahead! Request a copy of Spring Fair's Christmas Trends Report.
Author bio: Carrie Gilbertson is the dedicated commercial director of Displaysense, a premium provider of retail display products. When she isn't overseeing product development and operational aspects of the company, she enjoys updating the Displaysense advice centre with the newest industry insights and tips.