Black Yak Ltd
Hall: Halls 2, 3+3a Stand: 3E41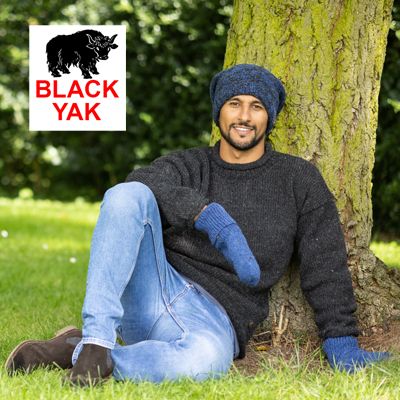 Here at Black Yak we are proud to bring you high quality, handmade and fairtrade clothing and accessories together with an exceptional, friendly and personal service.
Designed in Britain and Nepal, handmade in Kathmandu, the Kathmandu valley and local villages.
Our ethos is to sell honestly and fairly, with products designed and produced with respect for our environment.
Address
Middleton on the Wolds
United Kingdom
Sustainability Role in overall company's strategic plans

We began with wool and continued from there. Being of an age when you wore the jumpers and hats that your mum knit for you (including the hand-me-downs from your brother) because you did/could not waste. The values you grow up with tend to stick and we carried on from there.

Sustainability initiatives

We try to keep our wastage as low as possible. Producing an item sustainably is great, but not so good if you end up throwing a proportion away. We obviously have wool scraps that are returned when each hat is knit, you can add the wool back into the process but the short fibres affect the quality of the wool and can, if added repeatedly make the quality so poor that manmade fibres need to be added for strength - which for us defeats the object - so our oddments are used for patchwork items or for felt making. We don't like to waste.

Pledges for the year

Keep on trying. Rules change, people move, natural disasters happen, we will do our best whenever and however we can.

Social equity at your company

Our ethos is to buy only honestly, fairly and ethically produced goods from our producer partners, with whom we work closely to ensure that they earn an honest wage, not just in the busy times but throughout the whole year, that they have safe and pleasant working conditions and that they are able to look forward to a better future. We are members of BAFTS as a Fairtrade importer and retailer.

Certified sustainable products by third party

Packaging

We are in the process of making our packaging plastic free

Boxed deliveries are sent out in cardboard boxes with a re used plastic inner (the British weather). Each item inside is hand cleaned and checked, ready for immediate display on the shop floor. If a customer wishes to have further packaging just give us a call and we will try to accommodate.

Materials

Our main product wool, by its very nature is sustainable. We also use wood, bone, nut kernals and horn for our buttons and toggles.

Ethical Considerations

Fair wages are paid to the people who make our products

Our products are made by people employed in good working conditions

We challenge our suppliers to report any ethical issues they identify

We have an ethical policy

Within the workplace where our products are made there is commitment to Non-Discrimination Gender Equality and Freedom of Association

We also have a fund that in normal times provides education and medical help. Anyone who works with us can come and ask for help with personal circumstances - housing - travel etc., we will do our best to help. Over the last few years we have helped in the rebuilding of villages destroyed by the earthquakes, supplying emergency bedding, food, personal washing items, blankets etc. At the moment we are again keeping families going through Covid - no NHS here. We would not be prepared to work in bad conditions so why would we expect anyone else to.

Enviromental Impact

We consider the environmental impact when creating our products