Success Story: Hot Tomato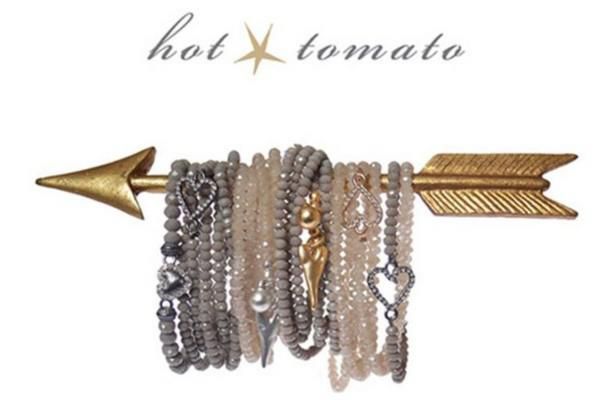 "This year was a fantastic show for us and thanks to Spring Fair we had an amazing start to the year and we've already booked for 2019."
Alexandra Machin, Director, Hot Tomato
Focus and Challenges
Set up in 2007, Hot Tomato has used its memorable name and owners' passion for finding and designing beautiful, contemporary fashion accessories to build a successful wholesale business. Offering around 2,000 products to its 1,800+ customer base, the company sources new designs and suppliers worldwide adding a little personal flair in the design process to give each item and range an individuality that makes it special.
The product range started with scarves and has grown to encompass earrings, bracelets, bags, necklaces, keyrings and mirrors – all designed to give independent retailers something extra to offer their customers. With products that need to be touched and held in order to be truly appreciated, Hot Tomato has developed a go-to-market strategy that uses agents and exhibitions, supported by a website. When it comes to exhibitions and with limited budgets, the company has to be sure it is investing in shows that will generate a good return.
The objective: Build awareness of the Hot Tomato brand and it's exciting range of classic and contemporary product designs and generate new sales opportunities.
"The right price point and margin for our customers is vital in uncertain times, we find people continue to spend money on fashion accessories, indeed our share of the market is growing and Spring Fair is a key part of our marketing strategy. The show environment gives independent retailers the invaluable opportunity to see and handle all that we offer."
"We are passionate about display and believe in doing something different to attract customers and visitors to the stand where we share our ideas, have some fun and get people talking about us - Spring Fair is a priority event for us as part of our show calendar and works well for us year on year."

The Spring Fair solution
In 2014, Hot Tomato exhibited for the first time at Spring Fair. Each year since then, the company injects humour into its stand displays by doing something a little different. One year it had 40 hare heads lined up, all wearing scarves & jewellery. Another year, 50 vintage garden taps sourced from Australia with scarves and handbags draped on them were used. Another occasion saw 60 bulldogs lined up all wearing sparkly bracelets as dog collars! These displays attract the eyes of passers-by and are a natural conversation starter as well as being part of the company's aim of helping customers explore new and innovative ways of merchandising and to feel relaxed when working with Hot Tomato, confident that they can talk to the people who source and design the products.
Pre-show promotion activity included adverts in trade press, e-shots and social media as well as featuring on the Spring Fair and Hot Tomato websites.
Benefits
Spring Fair brings together a vast range of products from many suppliers and Hot Tomato believe that this offers the retailer the best opportunity to review many products, all under one roof – and to be confident in their buying decisions.
Showcase new products
Present the company's latest designs and ranges
Highlight the quality and value for money of each product
Talk to everyone
Meet people from all types of retailers from all over the UK&I
Share market knowledge of buying trends
Build relationships
Opportunity to talk through Hot Tomato's personal approach to accessories
Customers get to know the people behind the brand
"Spring Fair is a hugely significant show for us. If, given the choice, we had to drop one show it would definitely not be Spring Fair, it is really important for our business."
Results
Value of orders taken on the stand up 28% on 2017
Many new contacts made and accounts opened
Valuable customer feedback on product designs and colours
For more information about Hot Tomato, visit www.hot-tom.com