Boutique Magazine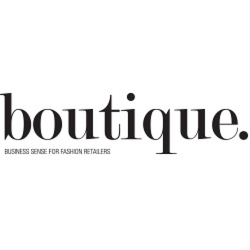 From what to stock to how to sell more of it, Boutique is the UK's only publication devoted to independent womenswear retailers. Its content delivers the latest fashion industry news, buying essentials and business advice in a dynamic consumer-style format specifically tailored to its exclusive readership of 5,000 mid to upper end ladieswear retailers.
Published monthly, Boutique is distinctively different to other fashion B2Bs. Its promise is to create a captivating journey for its readers from cover to cover by marrying strong visual content with indispensable business information. The result is a unique publication the professional fashion world has never seen before.
Inside every issue is a mix of stories and features that really matter to independent retailers. Boutique's regular City Link section delivers the inside story on their successful nationwide peers while a dedicated business section offers insight from the industry's leading experts.
Boutique Magazines mobile responsive website is a daily source of the latest Fashion trends and launches, breaking industry news industry comment, we offer access to our fully detailed supplier directory along with The Salon Magazine archive of previous issues and supplier look books. Boutique Magazine is here to provide our Fashion professionals the latest information monthly, weekly, daily, hourly whether turning pages on the magazine or with the click of a button we are here to send the information you need to know straight to you!
From fast-moving news to the collections that will actually make them money Boutique puts its readers at the forefront of the fashion industry.
It is always a pleasure working with everyone at Boutique magazine. They are always so helpful and willing to work with us as a brand and tie in current stories with advertising and editorials. The magazine itself is great quality, and has very interesting and relevant content to not only brands but most importantly the retailers and buyers. It's relatively new magazine and we have supported it from it's conception, and we hope it will be around for a long time to come as it covers areas in the market left uncovered by other publications.
Jenny MacDonald, Ruby Rocks/Modo Agency
The IFF has been working with the Boutique for over six years and has always found them to be extremely helpful and efficient and a fun company to work with and would have no hesitation in recommending them.