These Bags are Great!
Hall: Hall 2 Stand: 2G70-H71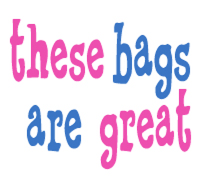 We're a husband and wife who (sometimes) make a great team designing stuff like greetings cards and jute bags and having them made. Lorna has all the ideas and thoughts but can't draw, whereas Adam can draw a bit, but only really thinks about sports and rude words, and as we're only a small business you can be sure to find something very unusual indeed!
THESE BAGS ARE GREAT – over 100 different quirky designs of jute bags with a great RRP point. They make the ideal gift or gift bag and there's one for everyone your customers will think of – the ranges include – family & friends, pets, hobbies, jobs and our latest offering – DOG BREEDS – over 35 different dog breeds hand sketched then printed onto good sized jute shoppers!
THESE CARDS ARE GREAT – Our wide range of greetings cards go from quirky and sweet to downright rude and hilarious! Look out for the 'Spray' range for bright, brash, funny spray-painted cards, and the subtle, yet eye-wateringly funny 'Wordsearch' range which will have your customers in stitches when they see it!