The Little Green Cracker Company
Hall: Halls 2, 3+3a Stand: 3Q47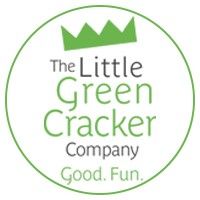 We're delighted to introduce you to The Little Green Cracker Company; formed in 2020 and producing eco Christmas crackers for retailers and bespoke designs for major brands, including Selfridges and the Westmorland Farm group.
The Little Green Cracker Company was born after the founder, Caroline Compton-McPherson, found herself uninspired by the eco crackers available: 'I searched for eco-Christmas crackers and found most companies were "greenwashing" or the products were dull as ditch-water; "eco" doesn't have to mean brown paper packaging – it's Christmas and people want a fun, luxury product on their table.'
A Which Magazine's Editor's Choice for 2021 and shortlisted for a prestigious 2021 P.E.A. (People. Environment. Achievement.) award, the company produces luxury, traditional Christmas and Occasion crackers; its eco credentials are at the heart of everything they do and the company constantly strives for innovative ways to do better. Handmade in North Devon, the range is designed to be taken from the table to the recycling bin. Made from 100% recycled and recyclable card, and tied using sustainable ribbon options, the crackers also feature gifts sourced from UK companies that will genuinely be used – no plastic; no tat. In addition to impeccable eco credentials, the company also has an ethical focus, with employees earning above minimum and living wage, using local suppliers and working equitably with all partner companies.
Address
Braunton
United Kingdom
Sustainability Role in overall company's strategic plans

It is absolutely central to the company's ethos.

Sustainability initiatives

All our products are manufactured from recycled/recylable materials and we partner with likeminded companies for our gift range.

Sustainable Products

All our crackers meet the same standard of sustainability.

AT THE FAIR

NEW TO THE FAIR

Certified sustainable products by third party

Certified by

Plastic Free North Devon

Packaging

Our packaging is plastic free

Our packaging is compostable

Our packaging is made with recycled content

All our packaging is plastic free and compostable/recylanvle

Materials

We have products made from recycled materials

Our products are made from upcycled materials

Our products are plastic free

All our ribbons are suatainable fabric options, ranging from recyled sari ribbon to Tencel

Ethical Considerations

Fair wages are paid to the people who make our products

Our products are made by people employed in good working conditions

Our home workers are paid above the national minimum wage

Enviromental Impact

Our products are created to help consumers try and reduce their carbon footprint

We consider the environmental impact when creating our products

we have scrutinised every element of the traditional Christmas cracker to try and enusre we are doing better