PartyDeco sp. z o.o sp. k.
API
Point of Sale Display
Product Photographs
Private Label
Partyware
Craft
Home D'cor & Accessories
Easter
The Family
Christmas & Seasonal decorations
Womenswear
Wholesale
Stationery
Toys
Christmas Gifting
Cookware
DIY
Retail Services & Shop fitting
Her
Importer
Brooches
Partyware & Dressup
Tableware
Outdoor dining
Halloween
Couples
Bracelets
Toys
Personalised gifts
Him
Distributor
Gifting
Home & Living
DIY
Kids
Seasonal Decorations
Outdoor
Greetings cards
Kidswear
Gadgets
Greetings & Stationery
Cooking & Dining
Other
Retail Services & Shop fitting
Indoor
Nursery & Baby
Manufacturer
Children
Exporter
Photo frames
Fashion Accessories
Partyware & Dressup
Designer
Yes
Greetings & Stationery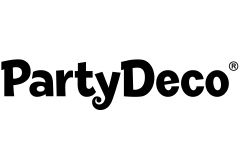 PartyDeco: party & wedding decorations designed and manufactured in Europe.
We work with thousands of distributors on 67 markets and we offer over 5,000 beautiful and colorful products.
At PartyDeco, we strongly focus on quality and design.
A large part of our offer is created on-site by our own team of designers.
We want to set trends in the industry of occasional decorations in the world.
Sustainability Role in overall company's strategic plans

Taking care of the environment and our planet stronger and stronger determines the way in which each of us lives their life. Following the needs of customers, we offer a set of products that will fit perfectly into any eco-friendly event - wedding, birthday, children's party or garden party.

Sustainability initiatives

We are aiming for all our products being packed in a way that reduces the consumption of raw materials. We try to reduce the amount of plastic and we are looking for solutions for repeated use of almost any product or packaging. Through proper planning, we significantly reduce overproduction, unnecessary storage and environmentally harmful transport.

Pledges for the year

We are committed to reducing consumption of raw materials. Designing new products and packaging we are constantly looking for ideas for their reusability and multifunctionality.

Sustainable Products

Eco Balloons

Our new line of Eco balloons is made of natural rubber with similar rate of biodegradation as tree leaves. They come in total of 64 colours, 3 effects (pastel, metallic, crystal) and 2 sizes (23 and 30 cm).

Sugar cane cups and plates

Sugar cane plates in 2 different sizes are entirely made of sugar cane, no other materials used. They are clean, aesthetic, perfect for eco wedding, garden party or any other occasion.

Stationary products with multi-purpose packaging

1. Our drawing block cover can become a cute framed picture on the wall! 2. Colored papers packaging can be transformed to a paper theatre or a folder for creative work! 3. Wall stickers packaging is later a beautiful folder for photos or drawings!

AT THE FAIR

NEW TO THE FAIR

Social equity at your company

At PartyDeco, we respect private lives of our employees. We work eight hours a day, but due to the fact that we are diligent, creative and committed in each area, it is intensive work. We try to ensure that the salaries are at least at the level of those offered by corporations. Additionally we offer health and sports package. We are currently improving processes and implementing new standards and tools in every area of our activity. We implement a policy of equal employment opportunities, also for people with disabilities.

Packaging

Our packaging is compostable

Our packaging is made with recycled content

We are in the process of making our packaging plastic free

We are in the process of making our packaging compostable

Other

Most of our newest products are plastic free and some of them are compostable or have compostable packaging. We are aiming for plastic-free offer in the future.

Materials

We have products made from recycled materials

Our products are plastic free

We have products made from sustainability sourced raw materials

One of good examples is our new line of Eco balloons made of natural rubber with a level of biodegradation similar to tree leaves.

Ethical Considerations

Fair wages are paid to the people who make our products

Our products are made by people employed in good working conditions

We challenge our suppliers to report any ethical issues they identify

We have an ethical policy

Within the workplace where our products are made there is commitment to Non-Discrimination Gender Equality and Freedom of Association

Enviromental Impact

Our products are created to help consumers try and reduce their carbon footprint

We consider the environmental impact when creating our products

Some of the processes we use to manufacture products are energy efficient