Milly Green
Kitchenware
Gift Food
Homewares
Licensed Products
Seasonal Decorations
Souvenirs
Manufacturer
Children
Pets
Couples
The Family
Designer
Her
£0 - £19
Gift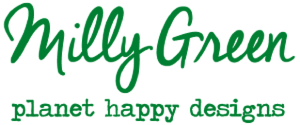 2020 is a big year for Milly Green as we proudly launch our brand new eco-gifting collections across all categories, including; softlines - hardlines - accessories – stationery – hydration.
We strive to create really useful products that minimise environmental impact and give back to sustainable initiatives around the world with our partner 1% for the Planet.
1% of the proceeds from the sale of these products will support the great work of the Marine Conservation Society and the Woodland Trust.
Every product is carefully researched by our team to minimise the environmental impact on our amazing planet, and only the most sustainable and environmentally friendly materials are selected:
100% post-consumer waste paper
100% vegetable soy inks
30% recycled ceramics
100% recycled cotton
PLA corn-based plastic alternative
Bamboo fibre
With eye-catching, distinctive, highly informative and eco-friendly packaging, we seek to inform and educate as well as delight our customers.
Address
Haslemere
United Kingdom