Lanka Kade
Hall: Hall 5 Stand: 5F02
£0 - £19
Drop Shipping
Product Photographs
Manufacturer
Children
£20 - £49
Nursery & Baby
The Family
Toys
Wholesale
Great British Trail
£100 - £249
Distributor
Games
Designer
£50 - £99
Importer
Play & Tech
Yes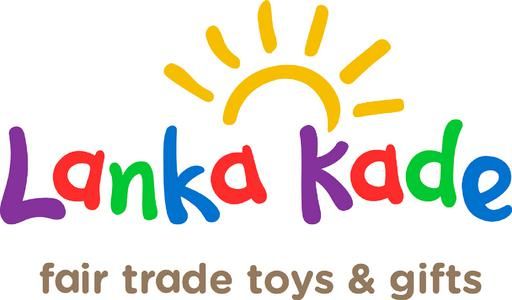 Lanka Kade is an established, family run business based in the heart of the UK specialising in the design, craft and supply of fair trade wooden toys and gifts for children. Our distinctive range of educational toys offers both bright, bold colours and natural wood finishes. We are proud to be a member of BAFTS Fair Trade Network UK. Visit us at the show to discover how you can become a Lanka Kade stockist and take advantage of some fantastic show offers! We support independent retailers and do not allow our products to be sold on Amazon or EBay. We offer postcode exclusivity.
Address
Unit C
Market Harborough
Leicestershire
LE16 7PU
United Kingdom
These colourful, natural wood insects are perfect for little hands. These chunky insects are ideal for for stacking, sorting, story sacks and more!  Designs include Bee, Ladybird, Grasshopper, Beetle ...

These chunky wooden toy animal push alongs are perfect for little hands. This wooden animals are handcrafted from sustainable rubber wood and are great for small world play.  These eco friendly push a ...
Sustainability Role in overall company's strategic plans

As a fair trade company we are committed to promoting and facilitating sustainable practices throughout our supply chain. Areas addressed include sourcing of raw materials, manufacturing processes, training, investment and payment of a fair price.

Sustainability initiatives

In recent years we have achieved the following:

Solar panels were installed at our UK office and warehouse in 2015 and have significantly reduced our de-pendence on traditional forms of energy

We have significantly reduced our use of plastic packaging by replacing it with paper offcuts from a local company that can be used as shred

Reduced the need for packaging materials by resizing and adapting outer carton boxes

Designed a range of small toys suitable for manufacture from offcuts to reduce wood wastage

Consolidated our shipping schedule in order to reduce the number of containers shipped from Sri Lanka to the UK each year

Pledges for the year

As a company Lanka Kade recognise that some of our activities have an impact on the environment in terms of using raw materials, emissions to air and water, and waste generation. Lanka Kade seek to mini-mise this as far as reasonably practicable and have recently introduced an Environmental Policy to set out intentions and aims for the future.

Sustainable Products

Mini vehicle range

The nature of Lanka Kade's product and its craft occasionally leaves their artisans with wood that cannot be used due to shape or size. In order to minimise waste and protect artisan profit margins Lanka Kade developed a range of mini vehicles that would utilise small offcuts or thin strips of wood. There are five colourful vehicles in the range including popular bus and digger designs which retail at just £2.49.

Rainbow Animals

Occasionally, rubber wood can carry dark natural blemishes that leave an undesirable finish. Often unable to identify the blemishes until the wood has been cut and treated; artisans can be left with large quantities of animals that can be used. Following consultation with our artisans; we have designed a range of fully painted, rainbow animals that enable the artisans to use all of their cuttings and dramatically reduce waste. Little ones can learn through play the colours of the rainbow, to count, stack and so much more as this set inspires their imaginations. Every set is provided with an animal in each colour – however as the animals are made from waste wood, specific animals cannot be guaranteed.

AT THE FAIR

NEW TO THE FAIR

Social equity at your company

Lanka Kade adheres to the 10 Principles of Fair Trade as outlined by the WFTO which promotes amongst other things; equal opportunities, non-discriminatory practices, payment of a fair price and capacity building. Lanka Kade's Educational Foundation in Sri Lankan supports disadvantaged rural primary schools with book donations and a milk programme. The aim of which is to provide an equal opportunity for all children to learn.

Certified sustainable products by third party

Certified by

Lanka Kade has been recognised as a fair trade supplier by BAFTS Fair Trade Network UK since 2001. Producer groups are regularly audited to ensure compliance with the 10 Principles of Fair Trade as outlined by the WFTO.

Packaging

We are in the process of making our packaging plastic free

Other

Lanka Kade have reduce the use of single use plastic in our packaging by 90% in 2019 and look to reduce this further in 2020 whilst sourcing eco-friendly alternatives too. In 2018 we replaced nearly all of our plastic transit packaging with recycled paper shred sourced from a local paper company.

Materials

Our products are made from upcycled materials

Our products are plastic free

We have products made from sustainability sourced raw materials

Other

Lanka Kade toys are made from rubber wood which is responsibly sourced and approved by the Sri Lankan Forestry Department. Lanka Kade has recently introduced two new ranges of product designed to reduce waste by utilising by-product from manufacturing processes.

Ethical Considerations

Fair wages are paid to the people who make our products

Our products are made by people employed in good working conditions

We have mapped our entire supply chain

We challenge our suppliers to report any ethical issues they identify

We have an ethical policy

Within the workplace where our products are made there is commitment to Non-Discrimination Gender Equality and Freedom of Association

As a fair trade company, Lanka Kade comply with the 10 Principles of Fair Trade whilst also developing their own fair trade policy.

Enviromental Impact

We have a sustainability policy

We consider the environmental impact when creating our products