Korbond Group
£0 - £19
£20 - £49
Craft
Craft
Everyday Essentials
The Family
Handicraft
Her
Importer
Manufacturer
Service Provider
Pets
Exporter
Housewares
Product Photographs
Private Label
Point of Sale Display
Him
Designer
Gifting
Home & Living
Luggage
Yes
Everyday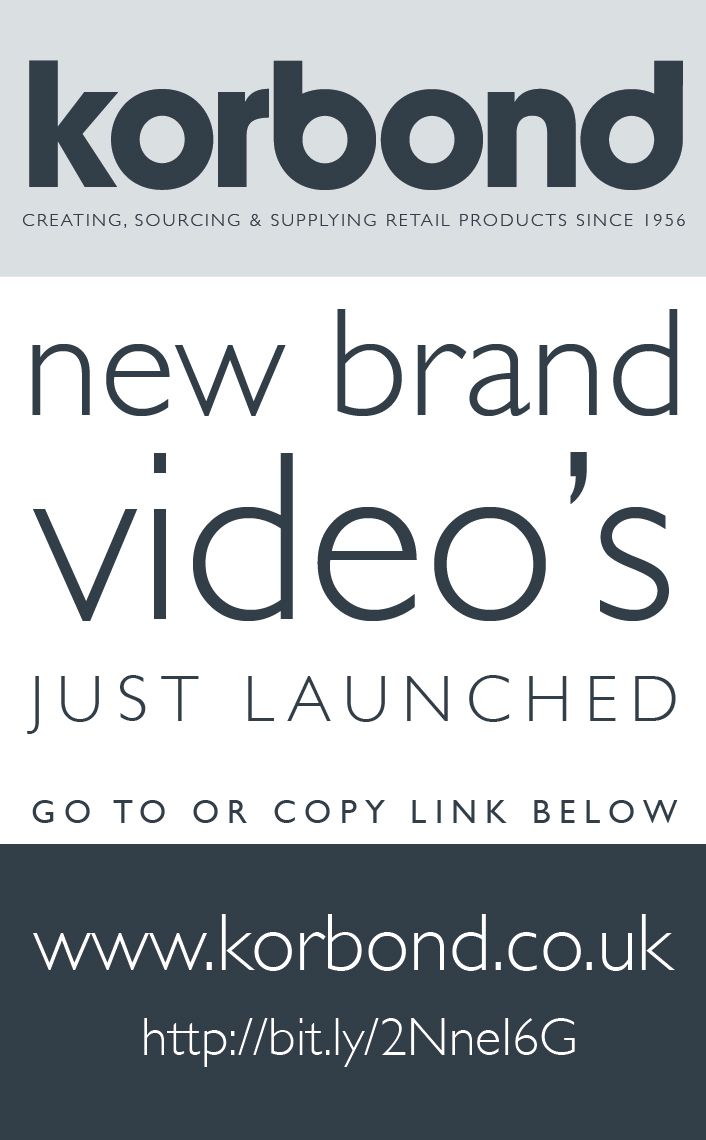 Korbond is a family owned, UK business with a wealth of experience, gained over 65 years, in sourcing and supplying retail products. We understand business's requirements and aim to offer our customers a high degree of flexibility to support their individual needs. Our ranges cover Haberdashery & Clothes Care, Storage, Gift & Promotion and Travel Accessories which we carry under three key brands, Korbond Care & Repair, Creations by Korbond and navig8. Explore our virtual stand and our website to discover more about our brands and exciting product ranges, including newly launched videos and subscribe to newsletters full of fresh content.
Address
Grantham
United Kingdom
Korbond Care & Repair is a trusted brand champion & can be found across many retailers within the UK and other parts of the world, including; major retail grocers, high street multiples, online retail ...

A range of design led craft storage, accessories and inspiring gifts for every occasion. Creations by Korbond features bespoke collections and exclusive collaborations to bring you an eclectic mix of ...
Sustainability Role in overall company's strategic plans

Korbond recognises the social and economic importance of protecting the environment. The company is wholly committed to the protection of the environment, including prevention of pollution, energy conservation, waste reduction and recycling where possible. In order to meet our commitment to the environment, we have established an Environmental Management System (EMS) which is accredited to ISO 14001:2015. This system provides a framework for measuring and continually improving performance.

Sustainability initiatives

Our packaging strategy is to ensure we challenge our current consumer packaging with the 4 R strategy: Remove: Sustainably sourced and where possible zero single use plastic. Reduce: Absolutely reduce wasteful and non-recyclable packaging. Reuse: Where appropriate consider consumers ability to re-use. Recycle: 100% recyclable. We are applying this to all Korbond Care & Repair product which will be launching in 2021. The 4 R strategy will be applied across all areas of the business from Design, produce, warehouse, distribution and consumer.

Pledges for the year

In the next year we will focus on not only landing our sustainable packaging strategy but also: • achieving targeted levels of emissions across scope 1, 2 & 3. • analysing our on-site pollution levels to seek areas for further improvement, such as LED lighting. • promoting environmental awareness in the business.

Packaging

Our packaging is made with recycled content

We are in the process of making our packaging plastic free

We are in the process of making our packaging compostable

Ethical Considerations

We have mapped our entire supply chain

We challenge our suppliers to report any ethical issues they identify

We have an ethical policy

Enviromental Impact

Our products are created to help consumers try and reduce their carbon footprint

We have a sustainability policy

We consider the environmental impact when creating our products
20% discount across the entire product range on your first order received during the Show opening times: 8, 9 and 10 February 2021 only.  

With years of experience in merchandising and planning layouts, we support retail spaces large and small to maximise sales potential.