Keel Toys Ltd
Him
Her
Children
Manufacturer
Seasonal Decorations
Toys
£20 - £49
Nursery & Baby
Toys
Christmas & Seasonal decorations
Product Photographs
Private Label
Toys
Point of Sale Display
£100 - £249
£50 - £99
Souvenirs
£0 - £19
Yes
Kids, Toys & Play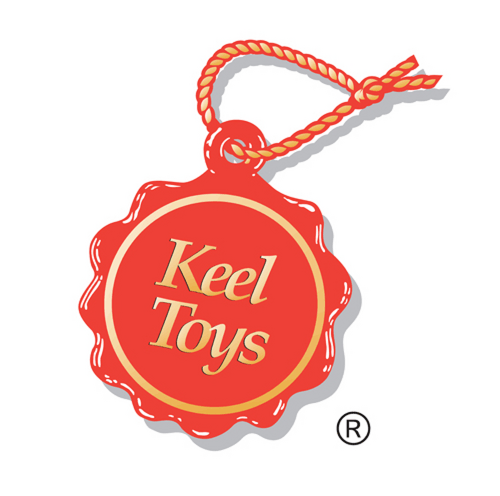 Keel Toys ranges offer the perfect balance between Classic & Fashion Soft Toys, including toys for Christmas, Easter and Valentines Day.
Home to: Keeleco the award winning sustainable soft toys that are 100% recycled and 100% huggable.
Our extensive experience with bespoke toys provides a project managed service from design to delivery.
Address
Ashford
United Kingdom
Sustainability Role in overall company's strategic plans

It is our main company focus going into 2021, both in terms of new product with Keeleco and also within the infrastructure of the organisation.

Sustainability initiatives

Keeleco 100% recycled, 100% huggable sustainable soft toy range manufactured from plastic waste. Keel Toys have signed up to the Global Recycling Scheme that audits and authenticates the recycled raw materials used in the making of the soft toys.

Pledges for the year

Keel Toys are recognised around the world by the iconic red disc in the ear of each toy, our seal of quality and value. As the first step of our new sustainability initiative, we are delighted to announce that starting from our November 2019 factory shipments, all our items will now carry a new Keel Toy icon formed from FSC cardboard, saving plastic on the millions of toys we sell each year. We are proud to say that we have already phased in the 100% use of recycled polyester stuffing in all our toys.

Sustainable Products

Keeleco

With the launch of Keeleco in 2020, Keel Toys has become leaders in the toy industry for the development of recycled and sustainable soft toys manufactured from plastic waste. Having joined the Global Recycling Scheme we will audit trail for the authentication of the use of post-consumer waste plastic; your assurance of our commitment to sustainability. Exciting new designs for 2021 are four dinosaurs (T-Rex, Stegosaurus, Triceratops and Diplodocus) featuring textured fabrics to create that unique dinosaur look, especially with their piercing eyes made with an embroidered finish. Extensions to the Keeleco wild and endangered animals series include two sizes of red panda, lemur, rhino, and Humboldt penguin, joined by an 18cm baby emperor penguin. New for 2021 is a focus on British wildlife and farm animals, with the introduction of lamb, cow, pig, chick, rabbit, badger, otter, hedgehog and frog, adding to the deer, fox, owl and squirrel launched in the last quarter of 2020. Finally we have introduced a new 12cm collectable size to the Keeleco range, with two mixes of wildlife and farm animals available in CDU's for ease of display and sales. All ranges are available with display options including FSDU's and MDF display stands. Keeleco is the most comprehensive range of endangered wildlife and indigenous animals available. Soft toys that do not cost earth.

Keeleco Winter

Keeleco will be at the heart of the Christmas Soft toys launching at the Spring Fair. The range will feature favourite Christmas characters including Reindeer, Husky, Snowman, Polar Bear with a NEW Donkey all in 100% recycled fabrics. Our aim is that our customers can promote a sustainable Christmas in 2021. 100% Recycled 100% Huggable

Keeleco Baby

When you first pick up and snuggle into a Keeleco Baby soft toy the first thing you will notice is how soft the fabric is! It is quite amazing that it started out as waste plastic and transformed into a super cute and super soft toy. The nursery collection consists of Cozy Koala, Huggy Giraffe, Cuddle Zebra and Lullaby Lamb. Each is available in two sizes of toy, comforter, stick rattle and ring rattle. Cozy Koala is also available as a musical version. Each toy is manufactured from 100% recycled filling and outer fabric with embroidered eyes and features. Recycled beans give that lovely weight to each toy. The ring rattle features a FSC wooden ring to build on our sustainable approach to toys. The range is offered with an FSDU unit to present Keeleco Nursery simply, with impact to boost sales within a compact space. CDU options are available for the comforters, ring and stick rattles. Nursery soft toys from the heart that do not cost the earth.

AT THE FAIR

NEW TO THE FAIR

Social equity at your company

Our factories are regularly independently audited for social equity.

Certified sustainable products by third party

Certified by

GRS by Control Union Certifications B.V.

Packaging

Our packaging is plastic free

Our packaging is made with recycled content

Our shipping cartons, paper tape, hangtag and red Keel disc are all from sustainable FSC sources.

Materials

We have products made from recycled materials

We have created products that provide an alternative to single use plastic

We have products made from sustainability sourced raw materials

Keeleco is the NEW 100% recycled range from Keel Toys. These eco-friendly toys are manufactured and stuffed with 100% recycled polyester from plastic waste.

Ethical Considerations

Fair wages are paid to the people who make our products

Our products are made by people employed in good working conditions

We have mapped our entire supply chain

We challenge our suppliers to report any ethical issues they identify

We have an ethical policy

Within the workplace where our products are made there is commitment to Non-Discrimination Gender Equality and Freedom of Association

Our factories are regularly independently audited for social and ethical compliance.

Enviromental Impact

We consider the environmental impact when creating our products

Some of the processes we use to manufacture products are energy efficient

Some of the processes we use to manufacture products are water efficient

Recycled polyester used in the Keeleco range, also known as rPET, is obtained by first collecting bottles and other plastic waste and cleaning them. The cleaned bottles and then shredded into pellets. To create the yarn the pellets are crushed and melted which are spun into thread. This process gives plastic a second life and uses 59% less energy to produce than virgin polyester. Just to give an example, 16 water bottles will produce enough fibre to make a 30cm toy.