Keel Toys Ltd
Hall: Hall 5 Stand: 5H20-J21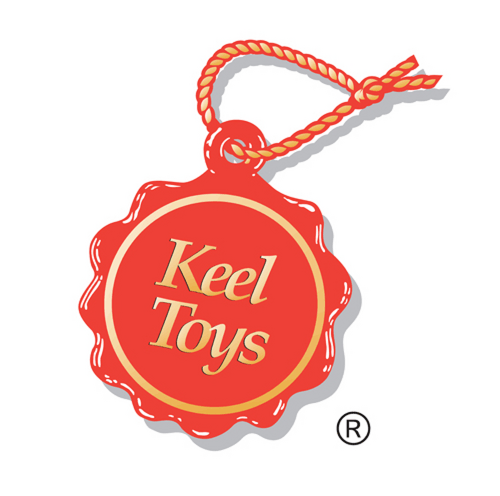 Step into the world of Keel Toys in 2024, the proud home of Keeleco, a remarkable range crafted from 100% recycled materials!
Keel Toys are delighted to announce that in just the four years after launching Keeleco we have recycled the incredible figure of more than 250 million water bottles in the manufacture of the range (figures correct to the end of 2023 stock production).
Keel Toys are very excited to say that Spring Fair offers an exclusive opportunity to preview and pre-order the completely new 2024 Keeleco Halloween, Winter & Christmas ranges. This will be one of the first times these ranges will be shown to customers!
The Keeleco story has now grown to over 450 products - Wild, Farm, Sealife, Dinosaurs, Teddy Bears, Puppies, Kittens, Nursery, Pink, Handpuppets and Keeleco Adoptable World collections.
Keel Toys also offers extensive experience with bespoke toys, providing a fully managed service from design to delivery.
Make sure to visit the Keel Toys stand at Spring Fair for a warm welcome and a fantastic selection of products that blend sustainability and huggable joy.
Keeleco - 100% Recycled 100% Huggable
Address
Kent
United Kingdom
Sustainability Role in overall company's strategic plans

It is our main company focus going into 2024, both in terms of new product with Keeleco and also within the infrastructure of the organisation.

Sustainability initiatives

Keeleco 100% recycled, 100% huggable sustainable soft toy range manufactured from plastic waste. Keel Toys have signed up to the Global Recycling Scheme that audits and authenticates the recycled raw materials used in the making of the soft toys.

Pledges for the year

Keel Toys will continue the expansion of the Keeleco range throughout 2024.

Sustainable Products

Keeleco

With the launch of Keeleco in 2020, Keel Toys has become leaders in the toy industry for the development of recycled and sustainable soft toys manufactured from plastic waste. Having joined the Global Recycling Scheme we will audit trail for the authentication of the use of post-consumer waste plastic; your assurance of our commitment to sustainability. Exciting new designs for 2024 are the whimsical Keeleco Pink range continuing the enchantment with sustainable, beautifully textured toys. Exclusive fabrics and embroideries bring Unicorns, Seahorses, Mermaids, Starfish, Octopuses and even a Clam Shell to life, complete with eye-catching gold crowns & pink tutus. Keeleco is the most comprehensive range of endangered wildlife and indigenous animals available. Soft toys that do not cost earth.

Keeleco Christmas

Keeleco will be at the heart of the Christmas Soft toys launching at the Spring Fair in 2024. The range will feature favourite Christmas characters including Reindeer, Husky, Snowman & Santa aswell as Keeleco Christmas Food in 100% recycled fabrics. Our aim is that our customers can promote a sustainable Christmas in 2024.

Keeleco Baby

Keeleco Baby launched in 2021 to huge acclaim, has new friends of Squish Starfish and Percy Penguin recently added to the super cute natural range of Marcel Monkey & Ezra Elephant. To convey the Eco awareness all the ranges are clearly labelled with the sustainable message and offered with a variety of retail solutions and POS.

AT THE FAIR

NEW TO THE FAIR

Social equity at your company

Our factories are regularly independently audited for social equity.

Certified sustainable products by third party

Certified by

GRS by Control Union Certifications B.V.

Packaging

Our packaging is plastic free

Our packaging is made with recycled content

We are in the process of making our packaging plastic free

Our shipping cartons, paper tape, hangtag and red Keel disc are all from sustainable FSC or recycled sources.

Materials

We have products made from recycled materials

We have created products that provide an alternative to single use plastic

We have products made from sustainability sourced raw materials

Keeleco is the NEW 100% recycled range from Keel Toys. These eco-friendly toys are manufactured and stuffed with 100% recycled polyester from plastic waste.

Ethical Considerations

Fair wages are paid to the people who make our products

Our products are made by people employed in good working conditions

We have mapped our entire supply chain

We challenge our suppliers to report any ethical issues they identify

We have an ethical policy

Within the workplace where our products are made there is commitment to Non-Discrimination Gender Equality and Freedom of Association

Our factories are regularly independently audited for social and ethical compliance.

Enviromental Impact

We consider the environmental impact when creating our products

Some of the processes we use to manufacture products are energy efficient

Some of the processes we use to manufacture products are water efficient

Recycled polyester used in the Keeleco range, also known as rPET, is obtained by first collecting bottles and other plastic waste and cleaning them. The cleaned bottles and then shredded into pellets. To create the yarn the pellets are crushed and melted which are spun into thread. This process gives plastic a second life and uses 59% less energy to produce than virgin polyester. Just to give an example, 16 water bottles will produce enough fibre to make a 30cm toy.