Jarapa Ltd
Hall: Halls 8,7,6 Stand: 6A02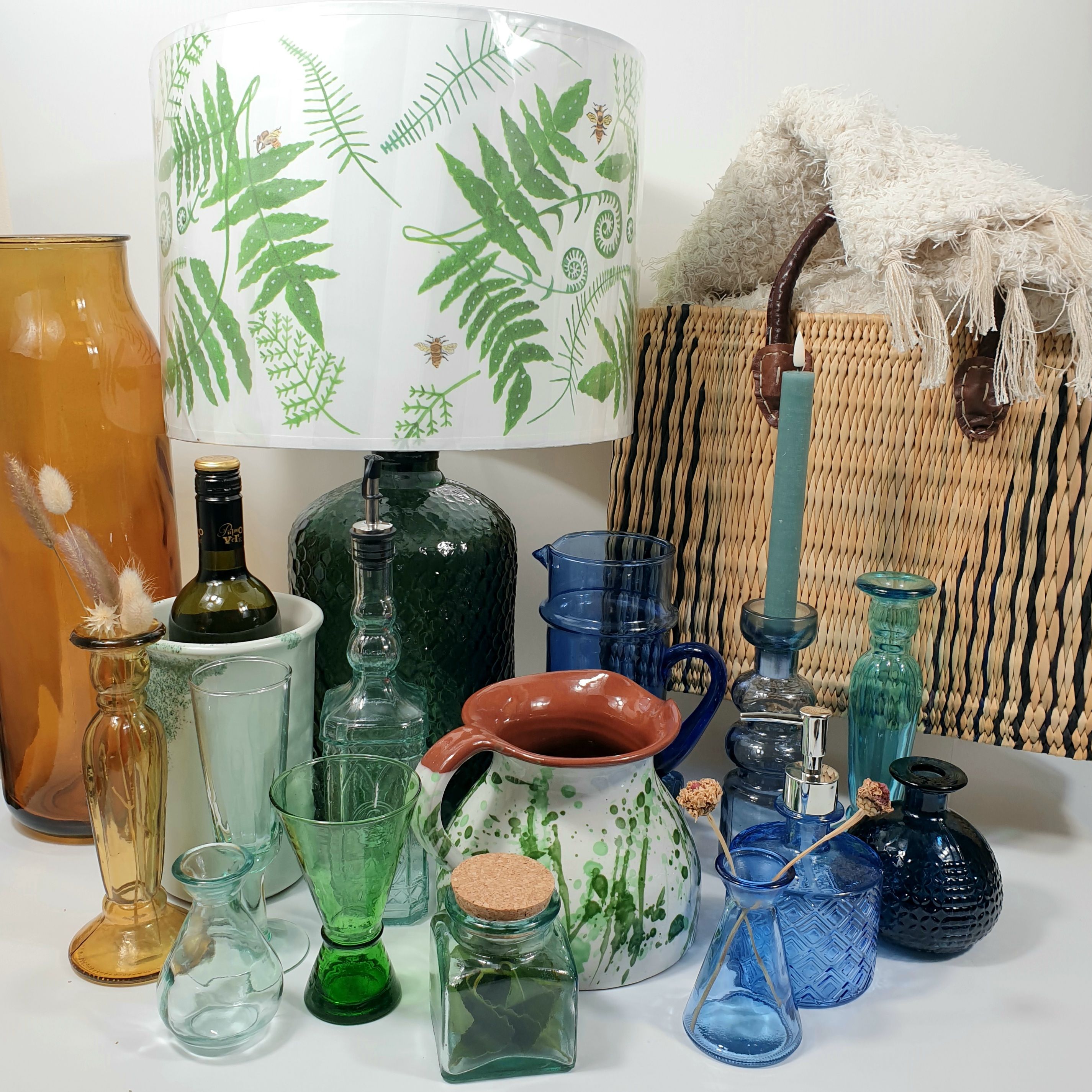 Jarapa, established for over 20 years, source, manufacture, and wholesale recycled homewares. All our glass is 100% recycled ! Our 'Jarapa' rugs are back in stock available in the best-selling multi colour and natural from £8.40/RRP £21. ***New for 2024*** hand painted Spanish ceramics from £5.18/RRP £12.95, rustic pots from Portugal starting at £5.80/RRP£14.50 and a selection of hand-woven shopping baskets from Morocco.
We source products from the UK or EU where possible to keep product miles low. Jarapa recycled glass lamps and lampshades are manufactured here in the UK, made to your own selection of using high quality fittings and local craftsmanship.
Flexible ordering
UK stock holding and showroom
Huge range of recycled glassware
Bespoke lamps made to order in 10 working days
Lampshades made 10-14 working days
.
Address
Dorset
United Kingdom
Sustainability Role in overall company's strategic plans

It's not just our products that are eco-friendly; as a business we try to be as environmentally friendly as possible throughout the supply chain.

Sustainability initiatives

- we source products from the UK or EU to keep product miles low - we try to import our products by train or sea where possible, keeping road vehicle miles to a minimum. - None of our employees commutes more than 7.5 miles to Jarapa HQ - we're making improvements to our warehouse to make it as "green" as possible including LED low energy lights which, in suitable areas, are triggered by motion sensors so they're only on when required. - we re-use packaging materials which we collect from other local businesses, recycling packaging that would otherwise end in landfill. We estimate over 60% of our wholesale packaging material is recycled. - where new packaging is needed we do our best to source the best environmental choice such as paper packing tape, 30% recycled pallet wrap and recyclable air pillows. - where paperwork is required we use recycled paper. - we use eco friendly cleaning products - at work and at home! - we use plastic free, biodegradable tea bags and fair trade coffee

Pledges for the year

Our environmental focus is working towards zero single use plastic in all aspects of our business, whilst encouraging our suppliers to do the same

Sustainable Products

100% recycled glass vases

100% recycled glass vases in all shapes and sizes

100% recycled glass lamps

100% recycled glass vases and bottles are turned into lamps in the UK using high quality fittings and local craftsmanship

100% recycled Spanish Rugs

100% recycled material (made from the offcuts of the upholstery industry)

Social equity at your company

At Jarapa we embrace diversity, inclusion, equal opportunity, fairness, transparency, and accountability to create a fair and inclusive workplace where all individuals have equivalent job and promotion opportunities. Examples are; Providing the option to work remotely. Providing training in all areas for those who wish gain new skills. Flexible work hours.

Certified sustainable products by third party

Certified by

GRS approved

Packaging

Our packaging is made with recycled content

We are in the process of making our packaging plastic free

Cardboard packaging is made from recycled cardboard. Requested our suppliers source plastic free bags or alternatives for protection of painted glass. We re-use packaging materials which we collect from other local businesses, recycling packaging that would otherwise end in landfill. We estimate over 60% of our wholesale packaging material is recycled.

Materials

We have products made from recycled materials

All our glass is 100% recycled. All our rugs are 100% recycled.

Ethical Considerations

Fair wages are paid to the people who make our products

Our products are made by people employed in good working conditions

Within the workplace where our products are made there is commitment to Non-Discrimination Gender Equality and Freedom of Association

We have been using some of the same suppliers for over 14 years. We try and visit any of new our suppliers to see the work place for ourselves.

Enviromental Impact

Our products are created to help consumers try and reduce their carbon footprint

We consider the environmental impact when creating our products

- we source products from the UK or EU to keep product miles low -we make our lamps here in the UK -our lampshades are all produced in the UK less than 10 miles away from our warehouse