Inside Out Toys
Hall: Hall 5 Stand: 5H30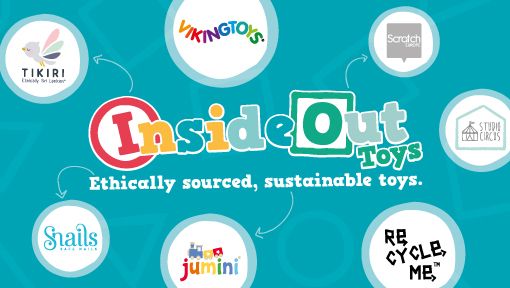 Inside Out Toys is a wholesaler of environmentally friendly children's gifts and toys. With several brands to choose from (including our own brand of wooden toys - Jumini), no case quantities and a low minimum order value, we have designed our business around making life easier for the independent retailer.
Not only that, but we are one of the only companies in the UK to offer a 'one stop shop' for all your sustainable toy needs. 'Don't gift a toy that will cost the earth' … your customers should feel confident that they are buying a great quality, reasonably priced children's gift, that will also have minimal impact on the environment. Everything we sell meets these criteria!
Address
Buckinghamshire
United Kingdom
Sustainability Role in overall company's strategic plans

As a wholesaler of sustainable toys, we are committed to providing sustainable products meeting all environmental requirements. As the end consumer for all the products we sell is a child, we firmly believe it is our ethical responsibility to ensure the toys we supply do as little as possible to negatively impact the earth those children will inherit. We continue only to work with brands who actively strive for a lower negative environmental impact.

Sustainability initiatives

We use paper packaging instead of bubble wrap in our warehouse and reuse boxes where possible. All new production of our wooden toys (both jumini and Studio Circus) is fully FSC certified. All other brands we distribute have a sustainable story to tell - e.g. Scratch puzzles made from FSC/recycled card, ReCycleMe kits are designed to reuse household rubbish, Snails safe nails can be washed off with water and is very low in chemical content.

Pledges for the year

We are working with suppliers to reduce plastic in all our packaging. All of our wooden toys are now fully FSC certified. Scratch are working towards using soya based inks for all their printing.

Sustainable Products

jumini and Studio Circus wooden toys

All our wooden toys are made from sustainably sourced FSC certified wood, encouraging customers to avoid plastic alternatives.

FabBrix wooden construction bricks

Environmentally friendly wooden building blocks - 100% compatible with plastic bricks and made from FSC certified wood. Biodegradable Kraft PLA bag / Recyclable transparent PET window

Viking Ecoline

The Ecoline combines Viking Toys' timeless design of durable non-toxic toys with an oil-free, plant-based material made from sugar cane – taking sustainability to a new level! Also 100% recyclable and with packaging made from recycled material, this range is the perfect choice for an eco-friendly purchase!

AT THE FAIR

NEW TO THE FAIR

Social equity at your company

Our factory is CITI certified

Certified sustainable products by third party

Certified by

Our wooden toys are fully FSC certified.

Packaging

Our packaging is made with recycled content

We are in the process of making our packaging plastic free

Materials

We have products made from recycled materials

We have created products that provide an alternative to single use plastic

We have products made from sustainability sourced raw materials

FSC certified wood and recycled card used for wooden toys and jigsaw puzzles.

Ethical Considerations

Fair wages are paid to the people who make our products

Our products are made by people employed in good working conditions

We have an ethical policy

Enviromental Impact

We have a sustainability policy

We consider the environmental impact when creating our products

We have tried to reduce packaging for our products, including removal of plastic where possible.