Glick
Stand: 2F50-G51
Greetings & Stationery
Licensed Products
Stationery
Him
Her
Couples
The Family
Children
Importer
Exporter
Designer
Wholesale
Distributor
Manufacturer
£0 - £19
Voucher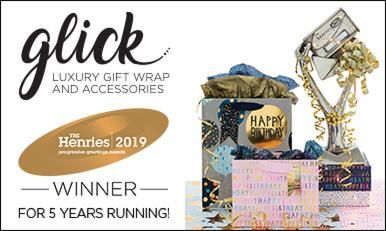 Manufacturer and supplier of high quality gift wrappings and accessories, covering all seasons and occasions.
Address
Unit 1 Allenby House
Bradford
West Yorkshire
BD4 9AB
United Kingdom
This colourful range from Paper Salad is perfect when you just want to say "Happy Birthday".  The range consists of everything you need - gift bags in various sizes, flat wrap, roll wrap and matching ...

A beautiful floral range from Stephanie Dyment including gift bags in 3 sizes and matching flat wrap, all complimented by a contrasting teal colour.

We are extremely excited to be launching our new range from Louise Mulgrew which consists of small, medium, large and bottle bags along with double sided flat wraps.  From pretty flamingos to cheeky c ...