Doreen Preston & Son
Cooking & Dining
Kitchenware
Outdoor dining
Home Textile & Soft Furnishing
Fabrics & Materials
Craft
Gift Food
The Family
Wholesale
Home Textile & Soft Furnishing
Her
£0 - £19
Tableware
Children
Couples
£20 - £49
Housewares
Product Photographs
Private Label
Point of Sale Display
Him
Other
Kitchenware
Housewares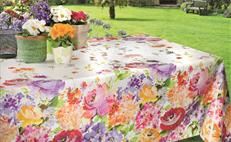 Wholesale specialists in wipe clean table coverings including PVC, oilcloth, soft drape coated fabrics and table protector.
Over 250 carefully selected designs by the roll for the high volume vinyl market through to luxury acrylic coated linens. Many designs are also available as readymade tablecloths. Our designs cater for all tastes (classic, traditional and contemporary) and all occasions whether formal or casual.
We offer display stands for rolls with integrated cutters and a variety of packaging options for our ready made cloths to suit different retail display stands. A range of POS is available to help communicate the USP of this product.
We have opened a new showroom at our premises and are currently offering virtual meetings enabling you to view our range of products and designs from the comfort of wherever you are. If you would like an appointment please let us know.
Address
Ruddington
United Kingdom