Cushy Paws
Gifting
Fashion Accessories
Home & Living
Art, Framing and Sculpture
Home Furniture
Home D'cor & Accessories
Home Textile & Soft Furnishing
Cushions / Pillows
Fabrics & Materials
Wholesale
Him
Children
Pets
£50 - £99
Designer
£20 - £49
Couples
Her
The Family
£0 - £19
Yes
Gift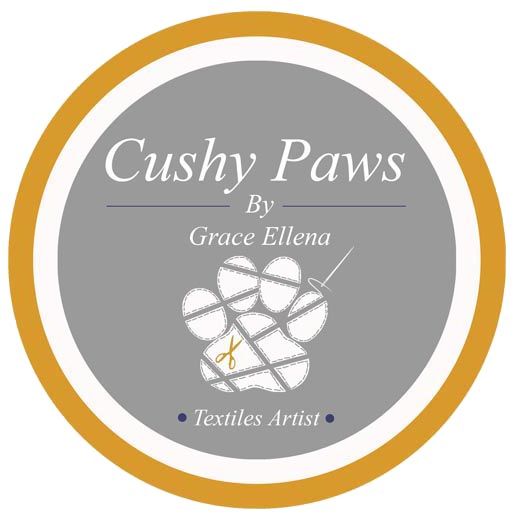 Hi, I'm Grace Ellena, Textiles Artist based in Staffordshire, UK. I am the owner, designer, maker and everything else behind the Cushy Paws brand.
After graduating in 2016 with a first-class degree in Textiles and Innovation Design, I went on to win the New Designers award for Colour and Innovation. This gave me the confidence to launch Cushy Paws and build it into the business it is today.

Cushy Paws started off with our flagship commissions; custom portraits using recycled and repurposed fabrics to create unique and unusual products. These are the original pet portrait artwork commissions that still very much run through the core of my business and are now complemented with a newly developed printed range to sit alongside the original pieces to expand my business.
All of the designs and original artwork pieces are handmade by me in my home studio with a sharp pair of scissors and a pile of recycled fabrics. Our printed products are all designed by me too and printed and made in the UK. You can see the full Cushy Paws range and see my designs come to life in my showcase video on my exhibitor profile.
I am proud to offer bespoke Cushy Paws services to Spring Fair customers to create unique designs for their brand or business/ location. One of my latest designs depicts the heritage of my home town, bringing new life to The Potteries. If you wish to discuss my products and services, please don't hesitate to contact me at cushypaws@gmail.com.
Address
Newcastle-under-Lyme
United Kingdom
Sustainability Role in overall company's strategic plans

Sustainability plays quite a large role in the core of our business, and our flagship product. Our initial product and ideas were made out of recycled or repurposed fabrics. We hope to continue this and to reduce as much waste as possible by creating more artwork pieces.

Sustainable Products

Pet Portrait commissions

Most of the fabrics for our pet portrait commission pieces (which is the core of our business) are all created from small scraps/remnants of fabrics.

Original Artwork - Animal Artwork

All of our original artwork is created from second hand and recycled fabrics to reduce the waste and give them a new lease of life within our unique work.

Packaging

We are in the process of making our packaging compostable

The only part of our packaging that is plastic are the cello bags for cards and prints. The rest is either paper or Cardboard. We hope to be able to invest in biodegradable bags in the near future to eliminate plastic from our packaging.

Materials

We have products made from recycled materials

Our products are made from upcycled materials

Our products are plastic free

We have created products that provide an alternative to single use plastic

Within Cushy Paws we try and recycle all of the fabrics that we can, and repurpose them into a new and exciting pieces of artwork. Most of our materials are from larger corporations who throw out mounds of fabric in the skip/bin every month. We have materials donated from a silk weaving mill who are more than happy for us to recycle and repurpose their fabric sampling and off cuts as it saves them from going in the waste. We try our very best to recycle any cardboard packaging that we get our supplies in as our customers are more than happy to receive them in recycled boxes. The materials that are used for our printed products from our manufacturer also sends samples and off cuts of our fabric that we can then use to put back into our original art to reduce waste.
In August 2020 I was a finalist at the NMTF Young Trader of the year event. This article was written by my local Coucil about the event in their Newcastle Life November issue 2020.