Bon Bons (Wholesale) Ltd
Point of Sale Display
Private Label
Children
Gift Food
£20 - £49
Couples
The Family
Wholesale
Gift Food
Him
Gifting
Her
£0 - £19
Gift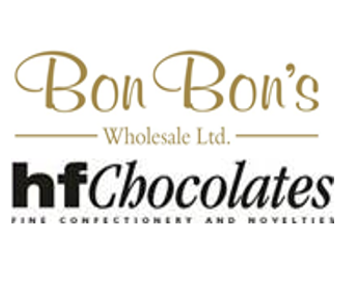 "Confectionery should be exciting, irresistible, tempting and stop people in their tracks".
Bon Bon's are the leading supplier of hand-packed traditional sweets in the UK. You find our sweet displays in some of the county's most iconic garden centres, farm shops and foodhalls.
Alongside the Bon Bon's range we can satisfy all your confectionery needs through the recent acquisition hf Chocolates – "The home of premium brands".
In our wide portfolio of products, we have over 800 items ranging from the sublime to the (slightly) ridiculous including Italian soft nougat, lollies, candy canes and of course chocolate to name just a few.
BON BON'S SPRING COLLECTION 2021 IS AVAILABLE TO ORDER NOW
PLEASE CLICK THE LINK ABOVE TO DOWNLOAD CATALOGUES FOR ALL OUR RANGES
Address
Wetherby
United Kingdom
Here at hf Chocolates we have a passion for premium quality confectionery…. particularly chocolate of course! Our vision is to provide inspiring solutions to make confectionery exciting & irresistible ...

Bon Bon's only supplies specialist independent retailers and has become the market leading supplier of hand-packed confectionery. Our high-quality sweets are coupled with a clear focus on display and ...