Betty Hula
Hall: Halls 2, 3+3a Stand: 3V44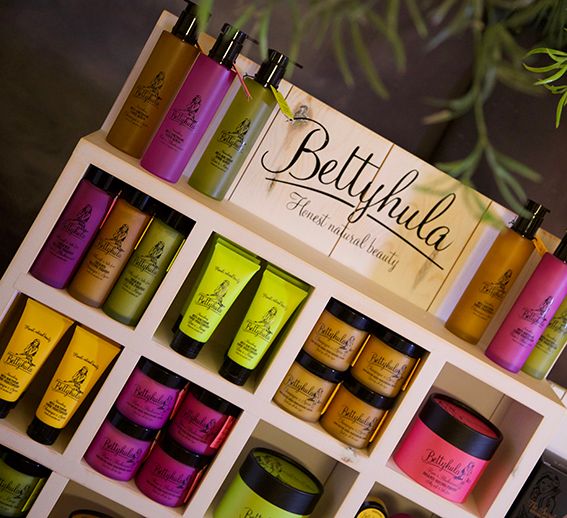 Looking for a natural skincare collection that is eye-catching on shelf?
If so, the Bettyhula range does just that. With its striking retro glass packaging and strong tropical colours,
it easily draws customers attention. Hawaiian themed scents are divine. The range sits well as
both beauty and gift purchases. Good price-points, vegan friendly and natural ingredients, it's perfect for
those that want something that little bit different.
• Handmade in UK using natural paraben-free ingredients
• NEW eco-friendly Sugarcane packaging
• Looks great on shelf -very eye-catching
• Smells divine -scents are key selling point
• Products work = repeat sales!
• Multi award-winning
• Perfect for quirky gift shops, ladies boutiques, beauty salons
• 400+ stockists
• Small MOQ
SCENTS
• RUM & BLACKCURRANT. Think pacific islands. A sun-kissed beach, with a sweet fruit holiday aroma.
• CHAMPAGNE & SPICE. Exquisite, musky, spicy, sensual, sophisticated.
• LIME & MANGO. This tropical scent encapsulates the fresh, zesty aroma.
Address
Harrogate
United Kingdom
Sustainability Role in overall company's strategic plans

We feel sustainability is important, and are working hard to be the best we can be in this area

Sustainability initiatives

We have changed our plastic tubes for Eco-friendly Sugarcane tubes. We have moved to using compostable bags for packing our bath salt teabags. We use compostable bubble wrap, and continue to package most of our products in glass.

Sustainable Products

Body & Shower gift set

This set has sugarcane tubes to house our body wash and scrub. It also has a bespoke Bamboo fibre sponge .

Mini Trio Hand cream gift set

This set has sugarcane tubes to house our best selling hand creams. Our tubes have been certified too.

Delicate dusting powder

Our cardboard tubs contain our natural ingredients that make up our dusting powder.

AT THE FAIR

NEW TO THE FAIR

Certified sustainable products by third party

Certified by

I'm Green TM

Packaging

Our packaging is compostable

We are in the process of making our packaging plastic free

Other

Our bags for packing teabags are compostable

Materials

We have products made from sustainability sourced raw materials

Our tubes are now made from Sugarcane

Ethical Considerations

Fair wages are paid to the people who make our products

Our products are made by people employed in good working conditions

Enviromental Impact

Our products are created to help consumers try and reduce their carbon footprint

Sugarcane in our tubes captures CO2 from the environment.