Betty Hula
£0 - £19
£20 - £49
Manufacturer
Wholesale
Product Photographs
Private Label
Drop Shipping
Point of Sale Display
Skin & Body Care
Couples
Beauty, Body & Bath
Her
The Family
Beauty & Wellbeing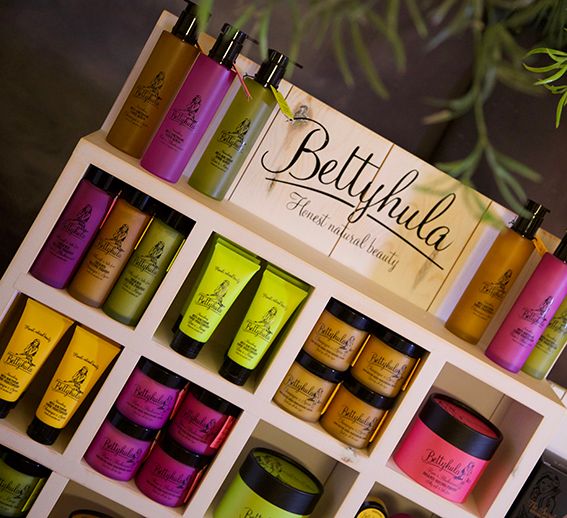 Looking for a natural skincare collection that is eye-catching on shelf?
If so, the Bettyhula range does just that. With its striking retro glass packaging and strong tropical colours,
it easily draws customers attention. Hawaiian themed scents are divine. The range sits well as
both beauty and gift purchases. Good price-points, vegan friendly and natural ingredients, it's perfect for
those that want something that little bit different.
• Handmade in UK using natural paraben-free ingredients
• Looks great on shelf -very eye-catching
• Smells divine -scents are key selling point
• Products work = repeat sales!
• Multi award-winning
• Perfect for quirky gift shops, ladies boutiques, beauty salons
• 300+ stockists
• Small MOQ
SCENTS
• RUM & BLACKCURRANT. Think pacific islands. A sun-kissed beach, with a sweet fruit holiday aroma.
• CHAMPAGNE & SPICE. Exquisite, musky, spicy, sensual, sophisticated.
• LIME & MANGO. This tropical scent encapsulates the fresh, zesty aroma.
Address
Harrogate
United Kingdom
Our delicate dusting powder not only smells divine, it keeps skin naturally dry by gently absorbing excess moisture leaving you feeling relaxed and refreshed. Made from ultra soft, natural (talc-free) ...

A natural 2-in-1. Betty Hula's award-winning antibacterial hand cream leaves your hands feeling deeply moisturised & germ free. A quick penetrating cream to deeply nourish skin and cuticles. Its natur ...

The 100% natural and high quality ingredients make our oil perfect for even the most sensitive of skin. Our award-winning Secret Wonder Oil helps repair damaged cells, combat dryness, banish wrinkles ...

Our award-winning anti-bacterial hand wash leaves your hands feeling deeply nourished and germ free. Mangosteen Seed Oil, Prickly Pear Seed Oil are amongst the key ingredients in this luxurious produc ...