Beefayre
Designer
Wholesale
Greetings cards
Candles & Home Fragrance
£20 - £49
Couples
Product Photographs
Christmas Gifting
Point of Sale Display
Him
Skin & Body Care
Gifting
Her
£0 - £19
Yes
Beauty & Wellbeing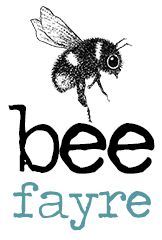 Beefayre is inspired by nature & the plight of our bees and other pollinators. The brand's mission is to produce excellent quality gifts made in Britain using the finest ingredients; sustainably and ethically sourced. Buying Beefayre products means customers are directly helping save bees - as 3% of the company's profits are donated to bee conservation and other conservation projects.
All their candles are natural plant wax with no palm oil, the room diffusers use natural bio oil (alcohol free) and the body and bath range are paraben free and sulphate free.
Beefayre was founded 10 years ago by Sharon Jervis, an artist and passionate conservationist. The illustrations on the packaging are all taken from Sharon's line drawings, which Sharon draws directly from nature.
For the 2021 Collection please use the link below.
https://www.flipsnack.com/9587B55569B/beefayre-collection-2021.html
Address
Market Harborough
United Kingdom
Available in every colour to match our collections.  Our greetings cards feature Sharon's popular drawing of the bumblebee.  With gold foil detail and supplied with a kraft envelope our cards are suit ...

We are very excited to introduce our new scent for 2021.  Our Tuberose collection is just the tonic we are all waiting for after the gloom of recent times.  Packaged in sunshine yellow the scent is a ...

Our bath / shower milk and body lotion are made using the best natural ingredients we can find.  They contain no nasty SLS or parabens and are proudly made in the UK.  They are fragranced with natural ...

Our 50ml room diffusers are back and whilst they've been away we have been busy making some improvements.  They now have a stylish bamboo cap and a gold bee print on a round glass bottle.  Available i ...
Sustainability Role in overall company's strategic plans

From when we first set up 10 years ago sustainability has always been at the heart of what we do. Our packaging is low impact - primarily cardboard, recycled glass, natural plant wax - no palm oil in sight. Our diffusers are always alcohol free and poured into recycled, refillable glass bottles.

Sustainability initiatives

We have a thriving meadow here at Beefayre HQ. Bee Meadows take 6-7 years to establish. To help people get started, we created an initiative for them to create their own wildflower area. Our Seeds for Bees campaign was a great success. We gave away thousands of packets of seeds. Whether for a patch in their garden or a container on their window box the response was amazing.

Pledges for the year

We continually strive to source the best, most natural ingredients in our products that have low impact on the environment. It is crucial to us that we do our upmost to protect our beautiful planet. We are hoping to introduce refills for our products very soon. We always encourage customers to reuse. The accent of our conservation is now habitat restoration which is crucial. We have just donated to the beaver trust and will be carefully monitoring the phenomenal success that achieves. We will be updating and informing everyone on the success of this initiative.

Sustainable Products

Natural plant wax candles - no palm oil

Candles are all poured into recycled glass, packaged in recycled cardboard with minimum packaging. We never use palm oil.

Diffusers - alcohol free, vegetarian, no nasty vapours

Diffusers are all natural oil, poured into recycled glass, packaged in recycled cardboard. Sold with natural reeds.

Social equity at your company

We work as an integrated small team and look out for each other. We have introduced remote working and shift system in line with recent covid recommendations.

Certified sustainable products by third party

Certified by

We are certified by PETA.

Packaging

Our packaging is made with recycled content

We are in the process of making our packaging compostable

Most of our packaging is compostable. We are working hard to make it all compostable.

Materials

We have products made from recycled materials

We have products made from sustainability sourced raw materials

Ethical Considerations

Fair wages are paid to the people who make our products

We challenge our suppliers to report any ethical issues they identify

We have an ethical policy

Enviromental Impact

We have a sustainability policy

We consider the environmental impact when creating our products

Some of the processes we use to manufacture products are energy efficient