Anitex Larbrinca
Hall: Hall 1 Stand: 1G40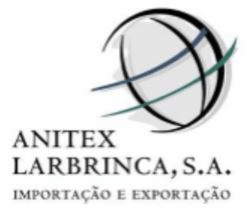 ANITEX-LARBRINCA exists since 1974 and currently has about 70 employees.
The goal of the company is the import and export of a wide range of products such as Toys, kitchenwares, Housewares, Decoration, Garden and beach articles, Christmas, Gifts, etc
The main concern of the company is maintaining a policy of aggressive marketing, audacious and innovative, aiming to increase its share of internationalization.
The company has two showrooms. One is located in Lisbon and has about 1000m2, and one in Porto with 600m2. The total storage area between Lisbon and Oporto is more than 20000m2.
We continually have 12500 references in our showrooms and warehouse ready to deliver to our customers.
We have our own brands that enable customers to identify our unique company products. We have ANILAR for Household products, ANIBRINCA for Toys and DR for a range of more exclusive products.
The biggest part of traded products are produced in foreign markets, however packaging and design are developed by the company in the domestic market.
We are ready to elaborate packaging with the brand of our clients, if the ordered quantity allows.
We work with all major supermarkets in Portugal and with the traditional stores.
In 2006 the company made the decision of begins exporting and nowadays we work with several countries such as Angola, Cape Verde, Guinea, Senegal, Congo, Mozambique, S. Tome and Principe, Democratic Republic of Congo (Zaire), Gabon, Ivory Coast, Tunisia, Morocco, Martinique, Guadalupe, French Guiana and in Europe with France, Belgium, Spain and Italy.