Amica Accessories Ltd
Hall: Hall 4 Stand: 4H52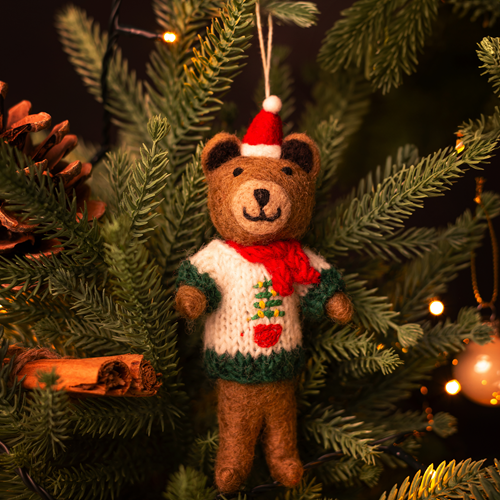 Specialists in felt since 2004, we are all about beautiful, handmade and Fairtade products. We have a number of ranges including Christmas, Easter, Halloween decorations & Toys!
All of our products are made from 100% sheep's wool & plastic free making them the obvious choice for anyone wanting to introduce environmentally friendly products.
With carriage paid on all orders over £350 (net cost) visit our website today or call on +44 (0) 117 973 1780.
Address
Avon
United Kingdom
Sustainability Role in overall company's strategic plans

Sustainability has always been a priority in Amica's strategic plan. From day one we have worked with a fair trade manufacturer who take pride in the work environment they create for their staff. Having visited our supplier over the years we can guarantee this standard is maintained to ensure we are working with a company whose workers are at the forefront of their business ethics. Over the last few years we have made steps towards reducing the amount of plastic we use throughout the business and our products. We are proud to have made the steps we have done so already.

Sustainability initiatives

With our products being made from 100% sheep's wool we are moving all our items towards having a plastic free status. The biodegradability of wool allows our items to leave very little mark on the world other than the joy they bring our customers. Two years ago we removed the use of all plastic swing tags on our items in replacement of string to reduce our plastic use.

Pledges for the year

Environmentally friendly packaging

Sustainable Products

Christmas Decorations

Made from 100% sheep's wool our items are not only plastic free but also biodegradable

Social equity at your company

Workers rights are at the forefront of what we do. From the get go we have worked with a fair trade manufacturer to ensure that all those involved in making our items are working in a safe environment, earning a fair wage and look forward to going to work.

Certified sustainable products by third party

Certified by

World Fair Trade Organization Fair Trade USA

Packaging

We are in the process of making our packaging plastic free

Materials

Our products are plastic free

Made from 100% sheep's wool

Ethical Considerations

Fair wages are paid to the people who make our products

Our products are made by people employed in good working conditions

We challenge our suppliers to report any ethical issues they identify

Within the workplace where our products are made there is commitment to Non-Discrimination Gender Equality and Freedom of Association

Enviromental Impact

We consider the environmental impact when creating our products