Amaura London
Hall: Hall 4 Stand: 4F78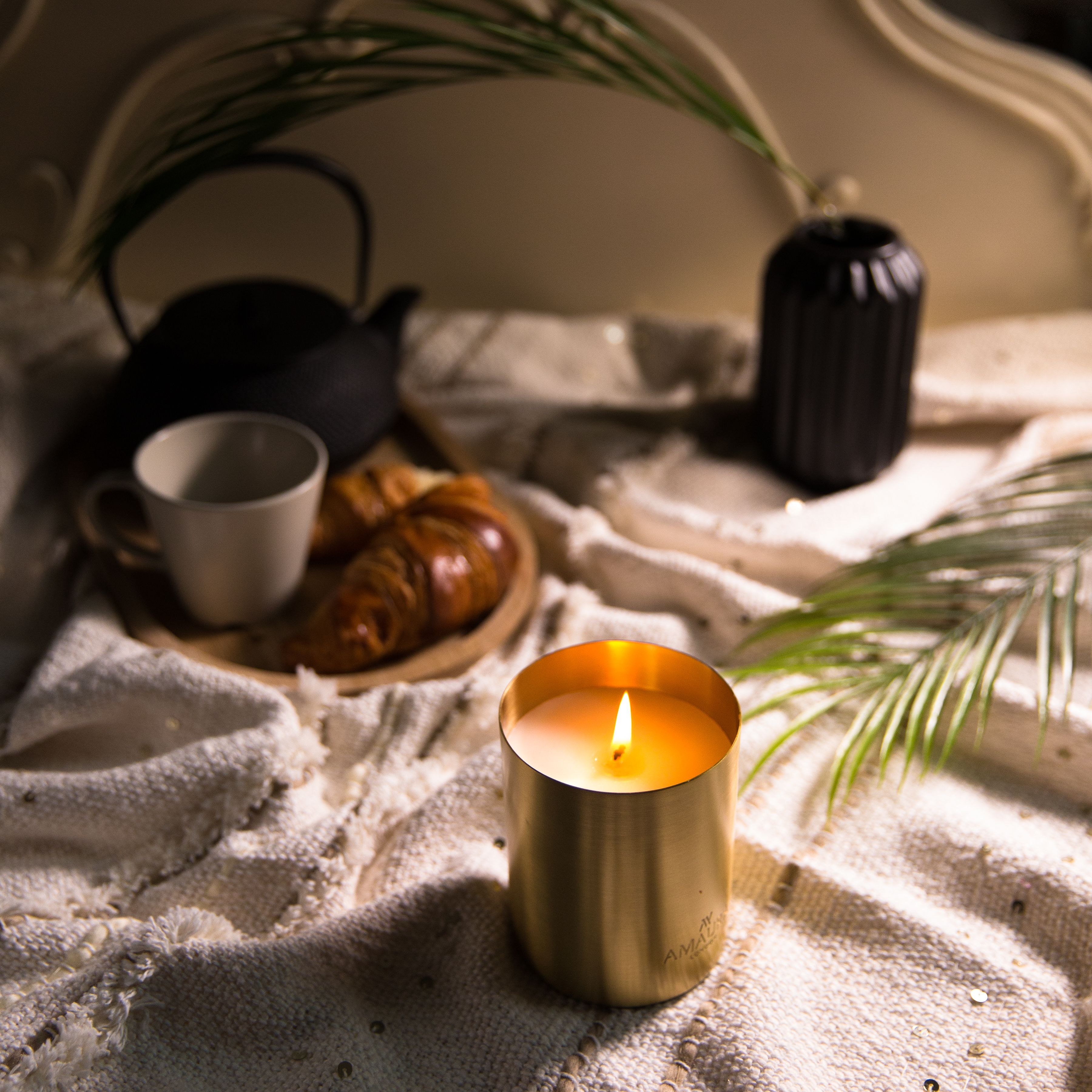 Amaura London is an independent British luxury home fragrance brand launched in November 2020 during the lockdown. We are known for eco-friendly, sustainably made home fragrances, filled with mood-boosting scents made with essential oils to enhance your emotional wellbeing.
Our unique candle vessels are made from recycled metallics that are hand-spun using pure brass, pure copper and brushed stainless steel, which provides stunning accents in any home interior.
All of our candles are hand-poured in the UK using sustainably sourced coconut and rapeseed wax and we only use cotton braided lead-free wicks, which provides a slow, clean burn without harmful carbon or soot. No paraffin, parabens or animal testing.
The eight scents are also available in eco-luxury reed diffusers, made using a sustainable and renewable base.
---
"Filling your home with a positive ambience and mood-boosting scents that will enhance your wellbeing is at the heart of everything we do."
---
Made using 100% natural coconut & rapeseed wax,
Paraben-Free | Cruelty-Free | Paraffin-Free
Our scents range from floral and fresh to oriental and woody and include popular scents oud, patchouli, sandalwood, eucalyptus, and warm amber.
Our Calming range in Dark Amber, Sandalwood & Lavender scent, was featured in Marie Claire in their article as one of their top 15 candle brands of 2021.
Address
Bushey
United Kingdom
Sustainability Role in overall company's strategic plans

Sustainability has been at the heart of the brand from the beginning. Every element has been thought through, from biodegradable labels to using sustainably sourced coconut & rapeseed wax to using fragrance sample cards made from recycled t-shirts. We are committed to implementing small sustainable steps and choices for our products and packaging. Our purpose was to bring luxury to our everyday lives without compromising on our health and wellbeing.

Sustainability initiatives

- Clean Ingredients - No parabens - No phthalates - No paraffin - No artificial colours - No mineral oil-based ingredients - Cruelty-free ingredients - No scent boosters - All our Fragrances conform to International Fragrance association (IFRA) which ensures that chemicals used are non-toxic and safe for human use. - Our Candle vessels are made from recycled metals and are fully recyclable, and reusable. Since they are lighter than glass and require less protective packaging provided a low carbon footprint. - Our diffusers are made from an eco-friendly non-toxic reed diffuser base, which is alcohol and glycol-free, made from renewable sources with no petrochemicals. Offering a low-carbon footprint. - All our packaging is made from recycled or recyclable materials - Our packaging labels are bio-degradable - Our gift boxes are made from recycled materials and are fully recyclable - 100% recycled tissue paper in used in our gift boxes. - Our shipping boxes are 100% recyclable cardboard, paper shred and paper tape. - Our ingredients are sourced from a sustainable and ethical supply chain. - Sustainably sourced coconut & rapeseed wax - Our fragrance sample cards are made from recycled t-shirts - Our sample tealights made from bio-degradable materials - We offer refills in recyclable glass for our diffusers. - Thank you cards are made from FSC certified paper.

Pledges for the year

This is just the start of our journey and we are committed to doing all we can through small sustainable steps and the choices we make for our products. We are already working hard in the background on refillable options and how we can reduce waste and invest in using recycled materials.

Sustainable Products

Metallic Eco-Luxury Candle Vessels

- Clean Ingredients - No parabens - No phthalates - No paraffin - No artificial colours - No mineral oil-based ingredients - Cruelty-free ingredients - No scent boosters - All our Fragrances conform to the International Fragrance Association (IFRA) which ensures that chemicals used are non-toxic and safe for human use. - Our Candle vessels are made from recycled metals and are fully recyclable, and reusable. Since they are lighter than glass and require less protective packaging provided a low carbon footprint. - Plastic Free - All our packaging is made from recycled or recyclable materials - Our packaging labels are bio-degradable - Our gift boxes are made from recycled materials and are fully recyclable - 100% recycled tissue paper in used in our gift boxes. - Our shipping boxes are 100% recyclable cardboard, paper shred and paper tape. - Our ingredients are sourced from a sustainable and ethical supply chain. - Sustainably sourced coconut & rapeseed wax - Our fragrance sample cards are made from recycled t-shirts - Our sample tealights made from bio-degradable materials - We offer refills in recyclable glass for our diffusers. - Thank you cards are made from FSC certified paper.

Eco-Luxury Reed Diffusers

- Clean Ingredients - No parabens - No phthalates - No artificial colours - No mineral oil-based ingredients - Cruelty-free ingredients - No scent boosters - All our Fragrances conform to the International Fragrance association (IFRA) which ensures that chemicals used are non-toxic and safe for human use. - Our diffusers are made from an eco-friendly non-toxic reed diffuser base, which is alcohol and glycol-free, made from renewable sources with no petrochemicals. Offering a low-carbon footprint.

Eco-Luxury Reed Diffuser Re-fills

- Clean Ingredients - No parabens - No phthalates - No artificial colours - No mineral oil-based ingredients - Cruelty-free ingredients - No scent boosters - All our Fragrances conform to the International Fragrance Association (IFRA) which ensures that chemicals used are non-toxic and safe for human use. - Our diffuser refills are made from an eco-friendly non-toxic reed diffuser base, which is alcohol and glycol-free, made from renewable sources with no petrochemicals. Offering a low-carbon footprint. Packaged in a recyclable glass bottle.

AT THE FAIR

NEW TO THE FAIR

Social equity at your company

As an SME we are employing freelancers at the moment so this is not applicable at this time.

Packaging

Our packaging is plastic free

Our packaging is made with recycled content

All inner and postage our packaging is either recyclable or recycled and our pack labels are bio-degradable.

Materials

We have products made from recycled materials

Our products are plastic free

We have products made from sustainability sourced raw materials

Ethical Considerations

Fair wages are paid to the people who make our products

Our products are made by people employed in good working conditions

We challenge our suppliers to report any ethical issues they identify

Enviromental Impact

Our products are created to help consumers try and reduce their carbon footprint

We have a sustainability policy

We consider the environmental impact when creating our products