Tallon International Ltd
Hall: Hall 1 Stand: 1C10-D11, 1C20-D21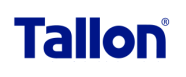 Our vision is to be the number 1 choice for all Stationery and Seasonal Goods customers who are seeking to maximise sales and profit opportunities with high quality products.
How we do it:
By putting customers at the heart of everything we do, making Tallon the easiest and most enjoyable company to do business with.
By offering true value for money products with strong branding, underpinned with market leading design, stock availability and operational excellence.
Through our in-house design team we offer a tailored bespoke product development service whilst imparting our expert knowledge for the benefit of our customers.
Strong manufacturing partnerships with a truly global supply chain portfolio leading the market in the supply of high quality products through tailored delivery services.
A commitment to maintain and evolve our global supply chain with a relentless drive for responsibly sourced sustainable products and materials, from ethical supply bases.
Address
Coventry
United Kingdom
Sustainability Role in overall company's strategic plans

We are constantly changing the way we operate and produce our products. Constantly assessing our internal procedures to ensure we are on-trakc with our sustainability goals.

Sustainability initiatives

Electric fleet and warehouse machinery. Full LED lighting with motion sensors.

Pledges for the year

Further reducing plastics and product pack sizes to save freight, weight and fuel.

Sustainable Products

Easynote vegan friendly diaries

Eco 100% recycled AND recyclable note books and pads

AT THE FAIR

NEW TO THE FAIR

Social equity at your company

SEDEX member and implementation of our ethical policy and work place initiatives.

Certified sustainable products by third party

Packaging

Our packaging is plastic free

Our packaging is made with recycled content

We are in the process of making our packaging plastic free

We are in the process of making our packaging compostable

Artbox creative play packaging redesign. All plastic bags are 30% minimum post consumer waste material. All plastic where possible has been removed and replaced with alternative packaging materials.

Materials

We have products made from recycled materials

Our products are plastic free

We have created products that provide an alternative to single use plastic

We have products made from sustainability sourced raw materials

FSC certified paper on ALL diary and calendar print & publishing. All gift bags are also FSC certified.

Ethical Considerations

Fair wages are paid to the people who make our products

Our products are made by people employed in good working conditions

We have mapped our entire supply chain

We challenge our suppliers to report any ethical issues they identify

We have an ethical policy

Within the workplace where our products are made there is commitment to Non-Discrimination Gender Equality and Freedom of Association

we are a member of SEDEX and audit all factories annually.

Enviromental Impact

Our products are created to help consumers try and reduce their carbon footprint

We have a sustainability policy

We consider the environmental impact when creating our products

Some of the processes we use to manufacture products are energy efficient

Some of the processes we use to manufacture products are water efficient