Stropt
Hall: Halls 2, 3+3a Stand: 3V52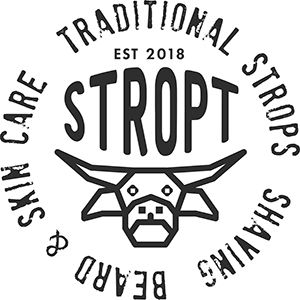 STROPT have been manufacturing leather strops since 2018. We make Bench Strops for knives and tools, Paddle Strops for straight razors and knives and Belt Strops for straight razors. We make the 'Razor Honing Pad' which is an amazing little strop for extending the life of disposable razors.
Alongside our strops, we sell a range of traditional shaving products with select products from Merkur, Dovo, Boker, Thiers-Issard, Mitchell's and Morgan's together with our own shaving bowls, brushes and safety razors, turned from reclaimed and salvaged woods.
We are proud to introduce our Beard & Skin Care Collection which are all based on our blend of Argan, Sweet Almond and Jojoba oils. We have Nourishing Beard and Skin Oils, a Beard Balm and Body Balm with added Beeswax, Shea Butter and Coconut Oil and a Moustache Wax with Beeswax and Shea Butter. All supplied in striking recyclable glass or aluminium packaging.
Address
Taunton
United Kingdom