Shearer Candles
Hall: Halls 2, 3+3a Stand: 3V02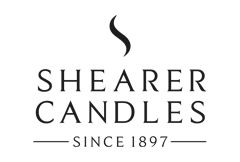 Shearer Candles is a leading creator and purveyor of artisan candles and home fragrance. Inspired by beautiful surroundings here in Scotland, we work only with the purest ingredients. Our goal is to exceed expectations of our customers by delivering quality, exceptional choice. As the oldest producer of candles in the UK, a long tradition of Scottish candlemaking underpins everything we do.
If you're a small candlemaker and you want to grow your business, we can help you turn your handmade candles into made-to-order candles with our private label candle-making capabilities.
If you're a retailer looking for a UK candlemaker to make your own-branded candles, Shearer Candles can help. We make several hundred thousand customised branded candles each year and specialise in the manufacture of private-label candles for companies of all size.
Address
Glasgow
United Kingdom
Our 2022 catalogue details all current products. Discover our wonderful fragrances, and find out more about each of our collections here.
Sustainable Products

Naturals double wick scented soy wax candle

Natural Soy Wax candle containing natural essential oils, presented in recyclable packaging containing minimal plastic

Naturals Scent Oil

Scent Oil containing natural essential oils, presented in recyclable packaging containing minimal plastic

Naturals Scented Diffuser

Scented diffuser containing natural essential oils, presented in recyclable packaging containing minimal plastic

AT THE FAIR

NEW TO THE FAIR

Packaging

We are in the process of making our packaging compostable

In 2020 we launched our Naturals range, this uses minimal plastic packaging and is fully recyclable. We are gradually applying these principles to our wider catalogue.

Materials

We have products made from sustainability sourced raw materials