Scrunch Kids
Hall: Hall 5 Stand: 5F29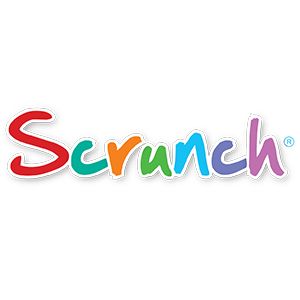 Scrunch is designed specifically to make travelling and storage easy. Goodbye to rigid plastic buckets, balls that cannot be packed into hand luggage, and hard plastic sand moulds – hello to rolling and scrunching, to folding and squashing our amazing products into very small spaces! Roll them, fold them, scrunch them – pop them in your luggage.
Our award-winning Scrunch-bucket is the original recyclable, reusable, bucket for life. Made from 100% silicone which is derived from sand, they are environmentally friendly, recyclable and reusable. Squash them in your pocket, squish them into the corner of a suitcase and contribute more to the environment too – what's not to love about Scrunch!
Address
Funtington
United Kingdom
Scrunch water balls are tactile silicone balls with magnetic closures making it easy to squeeze and squirt.  Fill them up with water and splat them anywhere (well almost anywhere) in the garden, on th ...

Our thermoplastic beach bag flat packs and is great for carrying all your beach ideas tpo make, build, pour and create in the sand.  It washes and stores into the tiniest of places.
Sustainability Role in overall company's strategic plans

We work with recyclable products or bio degradable products only.

Sustainability initiatives

All our products are made from recyclable products

Pledges for the year

To work to ensure we do our best to continue working with materials that are eco.

Social equity at your company

We can provide a certificate from our factory endorsing workers rights, wages and benefits.

Certified sustainable products by third party

Certified by

Our testing house MTS

Packaging

Our packaging is plastic free

Our packaging is compostable

Our packaging is made with recycled content

We are in the process of making our packaging plastic free

We are in the process of making our packaging compostable

We are now working with raffia ties for our labels but we do have some stock from last year with cable ties and will re-work these if needed.

Materials

We have products made from recycled materials

Our products are plastic free

We have created products that provide an alternative to single use plastic

We have products made from sustainability sourced raw materials

Ethical Considerations

Fair wages are paid to the people who make our products

Our products are made by people employed in good working conditions

We have an ethical policy

Within the workplace where our products are made there is commitment to Non-Discrimination Gender Equality and Freedom of Association

Enviromental Impact

Our products are created to help consumers try and reduce their carbon footprint

We have a sustainability policy

Some of the processes we use to manufacture products are energy efficient

Some of the processes we use to manufacture products are water efficient
Our TPE biodegradable bag is designed to rinse clean of sand and water.  Ideal for holding bath toys or beach toys.  It will flat pack and scrunch into the smallest of places.