PomPom Galore
Hall: Hall 4 Stand: 4E88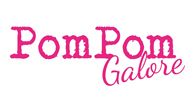 We have always loved the traditionally made yarn pom pom and wanted to find ready made pom pom pieces using these nostalgic pom pom balls of fun.
There was nothing we could find. We began by making a rainbow wool pom pom garland and immediately sold them all to our friends and family! We were hooked …. ideas were pouring out and PomPom Galore was formed. Our backgrounds are a combination of retail, product development, marketing and creative design which resulted in us setting up as a Wholesale business. We found a group of incredibly talented artisans and makers who could turn our designs into actual products in good quantities, using the finest quality materials and not compromising on any attention to detail – we wanted our pieces to be beautiful, long lasting and well made products that would make sumptuous, original gifts that could be used again and again.
Five years on and we are still as passionate about the yarn pom pom and our business as we were when the plan was hatching! Addictive little colourful balls that bring smiles and happiness to everyone who receives them. Our fabulous stockists many of whom are also small, boutique businesses specialising in super quality items, continue to support us simply because their customers just love pom poms too! When we began, there were no other pom pom products – we now have many competitors but are still confident that a PomPom Galore pom pom stands out from the crowd – again, and again!
Enjoy!
Kat & Marisa
Address
Nesscliffe
United Kingdom
Sustainability Role in overall company's strategic plans

working with it in mind at every step

Sustainability initiatives

recycled packaging, reusing packaging, minimising packaging. Sending orders in a specific day to reduce courier journeys.

Pledges for the year

to look at sustainable raw materials options

Packaging

We are in the process of making our packaging plastic free

We are in the process of making our packaging compostable

some of our packing is compostable and plastic free

Materials

We have created products that provide an alternative to single use plastic

We have products made from sustainability sourced raw materials

Ethical Considerations

Fair wages are paid to the people who make our products

Our products are made by people employed in good working conditions