Kushboo Soaps
Hall: Halls 2, 3+3a Stand: 3U38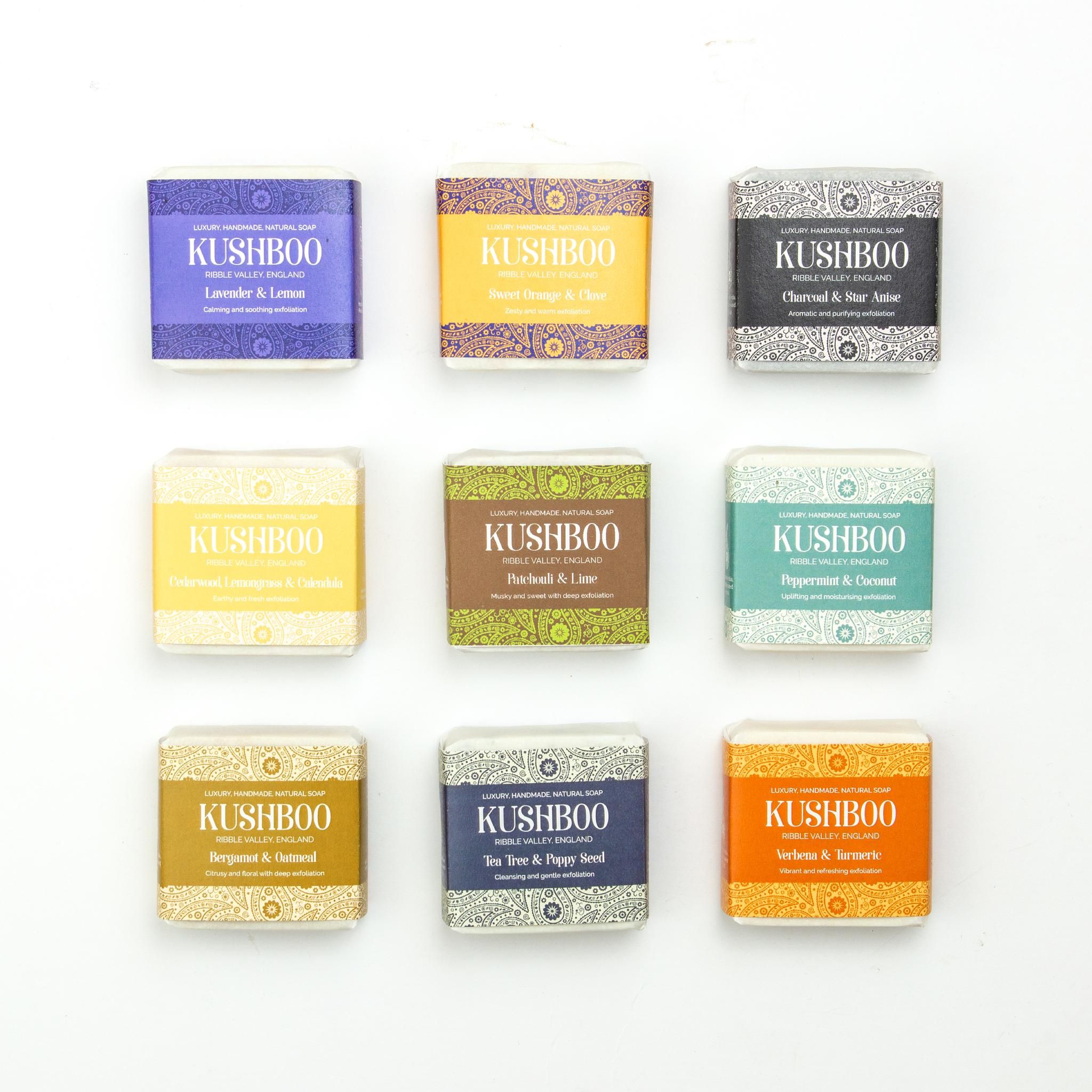 We are a British, multi-award winning soap & skincare company.
Our products include hand, face and body soap bars, shampoo bars, Bath Salt Soaks and Bath & Shower oils.
All our products are 100% Natural, Vegan, SLS & Paraben free & Plastic free, offering your customers an ethical, sustainable choice. We formulate & create all products in-house, here in the UK.
We are a conscious business. We never compromise on our treatment of people, animals or the Earth to create 100% natural products.
We source all our ingredients, and all our products are formulated and created with luxurious, moisturising quality oils enriched with a blend of essential oils and gentle botanics to cleanse the skin and indulge the senses.
For each bar of soap sold, we donate another to UK charities.
Vegan - Cruelty Free - No Plastics - 100% Natural - Ethical - Made in the UK - Sustainable
Address
Lancashire
United Kingdom
Sustainability Role in overall company's strategic plans

Sustainability is central to all we do and integrated in every part of manufacturing every single Kushboo product. Perfect Wellbeing gifts. All Kushboo products are handcrafted using 100% natural botanicals. There are no nasty chemicals and nothing is ever tested on animals. We are an Vegan, Ethical and Plastic free.

Sustainability initiatives

We have never used Plastic, or packaging that can't be recycled. Our ingredients are responsibly sourced and certified.

Pledges for the year

We will continue to increase on promoting and advising on sustainability to our customers and stockists.

Sustainable Products

Kushboo Lavender and Lemon Face and Body Soap Bar

Calming and luxurious with soothing exfoliation Made with Lavender and Lemon essential oil, the soap contains no artificial colouring, perfume or additives. With lashes of moisturising coconut oil, olive oil, and a handful of dried lavender, this bar will gently nourish and exfoliate your skin.

Kushboo Charcoal and Star Anise Face and Body Soap Bar

Aromatic and Purifying Activate Charcoal is known for naturally eliminating toxins and purifying the skin. It can help with acne and problematic skin by drawing out the impurities built up in the pores. This miracle bar contains anti-ageing properties and will leave your skin feeling deeply nourished and fresh.

Kushboo Lavender and Lemon Bath Salt Soak

Immerse yourself in heavenly Himalayan bath salt infused with a perfect blend of lavender and lemon essential oil. Himalayan Pink Salt, with its abundance of minerals will gently extract toxins and nourish your body leaving you feel recharged. The salt can help with skin problems and can also reduce inflammation providing relief to tired muscles. The tranquil aroma of Lavender will gently help you unwind and relax your mind. A Perfect Wellbeing gift. All Kushboo products are handcrafted using 100% natural botanicals. There are no nasty chemicals and nothing is ever tested on animals. We are an Vegan, Ethical and Plastic free.

AT THE FAIR

NEW TO THE FAIR

Social equity at your company

We work with local stockists and support local suppliers wherever possible. We support local charities with soap donations.

Certified sustainable products by third party

Packaging

Our packaging is plastic free

Our packaging is compostable

Our packaging is made with recycled content

All our packaging is recyclable and completely Plastic Free.

Materials

Our products are plastic free

We have created products that provide an alternative to single use plastic

We have products made from sustainability sourced raw materials

Our oils are Responsibly sourced. We use botanics to crate exfoliation in our soaps not plastic beads.

Ethical Considerations

We are socially conscientious - we believe Soap is dignity and so for every soap we sell we donate another to the Vulnerable across three UK charities - homelessness, a women's refuge and food banks.

Enviromental Impact

Our products are created to help consumers try and reduce their carbon footprint

We have a sustainability policy

We consider the environmental impact when creating our products

Some of the processes we use to manufacture products are energy efficient

All our products are hand made in small batches and we do not use machinery whatsoever.