Reeves & Reeves
Hall: Halls 2, 3+3a Stand: 2H60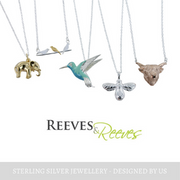 We design and produce beautifully crafted sterling silver jewellery which is now made from 100% recycled sterling silver.
Our inspiration is taken from the countryside around us. We live and work in Dorset, and on our journey to work we will always see the British wildlife and countryside at its best and worst!
Based in the stunning grounds of Forde Abbey, we have a small team, and we are all involved in the design process.
Complimentary UK made packaging is available.
Address
Chard
United Kingdom