Felt So Good
Hall: Hall 4 Stand: 4D60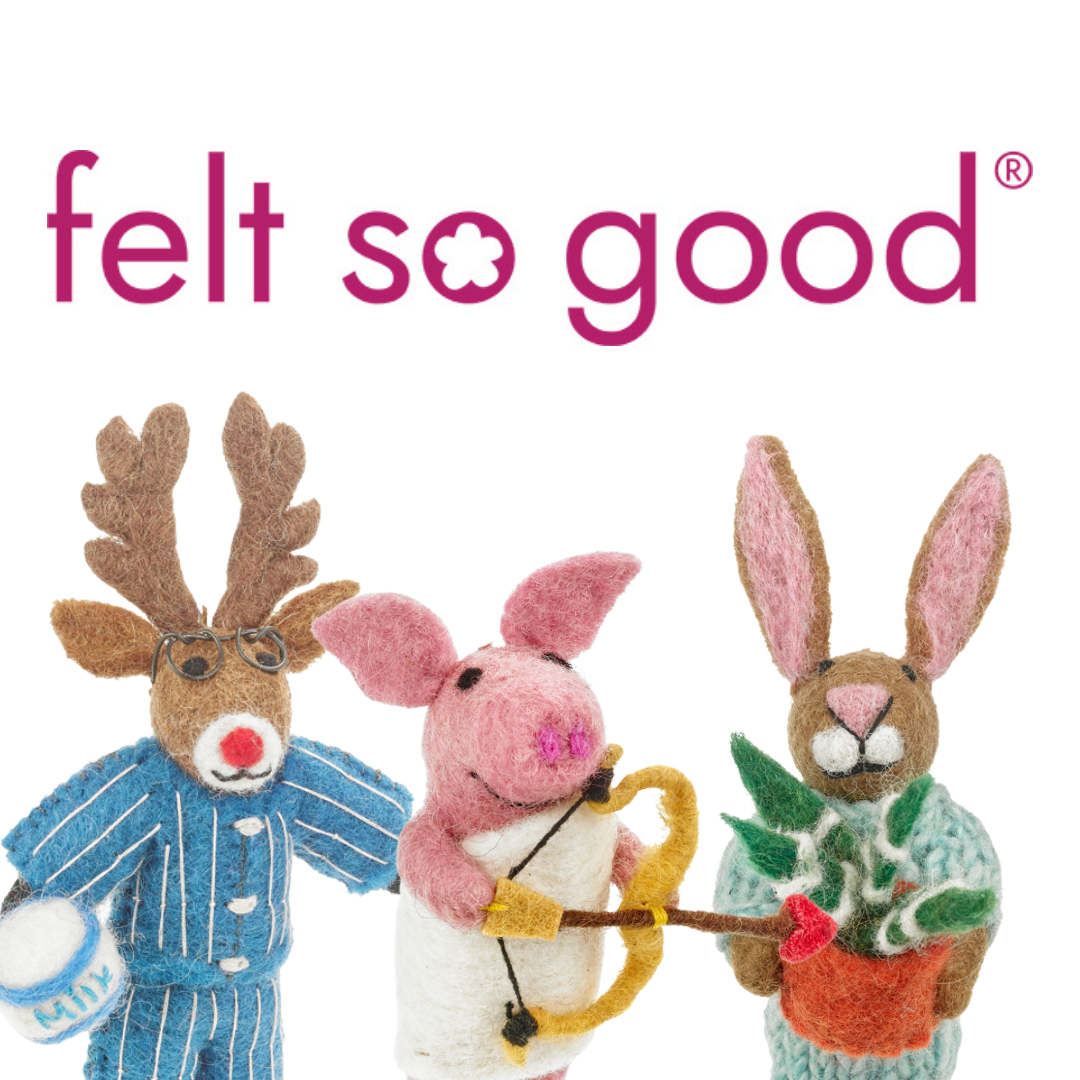 Fabulous handmade, plastic-free hanging characters, gifts and decorations that encompass all seasons, occassions and celebrations.
Whether it's a Christmas octopus, an Easter sloth or a fantastic felt cactus, each colourful character or beautiful decoration showcases the gorgeous detail, high-quality and completely unique designs that Felt so good are known for.
Felt so good are an eco-concious company, and all products are sustainably and ethically brought to life using natural and biodegradable materials.
All of their unique felt creations are designed in the UK and handcrafted to life in the Himalayas. Ethically produced and handmade to the highest quality, Felt so good are supporting ethical practices and keeping an amazing team of highly skilled ladies securely employed in an environment that has great working conditions, pays fairly and enables them to be independent.
No minimum order, pack sizes of six and BAFTS, WFTO & Sedex certified.
Address
Cheltenham,
United Kingdom
Sustainability Role in overall company's strategic plans

Creating sustainable, biodegradable products that won't end up in landfill is one of the main principles behind Felt so good. All of our products are made using 100% wool, which is a natural byproduct. This wool is ethically and sustainably sourced and ensures all of our products are biodegradable and leave as little impact on the planet as possible.

Sustainability initiatives

We don't use plastic in our products. Unlike other felt alternatives, there's no polystyrene centre in our characters - just 100% wool. We also only use natural, sustainable materials and organic dyes. We don't use machinery in the creation of any of our products, they are all 100% handmade, meaning our factory doesn't create pollution. The energy we need to create our steam for dying wool is created by using wastage wood from local carpenters in nearby villages. All of our water is purified on site.

Pledges for the year

Our characters currently come packaged in pack sizes of 6, in biodegradable plastic bags. In the next year, we plan to swap these for compostable bags that will degrade in just 60 - 180 days.

Sustainable Products

Garlands

All of our new bubble garlands are created using hand rolled felt balls or needle felted characters on natural string. All attachments are hand stitched, never glued, and the garlands are then sold in an organic cotton bag which all text is added onto using natural and organic dyes. This is a 100% biodegradable product, and we ensure all this information is clearly visible on the product so your customers can see.

Characters

Each little character is made using a combination of needle felting and wet felting techniques. All accessories are attached using hand stitching as we don't use glue in our products and we never use plastic in the creation of our characters. Every product comes with a label made from recycled, natural paper that contains information about our Fair trade practices and how the products are made.

Social equity at your company

We are a Fair trade certified company and are BAFTS registered, WFTO recognised and Sedex registered. We work extremely closely with our community in Nepal and their wages, benefits, workers rights and safety are always at the forefront of our company's morals and ethics. Promoting the importance of Fair trade is one of our core values as a company.

Packaging

We are in the process of making our packaging plastic free

We are in the process of making our packaging compostable

Other

Materials

Our products are plastic free

We have products made from sustainability sourced raw materials

Ethical Considerations

Fair wages are paid to the people who make our products

Our products are made by people employed in good working conditions

We have mapped our entire supply chain

We challenge our suppliers to report any ethical issues they identify

We have an ethical policy

Within the workplace where our products are made there is commitment to Non-Discrimination Gender Equality and Freedom of Association

Enviromental Impact

Our products are created to help consumers try and reduce their carbon footprint

We have a sustainability policy

We consider the environmental impact when creating our products

Some of the processes we use to manufacture products are energy efficient

Some of the processes we use to manufacture products are water efficient